Today's Sponsor
A great gift for wine lovers


A wine reference disguised as a fine-art print, the innovative Wine Grape Varietal Table mimics the familiar periodic table of the elements to show a world of wine grape varieties.
Click to buy!
Seeing stars in wine country
"If you want to make a small fortune in the wine business, start with a large one."
This wisdom, which has been uttered in regard to many enterprises besides wine, speaks to the difficulty of earning great riches in an endeavor that faces abundant risks. Rain, snow, storms and heat can threaten vineyards, and so may insect pests, molds and bacteria; persnickety regulators and notebook-toting Big Name Critics, and even the changing tastes of a fickle public may quickly draw down that large fortune into something sadly less.
Nevertheless, wealthy investors still flock to the vineyards, checkbooks wide open. And it should come as no surprise, given the California wine country's proximity to Hollywood, that the vineyards are alive with the sound of past and current actors, singers, directors and producers.
The actor Fess Parker, for instance, perhaps better known as "Davy Crockett" for his film role as the American pioneer, owns a Central Coast winery that you may have seen, without realizing it, as the anonymous "Frass Canyon," site of a hilarious scenes in the movie Sideways.
Baby Boomers, and some younger enthusiasts too, surely remember the comedy team The Smothers Brothers. They owned a winery back in the day, and Tommy Smothers reportedly remains a financial "angel" to a winery or two. The Smothers' sidekick Pat Paulsen made some pretty good cheap wine in the '80s, too, with labels like "Refrigerator White" bearing plenty of his deadpan humor.
The memory of Raymond "Perry Mason" Burr lives on in Burr Winery, which he and his partner founded and which still bears his name. The actor Fred MacMurray raised horses on his ranch, mostly; now the Gallo family owns the place and makes MacMurray Ranch wines there. Nor is wine activity limited to the American cinema: The French actor Gerard Depardieu has been involved in wine making in so many nations that his passport allegedly lists his occupation as "vigneron," not "Acteur-Realisateur."
Some celebs may be in for the short haul, earn their 15 minutes of fame and move on. In the case of Hollywood's noteworthy movie director, producer and screenwriter Francis Ford Coppola and his family, though, the wine country connection is serious.
Coppola has been a serious player in Napa wine for more than 35 years, investing some of his earnings from The Godfather trilogy to take over Gustave Niebaum's home and vineyard in Rutherford in 1975, where he makes wine under the Niebaum-Coppola label. In 1995 he purchased the historic Inglenook Winery building, later renaming the winery Rubicon Estate. Rounding out the portfolio, Coppola took over Chateau Souverain near Geyserville, in Sonoma County, naming it Francis Ford Coppola Winery and expanding it into a mini-Disneyland of wine with restaurant and resort facilities.
Today let's raise a glass to the wine country's Hollywood contingent, and let's fill that glass with Coppola 2009 "Votre Santé" California Pinot Noir. Cut! That's a wrap!
Today's Tasting Report
Coppola 2009 "Votre Santé" California Pinot Noir ($12.99)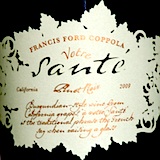 Clear garnet with crimson glints. Shy but pleasant in the scent department, black cherries and a subtle whiff of smoke. Dark cherry-berry fruit more apparent on the palate, fresh and dry, with tart, food-friendly acidity and just a touch of tannic astringency. The smoky, fruity flavor profile may be a bit New Worldish, but the reasonable 13.5% alcohol and relatively subtle overall character save it from the excesses that befall some more pricey West Coast Pinots. (Oct. 7, 2011)
FOOD MATCH: Look toward Pinot Noir's more hearty companions to keep up with the relatively gentle California-style wine: Steaks or roast beef, robust cheeses, or perhaps mushroom dishes like our choice, a hearty mushroom and onion ragout over mashed potatoes.
VALUE: It's a good buy at this price, and you may find it for a buck or so less in some markets; Wine-Searcher.com for vendors and prices.
WHEN TO DRINK: It's not really made for long-term cellaring, but it won't fall apart over the next couple of years, and is modest enough to make an experiment in aging a bit longer worth the toll.
WEB LINK: Click here for the "Our Wines" page on the winery Website. Then click "Votre Santé" in the row of bottle pictures or in the column at left to read more about this wine and its Chardonnay companion.
FIND THIS WINE ONLINE:
Find vendors and compare prices for Coppola "Votre Santé" Pinot Noir on Wine-Searcher.com.
iPhone App!
Get Food and Wine Pairing Tips On-the-Go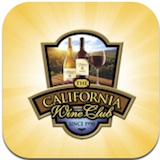 Get Food and Wine Pairing Tips On-the-Go with The California Wine Club's Food and Wine Pairing Wheel.
I've already got this app running on my iPhone. It makes it easy to pair food and wine like the experts, easily choosing wine matches that will bring out the best in every meal or snack.
Use this app as your personal wine consultant:
* In restaurants, to help you pick the perfect bottle from the wine list to enjoy with your meal.
* In the grocery store, when you are picking up ingredients for your dinner.
* At home, if you need a suggestion for this evening's dinner.
The app is intuitive and user-friendly.
* Simply pick your meal category from the top menu bar.
* Spin the wheel to find your tasty choice.
* See the wines that pair perfectly.
The wine listed in bold type will be your No. 1 choice to pair with this selection.
Find it in the App Store on your iPad, iPhone or other iOS device, or click this link to find the app in iTunes.
Talk About Wine Online
If you have questions, comments or ideas to share about today's article or wine in general, you're always welcome to drop by our online WineLovers Discussion Group, the Internet's first and still the most civil online community. To find our forums, click:
http://www.wineloverspage.com/forum/village
Discussions are open for public viewing, but you must register to post. Registration is free and easy; we ask only that you join following our Real Names Real Format system, using your real name in the format "John Doe" or "John D". Anonymous, cryptic or first-name-only registrations are discarded without notice.
Once your registration has been approved, which usually happens quickly, you'll be able to participate in all our online wine, food and travel forums.
To contact me by E-mail, write wine@wineloverspage.com. I'll respond personally to the extent that time and volume permit.
Subscriptions and Administrivia
Unsubscribe:
We're sorry if you must leave us, but simply click the "unsubscribe"
link at the bottom of your Email edition to be instantly removed from the mailing list.
Change address:
The quickest and easiest way to change your Email address is simply to register anew, using the link below. If you are keeping your old address but no longer wish to get the Wine Advisor there, click the unsubscribe link below to take it off our list; if you are closing the mailbox, you needn't take any action, as our system will delete your old address as soon as the mail to your old address starts to "bounce."
Subscribe to this Email edition (free):
http://www.wineloverspage.com/wineadvisor
WineLoversPage.com RSS Feed (free):
http://feeds.feedburner.com/wineloverspage/tzva
Wine Advisor Archives:
http://www.wineloverspage.com/wineadvisor2/archives.php
Sponsorship Opportunities:
For information, E-mail wine@wineloverspage.com