Today's Sponsor
A Different Kind of Wine Club!
Discover the CWC difference and get 4 bottles of wine for the price of 2! Use Promo Code JULYWA at The California Wine Club.
Enjoying Falanghina
It's no secret that I'm an easy mark for crisp, textured and gently aromatic Southern Italian whites, an appetizing change of pace in a world full of familiar Chardonnay, Sauvignon Blanc and Pinot Gris/Grigio. Once I got the undersize, very tightly fitted cork out of a tall bottle of Taburno 2009 Falanghina, I was a happy boy.
If you've been following these columns for any time, you'll know that Falanghina is a recurring favorite in my tasting reports. An Italian grape variety steeped in history, it dates back at least 2,000 years to the Roman Empire.
Although I can't testify to the accuracy of this legend, folks in the region declare that this was the grape used to make Falernum, one of the most highly regarded wines on the Caesars' tables. Could be, although it's worth noting that fanciers of the excellent regional grapes Greco di Tufo and Fiano di Avellino - which are also Southern Italian whites that I consistently admire - make similar claims.
I'm not sure what Caesar would have thought, but we were mighty happy with Taburno 2009 Falanghina. With a hearty summer main dish from the garden, it was easy to imagine ourselves on a sunny hillside in the Campania mountains above Naples, looking out over the Mediterranean and enjoying a cool glass of this appealing white.
Want more information? Click here for a fact sheet about the Taburno region of Campania from ItalianMade.com. For the importer's fact sheet on Taburno 2009 Falanghina, click here.
You'll find my tasting notes and information on finding this wine below.
Today's Sponsor
A Different Kind of Wine Club!
"Wow, a wine club that really cares about the wines they send!"
--Tim McNally, Wine Judge and Radio Host, speaking about The California Wine Club.
Since 1990, Bruce and Pam Boring, proprietors of The California Wine Club, have been hand-selecting award-winning wines from California's best small "mom & pop" wineries and sharing them with wine enthusiasts. No bulk or private label wines, ever. It's handcrafted quality at an affordable price.
Each exciting month features a new winery and includes:
* Two bottles of award-winning, limited-production wine.
* An in-depth look at the featured winery with Uncorked magazine, including interviews with the winemaking family, recipes and much more!
* The Club's 100 percent satisfaction guarantee.
Plus, you can reorder your favorite wines for up to 50% off retail!
Special Offer: Join now and CWC will include two extra bottles of wine in your first shipment at no extra charge. That's four bottles for the price of two!
Just visit http://www.cawineclub.com or call 1-800-777-4443 and use promo codeJULYWA when joining.
Give CWC a try! No membership fees and no commitment means that if you're not happy, you're not stuck!
Today's Tasting Report
Taburno 2009 Falanghina ($14.99)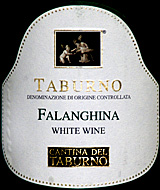 Transparent brass color, very light gold with a greenish hue. A good, subtle aroma that I've learned to associate with some southern Italian whites, pears, beeswax and maybe just a faint whiff of almonds. Crisp, tart pears on the palate, dry and acidic, with back notes that mirror the nose. Good, food-friendly acidity, solid but not overbearing 13% alcohol, and a hint of bitter almond in a long finish. U.S. importer: deGrazia Selections LLC, Winston-Salem, N.C.; a Marc de Grazia Selection. (July 7, 2011)
FOOD MATCH: Hefty enough to stand up to pork, veal or rich seafood, it was just as fine with a hearty vegetarian main dish, fresh Roma-style green beans from the garden, sautéed with browned onions, garlic and ginger and tossed with scrambled eggs and crumbled tofu.
VALUE: It's a good wine and a fair buy in the mid-teens, but it may be worth shopping around if you find it selling for more, as Wine-Searcher.com shows it selling across a surprisingly broad range from $10 to $20.
WEB LINK: Here's a fact sheet about Taburno Falanghina on the importer's Website.
FIND THIS WINE ONLINE:
Find vendors and compare prices for Taburno Falanghina on Wine-Searcher.com.
Talk About Wine Online
If you have questions, comments or ideas to share about today's article or wine in general, you're always welcome to drop by our online WineLovers Discussion Group, the Internet's first and still the most civil online community. To find our forums, click:
http://www.wineloverspage.com/forum/village
Discussions are open for public viewing, but you must register to post. Registration is free and easy; we ask only that you join following our Real Names Real Format system, using your real name in the format "John Doe" or "John D". Anonymous, cryptic or first-name-only registrations are discarded without notice.
Once your registration has been approved, which usually happens quickly, you'll be able to participate in all our online wine, food and travel forums.
To contact me by E-mail, write wine@wineloverspage.com. I'll respond personally to the extent that time and volume permit.
Subscriptions and Administrivia
Unsubscribe:
We're sorry if you must leave us, but simply click the "unsubscribe"
link at the bottom of your Email edition to be instantly removed from the mailing list.
Change address:
The quickest and easiest way to change your Email address is simply to register anew, using the link below. If you are keeping your old address but no longer wish to get the Wine Advisor there, click the unsubscribe link below to take it off our list; if you are closing the mailbox, you needn't take any action, as our system will delete your old address as soon as the mail to your old address starts to "bounce."
Subscribe to this Email edition (free):
http://www.wineloverspage.com/wineadvisor
WineLoversPage.com RSS Feed (free):
http://www.wineloverspage.com/rss
Wine Advisor Archives:
http://www.wineloverspage.com/wineadvisor2/archives.php
Sponsorship Opportunities:
For information, E-mail wine@wineloverspage.com