Today's Sponsor
Win a $450 Wine Magnum!
The California Wine Club wants to hear from you! Give them a call at 1-800-777-4443, share a pairing tip or a wine review, and you'll be entered to win a rare, highly rated hand-painted magnum worth $450.
Bargain Spanish wine ... at Walgreen's?
The Walgreen's drug store chain recently resumed selling wine and beer in about 3,100 of its approximately 7,500 stores in the U.S., reversing a 15-year ban that had left the stores "dry" in most states.
Interesting news, I thought, seeing a story about this move in The Wall Street Journal last month.
But what kind of wine would Walgreen's sell if Walgreen's could sell wine? Curious, I popped into one of the Louisville shops that has added a wine section to see what I could see.
The first bottle that caught my eye was not particularly reassuring. It looked like a giant bottle of Yoo-hoo and bore the label "ChocoVine, The taste of Dutch chocolate and fine red wine." Uh huh. Even at a discounted $11.49, I was inclined to pass. I can get an entry-level Chianti or Côtes-du-Rhône for that price, thank you very much.
But wait, what's this? On the next shelf, a row of bright yellow labels bore a silhouette of a tusky critter over the single word "Agostón," with "Spain's Wild Boar" in tiny letters and, in script, "Garnacha and Syrah."
The back label wasn't much more informative, but revealed that the wine was from Cariñena, which is a designated wine region about midway between Madrid and Barcelona in east-central Spain, a bit south of Rioja.
A basic Spanish table red? That's a little more interesting than chocolate wine! And the price was the best part: $5.99, the lowest toll I've seen on a bottle of real wine for a long time. What was to lose? I grabbed one and took it home for dinner.
Surprise! It wasn't bad. Not the fanciest wine in the world, but it was nicely balanced and varietally correct, showing good fruit and a whiff of pepper over a firm acidic structure that made it food-friendly. What more can you ask for six bucks?
A little research revealed that this is a rather elusive wine. This Walgreen's had a sizable stash, but Wine-Searcher.com suggests that Agostón is just now coming into the U.S. - often doubling this drug-store sale price.
A little more Web digging indicates that Agostó is a relatively new product, launched in 2008 by Bodegas Virgen del Águila, a sizable producer with a bottling line capable of cranking out 8,000 bottles per hour, definitely an industrial rate. (Australia's Yellowtail, perhaps the ultimate mass-market producer, can bottle 36,000 in an hour.)
"Agostón ... is now found in half the countries in the world," according to the winery Website. Perhaps Walgreen's got their hands on America's first batch.
Nevertheless, if you can find it, at $6, Agostón 2009 Cariñena makes a compelling argument for the risk-benefit ratio of making an occasional wine-shopping foray into unexpected places like your neighborhood drug store.
Today's Sponsor
Win a $450 Wine Magnum!
The California Wine Club wants to hear from you! They love talking about wine and hope you do, too. Give them a call and share your favorite pairing tip or a review of a favorite wine.

Every time you call, you'll be entered to win a rare, highly rated magnum from Napa's prestigious Bacio Divino Cellars. This gorgeous bottle has been etched by hand, then hand-painted. It is valued at $450. Call them at 1-800-777-4443, Monday through Friday, 8 a.m. to 5 p.m. PDT.

Why are magnums special? Well, because wine seems to age better in larger-format bottles and because they are fun and impressive at parties. There is no denying the drama of bringing out a magnum to share at a special dinner party.
So give The California Wine Club a call. The more you talk wine, the more chances you'll have to win!
Today's Tasting Report
Agostón 2009 Cariñena ($5.99)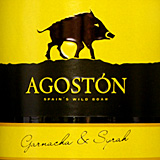 Clear, dark ruby. A blend of 50% each Garnacha and Syrah from Spain's Cariñena wine region, it offers good, varietally correct aromas, raspberries and the appealing scent of freshly turned earth. Bright acidity on the palate, softens a bit with breathing; red berries, a grind of freshly ground black pepper and just a touch of oaky vanilla as a grace note; alcohol quite reasonable for a modern Spanish red at a claimed 13.5%. Simple but appealing, not a wine for the ages, but a whale of a lot more than you might expect for $6. U.S. importer: Pelican Brands LLC, Carmel, Ind. (June 24, 2011)
FOOD MATCH: Although it's made to go with red meat, this Cariñena made a fine match with the bold vegetarian flavors of Imam Bayildi, a Middle Eastern dish of eggplant chunks simmered with tomatoes, lots of onions and garlic and parsley.
VALUE: If you can find it for $6 (or, frankly, if you can find it at all), it wouldn't hurt to stock up on a case or two at this price.
WEB LINK: Here's a short fact sheet in English on the producer's Website. Actually, the most detailed information I could dig up about this elusive bargain came from Curious Wine, an Irish wine-shop site.
FIND THIS WINE ONLINE:
This was apparently a buy-out by Walgreen's, perhaps regionally. However, Wine-Searcher.com lists limited vendors and significantly higher prices at this link.
Talk About Wine Online
If you have questions, comments or ideas to share about today's article or wine in general, you're always welcome to drop by our online WineLovers Discussion Group, the Internet's first and still the most civil online community. To find our forums, click:
http://www.wineloverspage.com/forum/village
Discussions are open for public viewing, but you must register to post. Registration is free and easy; we ask only that you join following our Real Names Real Format system, using your real name in the format "John Doe" or "John D". Anonymous, cryptic or first-name-only registrations are discarded without notice.
Once your registration has been approved, which usually happens quickly, you'll be able to participate in all our online wine, food and travel forums.
To contact me by E-mail, write wine@wineloverspage.com. I'll respond personally to the extent that time and volume permit.
Subscriptions and Administrivia
Unsubscribe:
We're sorry if you must leave us, but simply click the "unsubscribe"
link at the bottom of your Email edition to be instantly removed from the mailing list.
Change address:
The quickest and easiest way to change your Email address is simply to register anew, using the link below. If you are keeping your old address but no longer wish to get the Wine Advisor there, click the unsubscribe link below to take it off our list; if you are closing the mailbox, you needn't take any action, as our system will delete your old address as soon as the mail to your old address starts to "bounce."
Subscribe to this Email edition (free):
http://www.wineloverspage.com/wineadvisor
WineLoversPage.com RSS Feed (free):
http://www.wineloverspage.com/rss
Wine Advisor Archives:
http://www.wineloverspage.com/wineadvisor2/archives.php
Sponsorship Opportunities:
For information, E-mail wine@wineloverspage.com