Today's sponsor
Rioja is pure genius for wine lovers
For people who love wine, novices and experts alike, Rioja is a guaranteed choice - in fact, pure genius.
Vibrant Rioja

Scholium Project: Idiosyncratic, memorable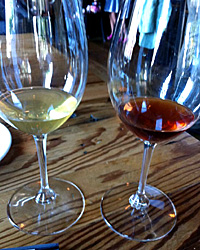 On the left stands a glass with a golden fluid, so hazy that I can barely see through it. Nose to the glass, I'm rocked back with a blast of heady flower scent.
Now, what's this on the right? This glass holds a darker drink, somewhere between a deep rose and a light mahogany in color. Earthy, woody, distinctly oxidized, it seems almost like a Madeira, but no; it's lighter in texture and alcohol.
What the heck are these wines? They're intense, oxidative, idiosyncratic, cloudy, even bizarre. A Sauvignon Blanc and a Pinot Grigio, both from California? You have got to be kidding me.
But no. Although Abe Schoener, a professor of Greek Philosophy turned wine maker, is certainly capable of kidding, he is intensely serious about the portfolio of wines he makes and sells as The Scholium Project.
The offbeat approaches start with the labels, which often bear names drawn from Schoener's academic background in ancient Greek: A wacky Chardonnay is dubbed "Choephoroi" after the libation bearers in a play by Aeschylus. A robust Syrah is called "Androkteinos" ("The Man Slayer") after a reference in Homer and a "widowmaker" dead tree in its Carneros vineyard. A wine made in homage to the Friuli-Slovene wine maker Josko Gravner is named San Floriano after a Northeastern Italian village near Gravner's vineyards.
What's more, you'll have to turn to the back labels to learn more about the wines. Schoener would prefer that we don't bring preconceptions or expectations to the wine by looking for typical varietal character or regional terroir, so he adorns his front labels only with the name of the wine and its vineyard.
Scholium wines boast intensity and often offbeat flavors attributable to Schoener's conscious use of wild yeast, autolysis, open-air aging and more. "The wines are idiosyncratic, uncompromising," he says, meaning it with pride.
I'm indebted to Russell Glass, wine and spirits director for Louisville's River City Distributing, for inviting me to a talk and tasting with Schoener this week at the city's excellent Blind Pig restaurant, a gastropub in the historic Butchertown neighborood that was exciting enough to earn a report in The New York Times within its first six months of operation.
Let's let the wines speak for themselves. Here's my report on the wines of the day, with links to more details (and buying information) on the winery Website.
Today's Tasting Report
The Scholium Project 2009 Naucratis Lost Slough Vineyards California White Wine ($20)
Made from Verdelho grapes grown in the Clarksburg region, Sacramento Delta, it's a clear straw color with a brassy hue. Chalky, white fruit aromas. Mouth-filling, tart, shimmering acidity; white fruit, green apple and almonds. It makes me want shellfish. Very good, but a hot finish betrays stunning 15.3% alcohol. (In fairness, most of Schoener's wines integrate significant alcohol levels with style and grace.)
http://store.scholiumwines.com/wine/SCHO09NAUC.html
The Scholium Project 2009 La Severita di Bruto (LSB) Farina Vineyards ($39)
Brassy greenish-gold. It's Sauvignon Blanc, but with a difference: The varietal character is present but muted, in its place a haunting honey-beeswax scent behind a core of tart apple. Bone-dry but silky. From rocky hillside Sonoma vineyards.
http://store.scholiumwines.com/wine/SCHO09LSB.html
The Scholium Project 2009 Riquewihr Lost Slough Vineyards ($20/500ml)
Pale straw color. Appley, it suggests Riesling to me at first, but subtle lychees join the apples to make clear that it's a Gewürztraminer of very unusual style, muscular yet elegant. Packaged in a fun jug-style 500 ml bottle that Schoener jokes is designed to promote it as a party wine. He holds it up to mock drinking straight from the bottle, chuckly, "You don't even need a glass." Grown in Clarksburg, though the name pays homage to Alsace.
http://store.scholiumwines.com/wine/SCHO09RIQ.html
The Scholium Project 2009 MSL Reserve Bokisch Ranches ($28)
Clear bright brass. Hillside-grown Verdelho, it's rich, creamy, a little prickly, not petillance but a touch of tannin - uncommon in a white - from barrel aging and fermented with 15% skins and seeds.
http://store.scholiumwines.com/wine/SCHO09MSLR.html
The Scholium Project 2007 Choepheroi Los Olivos Vineyard ($45)
Pale gold. Schoener urges us to nose out that odd aroma. What is that? Acetic acid! Vinegar! He allows this to occur naturally in the wine, and there's some oxidized sherry character, too. Yet it's all a part of a scent sonata that also carries strands of appealing apple and pear fruit, too. It's bizarre, but it actually works. You'd never guess the variety: 100% Napa Chardonnay, whether intentionally or fortuitously I cannot say, in the style of a Jura white.
http://store.scholiumwines.com/wine/SCHO08CHOE.html
The Scholium Project 2009 Prince in His Caves Farina Vineyards ($45)
"This is completely crazy," Schoener admits. "Out of the realm of wine into food. It's not wine." Well, actually it is wine, Sauvignon Blanc made in the style of Friuli's Josko Gravner, another wine maker who marches to the beat of a very different drummer and who seems to be a hero for Schoener (and, I should add, for me). Hazy bright gold, opaque, it's as floral as a summer garden, bizarre yet strangely delicious. It made an amazing match with a thin slice of prosciutto and a slice of Block-of-Joe, an offbeat Kenny Mattingly farmstead Kentucky Cheddar veined with strong dark coffee from Louisville's Heine Bros.
http://store.scholiumwines.com/wine/SCHO09PRINCE.html
The Scholium Project 2006 San Floriano Normale Rocky Hill Vineyard ($45)
Another bizarre yet strangely appealing wine made in homage to Josko Gravner and his neighbor Radikon, it's a Sonoma Pinot Grigio (!) fermented on its skins and left almost five years in the barrel subject to Sherry-like surface yeast and oxidation. Rosy-brown in color, hazy, tart and acidic, it bears a surprising similarity to a light-bodied Madeira, and goes stunningly well with cheese.
http://store.scholiumwines.com/wine/scho06sfn.html
The Scholium Project 2008 Gardens of Babylon ($36)
Dark purple. Deep black fruit adds a hint of pickle juice, in a good way. Clean, deep black fruit flavors are shaped by structural acidity and firm tannins. Scholium's only blend, it's a mix of 55 percent Petite Sirah with Merlot, Mourvedre and other red grapes.
http://store.scholiumwines.com/wine/SCHO08GOB.html
The Scholium Project 2007 Androkteinos Hudson Vineyards ($75)
Very dark garnet. Rich, smoky, black fruit, a hint of bacon fat, the meaty character that the French call animaux, with a touch of subtle spice, complex and balanced. It's all Carneros Syrah, and it reminds me very much of the Northern Rhône.
http://store.scholiumwines.com/wine/SCHO07ANDRO.html
The Scholium Project 2007 Bricco Babelico Tenbrink Vineyards ($45)
Blackish purple. Black fruit. Volatile acidity well controlled, an accent like a top northern Italian red. Big, exotic spice, dried cherries. Scholium declares it a Barolo-style Petite Sirah, but my snap recognition places it in the direction of Amarone.
http://store.scholiumwines.com/wine/SCHO07BRICCO.html

FOOD MATCH: These wines need food to show off their dimensionality. They went well with prosciutto, salumi, assorted cheeses and artisanal bread.
VALUE: Scholium Project wines aren't cheap, but their pricing in the range of about $20 to $80 are certainly reasonable compared with more "cultish" selections.
PRONUNCIATION:
Scholium = "SKO-lee-um"
WEB LINK: Here's the stylish, informative Scholium Project Website.
FIND THESE WINES ONLINE:
Compare prices and find vendors for Scholium Project wines on Wine-Searcher.com
Scholium Project wines are also available direct from the winery at this link.
Today's Sponsor
Rioja is pure genius for wine lovers
For people who love wine, novices and experts alike, Rioja is a guaranteed choice - in fact, pure genius.
Why? For starters, there's a style for every occasion, taste and budget, from crisp whites to refreshing rosés to robust reds, all at great value (very affordable).
Wait, there's more - every Rioja is ready to drink when purchased, providing instant gratification.
Not to mention, Rioja wines are considered by many chefs and sommeliers to be the best food-pairing wines on Earth, created to enhance food, not overwhelm the flavors.
Need more reasons? The quality is guaranteed by the DOCa Rioja, the government body overseeing production of every bottle with the highest standards, ensuring every sip will satisfy.
Try a Rioja today and discover why Rioja is pure genius. Rioja wines make great gifts too - don't be afraid to share the love!
Visit us at www.VibrantRioja.com, join the community, and enter to win a case of Rioja.
Talk About Wine Online
If you have questions, comments or ideas to share about today's article or wine in general, you're always welcome to drop by our online WineLovers Discussion Group, the Internet's first and still the most civil online community. To find our forums, click:
http://www.wineloverspage.com/forum/village
Discussions are open for public viewing, but you must register to post. Registration is free and easy; we ask only that you join following our Real Names Real Format system, using your real name in the format "John Doe" or "John D". Anonymous, cryptic or first-name-only registrations are discarded without notice.
Once your registration has been approved, which usually happens quickly, you'll be able to participate in all our online wine, food and travel forums.
To contact me by E-mail, write wine@wineloverspage.com. I'll respond personally to the extent that time and volume permit.
Subscriptions and Administrivia
Unsubscribe:
We're sorry if you must leave us, but simply click the "unsubscribe"
link at the bottom of your Email edition to be instantly removed from the mailing list.
Change address:
The quickest and easiest way to change your Email address is simply to register anew, using the link below. If you are keeping your old address but no longer wish to get the Wine Advisor there, click the unsubscribe link below to take it off our list; if you are closing the mailbox, you needn't take any action, as our system will delete your old address as soon as the mail to your old address starts to "bounce."
Subscribe to this Email edition (free):
http://www.wineloverspage.com/wineadvisor
WineLoversPage.com RSS Feed (free):
http://www.wineloverspage.com/rss
Wine Advisor Archives:
http://www.wineloverspage.com/wineadvisor2/archives.php
Sponsorship Opportunities:
For information, E-mail wine@wineloverspage.com