Today's sponsor
Rioja is pure genius for wine lovers
For people who love wine, novices and experts alike, Rioja is a guaranteed choice - in fact, pure genius.
Vibrant Rioja
More alcohol, less pleasure?
Do you like heavy metal or acoustic folk? Lush symphonies or austere sonatas? Swashbuckling fiction or poetry? Wall-size battle scenes in oils or delicate watercolors? As it is in the arts, so it may be in wine: Some like it bold and brash; others prefer it subtle and intriguing.
Modern wine trends to some extent sort wine lovers into contending camps: Those who love the powerful, fruit-forward and oaky big guys with stunning alcohol (often categorized as "New World" in style); versus those who prefer the more subtle, complex "Old World" or "European" style with its intriguing blend of fruit, earth, acidity, and moderate alcohol in balance.
As I've observed before, a combination of warm climate trends and pressure from big-name critics seems to have prompted a broad move toward bigger, fatter wines lush with fruit and oak. It's getting harder to find old-style wines of subtlety.
As a result, I find that more and more I look first for the tiny type that displays the alcohol when I'm shopping for wine. Given a choice between a traditionally made 12.5% bottle and a blockbuster that pushes or even passes 15%, I'm increasingly likely to let the lower alcohol tilt the balance.
No, Im not worried about impairment from what is, after all, a minor statistical difference. But I'm learning from experience that the higher-alcohol wines generally don't appeal to me much; not because of the alcohol itself but because high alcohol is usually part of a syndrome that also includes one-dimensional, blowsy fruit, often stewed and pruney; limited in any sense of terroir; with a touch of heat that's not friendly with food, and, curiously, often high ratings from Robert M. Parker Jr.'s Wine Advocate and the Wine Spectator.
For me, high alcohol and a 90-plus rating are usually sufficient to turn me away from a wine in question to look for something more balanced.
So it was with today's two featured wines, both on recent display at my local Whole Foods Wine Market.
Both wines were of the same vintage and appellation, 2009 Côtes du Rhône. But Domaine d'Andezon ($14.99) boasted a numbing 14.5% alcohol content (and a purported Parker rating of 92), while Famille Jaume "Vinéa Natura" showed a modest 13% and made no claims of critical hoopla.
The Jaume Rhône, indeed, proved classic in structure and style, an intriguing mix of cherry-berry aromas with freshly ground black pepper, good balance of alcohol and heat and fine at the dinner table.
The Andezon was a good slurp of red wine, but its cooked-fruit flavors and warm alcohol made it something more appropriate as a standalone cocktail than an amiable companion with food. To be quite frank, I don't understand the high Parker rating. But this may help explain why I usually use those ratings in reverse: if it's over 90, chances are I'll choose to steer clear.
You'll find my tasting notes below.
Today's Sponsor
Rioja is pure genius for wine lovers
For people who love wine, novices and experts alike, Rioja is a guaranteed choice - in fact, pure genius.
Why? For starters, there's a style for every occasion, taste and budget, from crisp whites to refreshing rosés to robust reds, all at great value (very affordable).
Wait, there's more - every Rioja is ready to drink when purchased, providing instant gratification.
Not to mention, Rioja wines are considered by many chefs and sommeliers to be the best food-pairing wines on Earth, created to enhance food, not overwhelm the flavors.
Need more reasons? The quality is guaranteed by the DOCa Rioja, the government body overseeing production of every bottle with the highest standards, ensuring every sip will satisfy.
Try a Rioja today and discover why Rioja is pure genius. Rioja wines make great gifts too - don't be afraid to share the love!
Visit us at www.VibrantRioja.com, join the community, and enter to win a case of Rioja.
Today's Tasting Report
Domaine d'Andezon 2009 Côtes du Rhône ($14.99)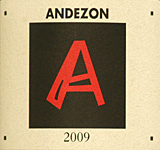 Dark purple, hazy unfiltered garnet at the edge. Cooked fruit, stewed plums, a touch of prunes and an herbal back note. Full and tart, plums and cranberries, mouth-watering acidity, no obvious tannins, and a soft hit of 14.5% alcoholic warmth. U.S. importer: European Cellars LLC, Charlotte, N.C., An Eric Solomon Selection. (May 27, 2011)
FOOD MATCH: Pepper crusted bone-in rib eye, medium rare from the charcoal grill.
VALUE: Although $15 does not seem out of line for Côtes du Rhône in today's market, Wine-Searcher.com hints that my bottle was overpriced at Louisville's Whole Foods. It should be widely available in the $10 range.
WEB LINK:
Here's a link to the U.S. importer's Website.
FIND THIS WINE ONLINE:
Compare prices and find vendors for Andezon Côtes du Rhône on Wine-Searcher.com
Famille Jaume 2009 "Vinéa Natura" Côtes du Rhône ($11.99)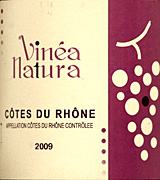 Clear dark reddish-purple with a bright garnet edge. Black cherry-berry aromas and a subtle whiff of black pepper, seems varietally correct for its 80% Grenache and 20% Syrah. Flavors follow the nose, nicely structured black fruit, food-friendly acidity and soft tannins in balance, the kind of amiable table wine that I look for in Côtes du Rhône. U.S. importer: Fruit of the Vines Inc., Long Island City, N.Y.; selected by Terrisson-wines.com. (May 28, 2011)
FOOD MATCH: Good with red meats and spicy fare. It was great with grilled free-range turkey thighs with a chipotle en adobo glaze.
VALUE: Great buy at this price.
WEB LINK:
Click here for a discussion of Jaume's Vinéa Natura in English on the producer's Website.
Here's a fact sheet on Vinéa Natura on the British distributor's Website.
FIND THIS WINE ONLINE:
I bought this wine at a Whole Foods Wine Market, where it was featured because of its sustainable, natural production. Whole Foods may have exclusive distribution in the U.S., as I'm unable to find other vendors. However, you can use this link to find other bottlings by Famille Jaume on Wine-Searcher.com.
Talk About Wine Online
If you have questions, comments or ideas to share about today's article or wine in general, you're always welcome to drop by our online WineLovers Discussion Group, the Internet's first and still the most civil online community. To find our forums, click:
http://www.wineloverspage.com/forum/village
Discussions are open for public viewing, but you must register to post. Registration is free and easy; we ask only that you join following our Real Names Real Format system, using your real name in the format "John Doe" or "John D". Anonymous, cryptic or first-name-only registrations are discarded without notice.
Once your registration has been approved, which usually happens quickly, you'll be able to participate in all our online wine, food and travel forums.
To contact me by E-mail, write wine@wineloverspage.com. I'll respond personally to the extent that time and volume permit.
Subscriptions and Administrivia
Unsubscribe:
We're sorry if you must leave us, but simply click the "unsubscribe"
link at the bottom of your Email edition to be instantly removed from the mailing list.
Change address:
The quickest and easiest way to change your Email address is simply to register anew, using the link below. If you are keeping your old address but no longer wish to get the Wine Advisor there, click the unsubscribe link below to take it off our list; if you are closing the mailbox, you needn't take any action, as our system will delete your old address as soon as the mail to your old address starts to "bounce."
Subscribe to this Email edition (free):
http://www.wineloverspage.com/wineadvisor
WineLoversPage.com RSS Feed (free):
http://www.wineloverspage.com/rss
Wine Advisor Archives:
http://www.wineloverspage.com/wineadvisor2/archives.php
Sponsorship Opportunities:
For information, E-mail wine@wineloverspage.com