Wine Focus: Wine Century month
Just for fun, for this month's Wine Focus in our WineLovers Discussion Groups, we're trying something completely different.
The theme, "Wine Century Club," is based on the great idea of our pals Steve and Deborah De Long, who encourage wine enthusiasts to taste wines made from at least 100 grape varieties (for which, on the honor system, you can gain free membership in this fun and very informal club).
We doubt anyone will get to 100 varieties in WineLovers forum tasting reports this month - much less the 400-plus claimed by some of the Wine Century Club's most obsessive members - but we do encourage you to spread your varietal wings by digging up and reporting on wines made from the most obscure wine grapes you can find.
Listed below, along with links for more information about the Wine Century Club, is a link to its casual list of 185 varieties, including the well-known grapes as well as some much less familiar. And yes, we know that some important "minor" grapes are omitted - the list is extensive but not unabridged. "Other" is an open category, so by no means feel limited to this list in our June pursuit of the unexpected, the offbeat and the downright strange.
You be the judge as to what's unusual, but we assume that Cabernet Sauvignon, Pinot Noir, Merlot, Zinfandel, Chardonnay, Riesling and Sauvignon Blanc will be off the table for purposes of this exercise; and always, the stranger the better, and best of all if you can accompany your post with a little story about the grape.
Below you'll find my tasting notes on an Argentine white blend that includes a good ration of Saint Jeannet, a grape that originated in France but whose entire world plantings may now be limited to a vineyard of a few acres in producer El Reposo's Mendoza property.
I'm looking forward to seeing what grape varieties you'll all bring to the party. Gentlefolks, start your corkscrews!
Here are some Wine Century Club links that you may enjoy.
Direct link to application form/varieties list
Wine Grape Varietal Table (sales through this link benefit WineLoversPage.com and WLDG):
We're featuring the diverse wine varieties of the Wine Century Club in Wine Focus for June in our WineLovers Discussion Group. Join us as our friendly international crowd of wine lovers share our thoughts, questions and tasting notes on the most off-the-beaten-path varietal wines we can find. To participate, simply click to the topic "June Wine Focus: Wine Century Club "
All forum discussions are open for public viewing, but you must register to post your comments and participate actively in the conversation.
Registration is free and easy; we ask only that you join following our Real Names Real Format system. For your user name, enter your real name in the format "John Doe" or "John D", with the capital letters and the space.
Having a real name on your name tag is so important to us that all non-conforming registrations will be quietly discarded. Redemption is possible, though. If you overlook this rule and get no response to your registration, feel free to contact me personally by Email at wine@wineloverspage.com, and we'll sort it out.
Once your registration has been approved, which usually happens quickly with correctly formed user names, you'll be able to participate in Wine Focus and in all our online wine and food forums.
Today's Sponsor
Father's Day is June 19. Don't Forget Dad!
With The California Wine Club, you can give Dad something he'll really love, and save $49.45!

The California Wine Club delivers wine from real, working "mom & pop" wineries. It's a unique gift that can't be found in local stores! Each gift month includes:
* Two bottles of limited-production, award-winning wine
* An in-depth look inside the featured winery with Uncorked magazine
* The Club's 100 percent satisfaction guarantee
Send as many months as you wish! The more you send, the more you save. Each month is just $49.45 (including shipping and handling).
Special Offer: Give a 3-Month Gift for just $98.90! Save $49.45.
Call 1-800-777-4443 or click here to take advantage of this offer.
Today's Tasting Report
Finca El Reposo 2010 Saint Jeannet Whitewine ($12.99)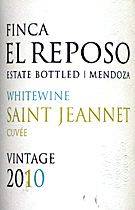 This blend of 90-year-old Saint Jeannet grapes with Sauvignon Blanc and old vines Chardonnay is a clear light gold color. Shy citric aromas offer gentle hints of white grapefruit and honeydew melon. Dry and crisp, palate-cleansing flavor carries a distinct touch of Meyer lemon. Its lemony character makes it a great partner with rich, oily fish - we paired it with fresh wild salmon. U.S. importer: Vanguard Wines LLC, Columbus, Ohio. (June 1, 2011)
FOOD MATCH: As noted, the wine's snappy, citrus-focused acidity and lemony zing make it a natural with rich fish. It was in excellent seasonal company with fresh Copper River sockeye salmon served straight from the charcoal grill. Wild salmon in general, fresh tuna, bluefish or mackerel would all serve it well, and so would rich shellfish or even poultry, pork or veal
VALUE: No complaints at all about quality for value in the lower teens.
WEB LINK:
The producer's Website is in Spanish, but it's mostly pictures and wine words. Give it a try, even if you don't read Spanish. Click the bottle outlines to see each of the El Reposo bottlings. For more information in English, read about El Reposo Saint Jeannet on a Chicago-area distributor's Website.
FIND THIS WINE ONLINE:
Find limited retail sources for El Reposo Saint Jeannet on Wine-Searcher.com, or contact the distributor for possible help in finding a retailer near you.
Talk About Wine Online
If you have questions, comments or ideas to share about today's article or wine in general, you're always welcome to drop by our online WineLovers Discussion Group, the Internet's first and still the most civil online community. To find our forums, click:
http://www.wineloverspage.com/forum/village
Discussions are open for public viewing, but you must register to post. Registration is free and easy; we ask only that you join following our Real Names Real Format system, using your real name in the format "John Doe" or "John D". Anonymous, cryptic or first-name-only registrations are discarded without notice.
Once your registration has been approved, which usually happens quickly, you'll be able to participate in all our online wine, food and travel forums.
To contact me by E-mail, write wine@wineloverspage.com. I'll respond personally to the extent that time and volume permit.
Subscriptions and Administrivia
Unsubscribe:
We're sorry if you must leave us, but simply click the "unsubscribe"
link at the bottom of your Email edition to be instantly removed from the mailing list.
Change address:
The quickest and easiest way to change your Email address is simply to register anew, using the link below. If you are keeping your old address but no longer wish to get the Wine Advisor there, click the unsubscribe link below to take it off our list; if you are closing the mailbox, you needn't take any action, as our system will delete your old address as soon as the mail to your old address starts to "bounce."
Subscribe to this Email edition (free):
http://www.wineloverspage.com/wineadvisor
WineLoversPage.com RSS Feed (free):
http://www.wineloverspage.com/rss
Wine Advisor Archives:
http://www.wineloverspage.com/wineadvisor2/archives.php
Sponsorship Opportunities:
For information, E-mail wine@wineloverspage.com