Today's sponsor
Rioja is pure genius for wine lovers
For people who love wine, novices and experts alike, Rioja is a guaranteed choice - in fact, pure genius.
Vibrant Rioja
Bulgaria bouncing back?
If you grew up during the Cold War, chances are that you think of Bulgaria - if you think of it at all - as one of those sad Slavic countries held behind the Iron Curtain, a drab and poor dictatorship, not a likely destination for travel or exports.
If you looked closely at the labels of cheap wines in the bargain bins during the 1980s, you might have recognized Bulgaria on the label of some inexpensive, decent but forgettable table wines. (Many of them were exported by the Pepsi-Cola company, not that Pepsi made any real effort to publicize this.)
Since the Eastern Bloc fell apart in the early 1990s, unfortunately, Bulgaria wasn't one of the first to bounce back. Its old collectivized wine industry, now independent, sent a lot of bulk wine to Britain, but it wasn't memorable wine.
But a recent tasting of wines from an importer who's now in 20 U.S. states and hoping to reach more suggests a happy new reality: Bulgaria may be bouncing back.
Bulgaria's wine heritage is actually long and reasonably noble. Situated just north of Turkey, it lies along the craggy Balkan mountains from the sunny coast of the Black Sea north to Romania and west to Greece.
Home of the ancient Thracians some 3,000 years ago, it came under the domain of Alexander's Greece and the Caesars' Rome, providing wine for the tables of both those ancient empires. More than a thousand years ago it became a center for the Orthodox church after the fall of Constantinople. Historic cathedrals remain an important part of its tourist landscape.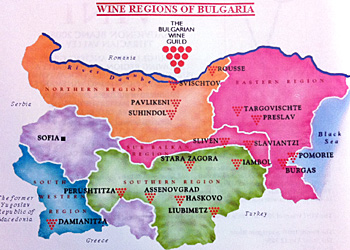 Bulgaria's land, which ranges from mild seacoast to upland plains, is well-suited for wine grapes, much of it enjoying a continental Mediterranean climate similar to that in parts of France and Northern Italy.
I owe thanks to Vance Petrunoff of Bulgarian Master Vintners, the Sonoma, Calif.-based importer that's trying its best to let us know that Bulgaria is back in the game.
Since these wines aren't yet available in Louisville, where I live, Vance made me curious enough to briefly suspend my standard "no samples" rule and accept a couple of bottles of his company's very affordable wines, including the producers VINI and Targovishte, making familiar varities like Pinot Noir and Merlot and the slightly less commonplace Muscat Ottonel.
VINI plays up Bulgaria's ancient Roman connection with Caesar's "Veni Vidi Vici VINI" and the vintage MMIX (okay, 2009) in Roman numerals on the label. The VINI Merlot comes from Bulgaria's Thracian Valley in the south, near Turkey and Greece; its Pinot Noir hails from the Danube River Plains in the north, bordering Romania. VINI also bottles a Sauvignon Blanc, Chardonnay and Cabernet Sauvignon. Its wines retail from $7.99 in California to $9-10 on the East Coast.
Targovishte Winery, in Bulgaria's relatively cool Black Sea Coastal Region, makes only white wines: Dry Muscat Ottonel, Traminer, Riesling, Sauvignon Blanc and Chardonnay.
I enjoyed these wines, and I really like the pricing. You'll find my tasting notes below.
Today's Sponsor
Rioja is pure genius for wine lovers
For people who love wine, novices and experts alike, Rioja is a guaranteed choice - in fact, pure genius.
Why? For starters, there's a style for every occasion, taste and budget, from crisp whites to refreshing rosés to robust reds, all at great value (very affordable).
Wait, there's more - every Rioja is ready to drink when purchased, providing instant gratification.
Not to mention, Rioja wines are considered by many chefs and sommeliers to be the best food-pairing wines on Earth, created to enhance food, not overwhelm the flavors.
Need more reasons? The quality is guaranteed by the DOCa Rioja, the government body overseeing production of every bottle with the highest standards, ensuring every sip will satisfy.
Try a Rioja today and discover why Rioja is pure genius. Rioja wines make great gifts too - don't be afraid to share the love!
Visit us at www.VibrantRioja.com, join the community, and enter to win a case of Rioja.
Today's Tasting Report
Targovishte 2009 Bulgaria Muscat Ottonel "Premium Quality" Dry White Wine ($8.49)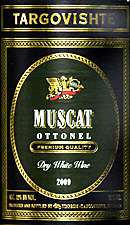 Transparent straw color. Luscious pears and a hint of spearmint on the nose and palate, juicy and appealing, suggests a sweet wine on the way, but in fact it's dry or nearly so, crisp pears and zippy acidity, at a modest, food-friendly 12% alcohol. Typical of Muscat (and also Gewurz) that's finished dry in the Alsatian style, there's a distinct, pleasant peach-pit bitterness in the long finish. U.S. importer: Bulgarian Master Vintners LLC, Sonoma, Calif. (March 4, 2011)
FOOD MATCH:A lighter variation of spaghetti alla carbonara without the cream.
Vini 2009 Danube River Plain Bulgaria Pinot Noir ($8.99)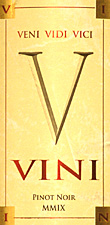 Garnet, dark but clear. Typical Pinot scents on the cool, "green" side, tomato skin and tree bark. Aromas carry over to the palate, joining tart black-cherry fruit, bright acidity, 13.5% alcohol and somewhat rough tannins. A bit rustic, but it's versatile with food and definitely shows Pinot character. Sealed to last under a sturdy metal screw cap. U.S. importer: Bulgarian Master Vintners LLC, Sonoma, Calif. (May 15, 2011)
FOOD MATCH: I re-created a 2006 invention, a savory blueberry-juniper berry sauce for some local Dreamcatcher Farm pastured pork tenderloin medallions.
Vini 2009 Thracian Valley Bulgaria Merlot ($7.99)
Very dark reddish-purple with a bright garnet edge. Black plums and blueberries, pleasant and subtle fruit aromas carry over to the palate with bright acidity and palatable but evident structural tannins. Like its Pinot Noir sibling, there's decent Merlot varietal character here, and versatile food pairing capability with red meats, roast or grilled poultry or sharp cheese. Screw-capped, 13% alcohol. U.S. importer: Bulgarian Master Vintners LLC, Sonoma, Calif. (May 17, 2011)
FOOD MATCH: Excellent with a meatless marinara sauce, kicked up with the addition of grated carrot and a little smoked paprika to the usual tomatoes, onions, green peppers and garlic.
VALUE: All these wines offer startlingly good value for less than $10. Get them at bargain-basement prices now before Bulgaria becomes yet another next big thing.
WEB LINK:
Bulgarian Master Vintners' Web page offers information and FAQs about Bulgarian wine and online wine sales.
FIND THESE WINES ONLINE:
Bulgarian Master Vintners' portfolio is now available in 20 states of the U.S., the importer says, but it's still barely visible on Wine-Searcher.com. You can buy its wines direct from the importer, where the law allows, or contact info@bulgarianwine.com by Email for information about vendors near you.
Talk About Wine Online
If you have questions, comments or ideas to share about today's article or wine in general, you're always welcome to drop by our online WineLovers Discussion Group, the Internet's first and still the most civil online community. To find our forums, click:
http://www.wineloverspage.com/forum/village
Discussions are open for public viewing, but you must register to post. Registration is free and easy; we ask only that you join following our Real Names Real Format system, using your real name in the format "John Doe" or "John D". Anonymous, cryptic or first-name-only registrations are discarded without notice.
Once your registration has been approved, which usually happens quickly, you'll be able to participate in all our online wine, food and travel forums.
To contact me by E-mail, write wine@wineloverspage.com. I'll respond personally to the extent that time and volume permit.
Subscriptions and Administrivia
Unsubscribe:
We're sorry if you must leave us, but simply click the "unsubscribe"
link at the bottom of your Email edition to be instantly removed from the mailing list.
Change address:
The quickest and easiest way to change your Email address is simply to register anew, using the link below. If you are keeping your old address but no longer wish to get the Wine Advisor there, click the unsubscribe link below to take it off our list; if you are closing the mailbox, you needn't take any action, as our system will delete your old address as soon as the mail to your old address starts to "bounce."
Subscribe to this Email edition (free):
http://www.wineloverspage.com/wineadvisor
WineLoversPage.com RSS Feed (free):
http://www.wineloverspage.com/rss
Wine Advisor Archives:
http://www.wineloverspage.com/wineadvisor2/archives.php
Sponsorship Opportunities:
For information, E-mail wine@wineloverspage.com