Today's sponsor
Shop The California Wine Club's Spring Cleaning Sale now!
Find deals and steals. Get award-winning wines for as low as $6.99 at The California Wine Club's Spring Cleaning Sale.
www.cawineclub.com
Vouvray, yay and nay
How do I love Vouvray? Let me count the ways:
It's an iconic wine of France's Loire Valley with its beautiful chateaus. It's pure Chenin Blanc, a grape that arguably reaches its peak in the Loire. Well-made, it produces clean, fresh wines of indisputable elegance and transparency, wines that at their best can show a remarkable combination of fresh fruit and stony minerality in elegant balance.
And it comes in a variety of styles. Depending on weather conditions during the growing season, and to some extent on wine-making choices, Vouvray can vary from bone-dry to slightly sweet to moelleux ("marrow-like," a Loire term for rich and off-dry), to quite sweet indeed.
And that's why Vouvray can frustrate me, too. From year to year, from producer to producer, the label rarely if ever describes the style or sweetness level of the wine in the bottle. The only way to know for sure whether your Vouvray is sweet or dry or someplace in-between is to pull the cork and taste the wine.
If you're planning dinner and looking for a wine to match your meal, it can be irritating if your main course really wants a dry, steely white, and your Vouvray turned out to be moelleux instead.
You can work around this issue easily enough, in the age of the Internet, by going online and digging up tasting reports, or posting a question about the wine on our WineLovers Discussion Group or other online forums.
But to be honest, Vouvray in particular, and Chenin Blanc in general, makes such a versatile, food-friendly wine that it doesn't much matter. As long as your dish doesn't demand a bone-dry white, your Vouvray should go well with traditional white-wine matches whether your specific choice is quite sweet or just barely so.
By way of example, by coincidence I tasted this week's featured wine, Sauvion 2009 Vouvray, one year to the day after I had tasted the same firm's 2008.
Comparing my notes after the fact, it became obvious that the 2009 was significantly sweeter than the 2008. Neither was bone-dry or dessert-sweet, and both enjoyed sufficient acidity to hold the fruit sugars in line. But my notes on the flavor component reflected a perceptible change.
In my review of the 2008, I wrote, "Quite sweet on the first taste, lush tropical fruit, but sharp acidity takes over in mid-palate, diminishing the impression of sweetness. A hint of stony minerality begins to show as fruit fades in a very long finish."
The 2009, in contrast (reviewed in full below), got this comment: " ... medium-bodied and rather sweet, but it's the crisp sweetness of fruit, not the cloying sweetness of a soft drink."
You pay your money and take your choice; and if you're matching the wine to dinner, you'll do well to taste in advance. But happily, all the choices lead to tasting pleasure.
Today's Sponsor
Shop The California Wine Club's Spring Cleaning Sale now!
Shop The California Wine Club's Spring Cleaning Sale now!
* Get award-winning wines for as low as $6.99
* Their "Top 20" Signature Series wines, each rated 90+ points, are on sale up to 66% off
* Don't miss final price reductions on limited inventory from their Aged Cabernet Series and International Selections
Find deals and steals including a very limited-production Russian River Pinot Noir from Kokomo Winery for just $16 and a Santa Barbara Red Blend from famed winemaker Brian Babcock for just $6.99!
Shop their full sale selection at www.cawineclub.com or call 1-800-777-4443.
Hurry, sale ends June 10, 2011. Stock up for Summer BBQs Now!
Today's Tasting Report
Sauvion 2009 Vouvray ($11.99)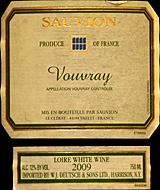 Transparent straw color. A whiff of juicy grapefruit at first adds a touch of spearmint. Flavor follows the nose, medium-bodied and rather sweet, but it's the crisp sweetness of fruit, not the cloying sweetness of a soft drink. Moderate 12 percent alcohol enhances its utility as a table wine. U.S. importer: W.J. Deutsch & Sons Ltd., Harrison, N.Y. (April 8, 2011)
FOOD MATCH: Vouvray makes a natural pair with ripe cheeses, chicken or mild fish. On our dinner table, the richness of a tarragon velouté in poulet l'estragon makes an especially effective pairing. The sweeter styles also serve well with hot-and-spicy fare. Last year, we successfully paired the 2008 vintage with a spicy Thai-style fish curry. For an intriguing selection of appropriate regional recipes go to the winery's English-language page and hover your cursor over the "recipes" link to get a clickable list.
VALUE: Simple Vouvray remains a good value, and it's hard to beat this on on quality-price ratio at $12. Better still when you find it in some markets in the $8 to $10 range.
PRONUNCIATION:
"Vouvray" = "Voov-ray"
"Sauvion" = "So-vee-awN"
WEB LINK:
The Sauvion home page defaults to a French version. To view it in English, click the British flag icon use this direct link.
FIND THIS WINE ONLINE:
Find vendors and check prices for Sauvion Vouvray on Wine-Searcher.com.
Talk About Wine Online
If you have questions, comments or ideas to share about today's article or wine in general, you're always welcome to drop by our online WineLovers Discussion Group, the Internet's first and still the most civil online community. To find our forums, click:
http://www.wineloverspage.com/forum/village
Discussions are open for public viewing, but you must register to post. Registration is free and easy; we ask only that you join following our Real Names Real Format system, using your real name in the format "John Doe" or "John D". Anonymous, cryptic or first-name-only registrations are discarded without notice.
Once your registration has been approved, which usually happens quickly, you'll be able to participate in all our online wine, food and travel forums.
To contact me by E-mail, write wine@wineloverspage.com. I'll respond personally to the extent that time and volume permit.
Subscriptions and Administrivia
Unsubscribe:
We're sorry if you must leave us, but simply click the "unsubscribe"
link at the bottom of your Email edition to be instantly removed from the mailing list.
Change address:
The quickest and easiest way to change your Email address is simply to register anew, using the link below. If you are keeping your old address but no longer wish to get the Wine Advisor there, click the unsubscribe link below to take it off our list; if you are closing the mailbox, you needn't take any action, as our system will delete your old address as soon as the mail to your old address starts to "bounce."
Subscribe to this Email edition (free):
http://www.wineloverspage.com/wineadvisor
WineLoversPage.com RSS Feed (free):
http://www.wineloverspage.com/rss
Wine Advisor Archives:
http://www.wineloverspage.com/wineadvisor2/archives.php
Sponsorship Opportunities:
For information, E-mail wine@wineloverspage.com