REDS, redux
REDS, again? Didn't I review that wine just about two months ago?
Well, yeah. But I've got a good reason to come back to this long-time personal favorite. Several good reasons, in fact.
First, my Feb. 25, 2011 review featured the 2008 vintage. As it turned out, the 2009 was already in the pipeline, and wine maker Patrick Campbell went out of his way to rush a bottle of the new vintage out to me. Thanks, Patrick!
Second, thanks to a typo in that edition, I managed to confuse the vintage issue further by erroneously referring to the 2009 vintage in my introduction. The tasting note, properly, named it the 2008. (And just to make my embarrassment slightly worse, I pulled from the archives an earlier wine label. Guess what? The label changed in 2008. D'oh!
Third and perhaps most important, when Patrick contacted me to offer a sample of the 2009, he also passed along news about major changes in his wine journey: The owner and originator of Laurel Glen, long one of my favorite California wineries, has sold the vineyard and winery and its name.
Here's his note, which preceded a formal news release:
I have sold Laurel Glen Vineyard to Bettina Sichel, a member of the prominent Bordeaux and German family that has been involved in the wine world for generations. I have been working on this sale for over three years, and after many hiccups and detours it has finally happened.
With 35 years of farming Laurel Glen under my belt, I had simply gotten about as much intellectual interest and satisfaction out of the vineyard and winery as I was ever going to get. Furthermore, during the past 20 years, my heart has been increasingly taken with the projects I had been developing in Lodi and Argentina, and it became ever more obvious that it was time to move on.
I will continue with the REDS, ZaZin!, Terra Rosa, Tierra Divina, Vale la Pena, and Chévere wines, now with less distraction and more focus, under the new company name: Tierra Divina Vineyards.
Thanks for your help, interest, and support along the long journey. Rest assured that the best is yet to come!
So, a new chapter in a career that's already brought joy to many people through outstanding, fairly priced wine. And the good news, as you read in Patrick's note, is that REDS and other popular labels that he's created from California and Argentine grapes will continue under his new label, Tierra Divina ("Divine Land.")
Watch for the new brand. I certainly will. For starters, meet the new REDS, just like the old REDS. It surely passes my taste test.
Today's Tasting Report
Tierra Divina 2009 Lodi California "REDS" ($10.99)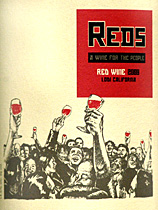 Dark purple with a clear garnet edge. Red berries and plums, good dark fruit aromas. It's a blend of Zinfandel, Carignane and Petite Sirah, but the Zin berries seem more evident on the palate than the nose, appetizing fruit well structured with fresh-fruit acidity and smooth but firm tannins. A modern replication of an old-style California field blend; I'd like to see a bit less alcohol than the label's claimed 14.5%, but in fairness, the flavor is fine, it's just that this high octane deters me from a refill that I'd really like to take. (April 24, 2011)
FOOD MATCH: Food-friendly and balanced, this is a versatile table wine. It made a great match with a roast local free-range hen for Easter dinner; I'd gladly serve it with steaks, burgers or a pizza.
VALUE: Hearty, drinkable table reds in this old-fashioned California style don't get any better in the $10 range. As the old saying goes, "Back up the truck" ... to the wine shop door.
WEB LINK:
The Tierra Divina Wines Web page is "under construction." You might bookmark this link and check in later.
FIND THIS WINE ONLINE:
Until the marketplace catches up with the corporate change, it's still best to use "Laurel Glen" in your keywords to compare prices and find online sources for REDS on Wine-Searcher.com.
Talk About Wine Online
If you have questions, comments or ideas to share about today's article or wine in general, you're always welcome to drop by our online WineLovers Discussion Group, the Internet's first and still the most civil online community. To find our forums, click:
http://www.wineloverspage.com/forum/village
Discussions are open for public viewing, but you must register to post. Registration is free and easy; we ask only that you join following our Real Names Real Format system, using your real name in the format "John Doe" or "John D". Anonymous, cryptic or first-name-only registrations are discarded without notice.
Once your registration has been approved, which usually happens quickly, you'll be able to participate in all our online wine, food and travel forums.
To contact me by E-mail, write wine@wineloverspage.com. I'll respond personally to the extent that time and volume permit.
Subscriptions and Administrivia
Unsubscribe:
We're sorry if you must leave us, but simply click the "unsubscribe"
link at the bottom of your Email edition to be instantly removed from the mailing list.
Change address:
The quickest and easiest way to change your Email address is simply to register anew, using the link below. If you are keeping your old address but no longer wish to get the Wine Advisor there, click the unsubscribe link below to take it off our list; if you are closing the mailbox, you needn't take any action, as our system will delete your old address as soon as the mail to your old address starts to "bounce."
Subscribe to this Email edition (free):
http://www.wineloverspage.com/wineadvisor
WineLoversPage.com RSS Feed (free):
http://www.wineloverspage.com/rss
Wine Advisor Archives:
http://www.wineloverspage.com/wineadvisor2/archives.php
Sponsorship Opportunities:
For information, E-mail wine@wineloverspage.com