Today's Sponsor
The California Wine Club: Give a Tasteful Gift and Save!
It's perfect for Moms, Dads, Grads and Newlyweds. With The California Wine Club, you can give everyone on your gift list a unique gift that can't be found in local stores.
www.cawineclub.com
Delicious Friuli white
Ask me my favorite wine region to visit, which may or may not be a different thing than my favorite wine region for tasting, and my first response is likely to be, "The place I toured last and remember best."
I'm also constrained by a strong natural instinct to shun naming favorites, preferring to sample widely and joyously in a world filled with so many good things.
But when I slow down and think it over, it's hard to imagine a wine place that I like much better than Friuli-Venezia Giulia.
This smallish region on Italy's far northeastern corner may not seem like an obvious choice. It produces only 2 percent of Italy's wine, most of it white and an unfortunate share of it forgettable, overcropped flatland-grown Pinot Grigio. It isn't really known for any of the great, collectible wines that have become iconic in more famous Italian regions like Tuscany and Piemonte.
But it's just such an easy, amiable place to visit and get around in, full of small, welcoming wineries and eateries where any visitor quickly feels right at home. Its major city, Trieste, is manageable in size, and its smaller towns, from regional capitals Udine and Gorizia to memorable villages like Cividale, provide the kind of off-the-beaten-path memories that travelers love to tell about.
Perhaps best of all, Friuli - like its border neighbor Slovenia, one of the former Yugoslav republics and now an independent member of the European Union - boasts that it provides the traveler an experience of "Europe in miniature." From sunny harbor towns on the Adriatic, one can drive quickly through plains, meadows and forests, up toward the hills (perhaps in quest of memorable San Daniele ham) and, within a couple of hours, come within sight of the Alps.
And vineyards? You'll find them just about everywhere. But for my money, take me to the hilly country along the Slovene border where Slovene is almost as widely spoken as Italian - from Trieste up past Cividale, in the regions called Collio ("Hills") and Colli Orientali ("Eastern Hills") - and chances are I'll be happy with the wine. Pinot Bianco, Friulano (formerly known as Tocai), Verduzzo and sweet Picolit and even, in these quarters, Pinot Grigio, make white wines of fresh, steely and complex flavor that are well worth coming back for.
I particularly like Friuli white blends, and for today's tasting offer a recent discovery that's particularly amiable. Marco Cecchini 2008 "Tové" Colli Orientali del Friuli Bianco is an odd but effective mix of Tocai and Verduzzo with a touch of Picolit. A real value in the middle teens, its scent is all about tropical fruit, with a crisp, food-friendly flavor that turns the conversation to stones and steel, white fruit and a hint of bitter almond.
At this point it appears to be a new import; I hope it soon becomes more widely available. My tasting notes are below.
Today's Sponsor
The California Wine Club: Give a Tasteful Gift and Save!
It's perfect for Moms, Dads, Grads and Newlyweds.
With The California Wine Club, you can give everyone on your gift list a unique gift that can't be found in local stores.
Special offer: Send a 3-Month Gift for only $98.90 (includes shipping and handling). You save $49.45!
Each gift month includes:
* Two bottles of award-winning, limited production wine
* An in-depth look inside the featured winery with Uncorked® magazine
* A 100% satisfaction guarantee.
A personalized gift message from you will be included in the first shipment. Send as many months as you wish and save even more on gifts of 6, 9 and 12 months.
"Wow! A wine club that really cares about the quality of wines it sends it members."
-Tim McNally, Wine Judge and Radio Host, commenting on The California Wine Club
To send a 3-month gift for the price of a 2-month gift, click here or call 1-800-777-4443.
Today's Tasting Report
Marco Cecchini 2008 "Tové" Colli Orientali del Friuli Bianco ($16.99)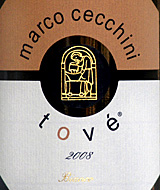 Transparent straw color. Subtle but delicious scents, typical of Friuli: pears, fresh green figs, a whiff of honey and a touch of almond. Crisp and dry, flavors follow the nose, framed by food-friendly acidity and rational 13% alcohol, with a hint of pleasant peach-pit bitterness in the finish. U.S. importer: Vanguard Wines LLC, Columbus. (April 2, 2011)
FOOD MATCH: Based on my happy recollections of travels in Friuli, I'd think first of shellfish from the nearby Adriatic with this rich, appealing white, but it would be fine, too, with veal, pork or poultry. It made an excellent pairing with a simple variation on bouillabaisse made with bluefish, onions, garlic, potatoes, tomatoes and a bit of saffron.
WEB LINKS AND FINDING THIS WINE ONLINE:
I haven't had much luck finding sources for this wine at Wine-Searcher.com, but try this link for a wide variety of Friuli white blends.
The U.S. importer may be able to point you to retailers in your region; and here's a glowing review of Tové from 3Cups Wine, a shop in Chapel Hill, N.C.
Talk About Wine Online
If you have questions, comments or ideas to share about today's article or wine in general, you're always welcome to drop by our online WineLovers Discussion Group, the Internet's first and still the most civil online community. To find our forums, click:
http://www.wineloverspage.com/forum/village
Discussions are open for public viewing, but you must register to post. Registration is free and easy; we ask only that you join following our Real Names Real Format system, using your real name in the format "John Doe" or "John D". Anonymous, cryptic or first-name-only registrations are discarded without notice.
Once your registration has been approved, which usually happens quickly, you'll be able to participate in all our online wine, food and travel forums.
To contact me by E-mail, write wine@wineloverspage.com. I'll respond personally to the extent that time and volume permit.
Subscriptions and Administrivia
Unsubscribe:
We're sorry if you must leave us, but simply click the "unsubscribe"
link at the bottom of your Email edition to be instantly removed from the mailing list.
Change address:
The quickest and easiest way to change your Email address is simply to register anew, using the link below. If you are keeping your old address but no longer wish to get the Wine Advisor there, click the unsubscribe link below to take it off our list; if you are closing the mailbox, you needn't take any action, as our system will delete your old address as soon as the mail to your old address starts to "bounce."
Subscribe to this Email edition (free):
http://www.wineloverspage.com/wineadvisor
WineLoversPage.com RSS Feed (free):
http://www.wineloverspage.com/rss
Wine Advisor Archives:
http://www.wineloverspage.com/wineadvisor2/archives.php
Sponsorship Opportunities:
For information, E-mail wine@wineloverspage.com