Today's Sponsor
Warning! Only 7 More Days to Save!
The California Wine Club's Spring Wine Sale ends March 31, 2011. Shop now and save up to 61 percent off retail prices, plus every case ships for $1!
www.cawineclub.com
Buzz wine in a blender?
Chances are you've already read some of the "gee, whiz" stories about former Microsoft technology guru Nathan Myhrvold's massive new cookbook that does for molecular gastronomy what Larousse did for the regular kind.
Just out from the publisher, "Modernist Cuisine: The Art and Science of Cooking" comprises six volumes, 2,438 pages, weighs in at well over 40 pounds and sells for a cool $625. $461.62 if you order it from Amazon.com.
It's an intriguing concept, though, and I've been filling up on media reports, not least the extensive and entertaining review, "Incredible Edibles," by John Lanchester in last week's New Yorker.
Suffice it to say that it covers the world of molecular gastronomy - that edgy, modern cuisine that features foams and emulsions and smears and the creative use of liquid nitrogen and pricey laboratory tools to prepare dishes that look spectacular on the plate and, one hopes, taste good, too.
And it even contains some cutting-edge notions about wine, or so I learned as I savored the New Yorker review:
" ...the work does contain quite a few tricks and useful pieces of know-how," Lanchester wrote. "The 'Modernist Cuisine' authors ... claim to have a way of improving wine by 'hyperdecanting' it via sixty seconds in a blender - the idea being that it will benefit from the oxygenation and outgassing effects. My solemn, taking-one-for-the-team experiments with red wine have partly confirmed this for Schwarzeneggerian young reds.)"
Now, this got my attention. Over the past few years there's been a boomlet of wine accessories that purport to open up wine and expand its flavors by passing the liquid through a variety of Rube Goldberg devices that all seem to function as forced, high-pressure aerators. I've dismissed them as junk science, a way to extract money better spent on wine for gadgets that replicate the simple procedure of decanting with aeration and allowing wines time to "breathe," a notion that's generally overstated anyway.
But hey. I already have a blender. Here's a wine trick that would be easy to test. I just happened to have a prospectively "Schwarzeneggerian young red" at hand, a Northern California Syrah from Stickybeak, a new venture by a team of Australian wine folks sticking their beaks into the Napa wine scene (and working with my buddies at the importer Old Bridge Imports, who sent me a jug or two for sampling).
Stickybeak 2008 Napa Valley Syrah rings in at 14.8 percent alcohol, spends 18 months in French oak (half of it new), and is vinified "to extract color and tannin." I expected a Terminator-style wine and pretty much got one, albeit well-made and balanced and enjoyable, assuming you don't mind that brawny Aussie style now and then.
Quick as a wink, I put the Modernist Cuisine trick to the test. I poured a four-ounce ration of Stickybeak Syrah into a measuring cup, dropped in a stick blender, and let 'er rip. Sixty seconds later the wine had foamed up into a pink froth, filling the room with a scent of black plums and spicy oak. A little later, at dinner time, I asked my wife to pour a ration of the blended wine and an untouched portion into separate, unmarked glasses.
Well, what do you know? I was able to correctly identify the "buzzed" glass without much hesitation. The blending technique certainly didn't damage it, and actually seemed to yield a somewhat mellowed effect. Going back and forth between the glasses after calling them correctly, I couldn't really define the difference in any objective way. The aroma and flavor from the blended glass seemed more subtle, more put-together; the woody oak was a bit more evident in the un-aerated glass, more integrated after blending.
Maybe there's something to the idea of hyper-ventilation, with a wine big enough and young enough to stand it. But I wouldn't pay for a wine-aerating toy, not when I've got a blender in the house.
I probably wouldn't cough up $625 for the Myhrvold cookbook, either, although if you really want one, I'd be delighted if you would use our link to buy it from Amazon.com for the discounted price, which would return a small percentage back to WineLoversPage.com to help us pay the rent.
If you want an outstanding book on food science for a fraction of the cost, take a look at Harold McGee's classic On Food and Cooking: The Science and Lore of the Kitchen, which you can get from Amazon.com for a relatively trivial $23.09, 42 percent off the $40 retail price, and still throw a few pence our way if you use our link.
And if you're in the mood for a big Syrah/Shiraz to sip while reading your new cookbook or dining or whatever, Stickybeak is certainly well worth a look. My tasting report is below.
Today's Sponsor
Warning! Only 7 More Days to Save!
The California Wine Club's Spring Wine Sale ends March 31, 2011. Shop now and save up to 61 percent off retail prices, plus every case ships for $1!
Choose from hundreds of award-winning, limited-production wines including smooth Cabernets, buttery Chardonnays, silky Pinot Noirs and more at prices as low as $9 per bottle.
Every wine has been hand-selected from a small family winery by Bruce and Pam Boring, proprietors of The California Wine Club, and is backed by their 100 percent satisfaction guarantee!
Half, full and mixed cases all ship for $1. Don't miss your chance to stock up and save big on award-winning, limited-production wines! To shop the full selection of wines on sale, Click here or call 1-800-777-4443.
Today's Tasting Report
Stickybeak 2008 Napa Valley Syrah ($20)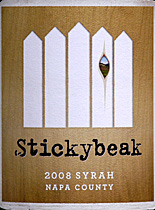 Very dark reddish-purple with a garnet edge. Blueberries and a touch of menthol, a breath of oak and a whiff of the "lactic" character that inspires comparison with blueberry milkshakes in some big Aussie Shirazes and, as here, California Syrahs made in apparent admiration of the style. Mouth-filling, full-bodied, a robust and powerful wine at 14.8 percent alcohol; but to its credit, the parts are in balance, and it's certain to please lovers of this style. (March 22, 2011)
FOOD MATCH: Free-range eggs poached in saffron tomato cream, then tossed with spaghetti when the eggs are barely cooked; a quick and easy mashup of a Persian egg dish and a simple Italian pasta-and-eggs technique, it made a rich, savory reddish-orange sauce that cloaked the strands of pasta ... and stood up to the "Schwarzeneggerian" wine.
WEB LINKS:
The producer's Website remains under construction, currently limited to a logo and an opportunity to sign up for the winery newsletter.
FIND THIS WINE ONLINE:
This new producer is just now moving into distribution. At the moment, Wine-Searcher.com lists only limited vendors for Stickybeak wines. Keep an eye out, though, as Old Bridge Cellars distributes widely in the U.S., so the label should begin showing up at retail sources. Meanwhile, you can buy direct from the winery, with delivery available where the law allows, or, if you like, check the distributor's list of sources to find a vendor near you.
Talk About Wine Online
If you have questions, comments or ideas to share about today's article or wine in general, you're always welcome to drop by our online WineLovers Discussion Group, the Internet's first and still the most civil online community. To find our forums, click:
http://www.wineloverspage.com/forum/village
Discussions are open for public viewing, but you must register to post. Registration is free and easy; we ask only that you join following our Real Names Real Format system, using your real name in the format "John Doe" or "John D". Anonymous, cryptic or first-name-only registrations are discarded without notice.
Once your registration has been approved, which usually happens quickly, you'll be able to participate in all our online wine, food and travel forums.
To contact me by E-mail, write wine@wineloverspage.com. I'll respond personally to the extent that time and volume permit.
Subscriptions and Administrivia
Unsubscribe:
We're sorry if you must leave us, but simply click the "unsubscribe"
link at the bottom of your Email edition to be instantly removed from the mailing list.
Change address:
The quickest and easiest way to change your Email address is simply to register anew, using the link below. If you are keeping your old address but no longer wish to get the Wine Advisor there, click the unsubscribe link below to take it off our list; if you are closing the mailbox, you needn't take any action, as our system will delete your old address as soon as the mail to your old address starts to "bounce."
Subscribe to this Email edition (free):
http://www.wineloverspage.com/wineadvisor
WineLoversPage.com RSS Feed (free):
http://www.wineloverspage.com/rss
Wine Advisor Archives:
http://www.wineloverspage.com/wineadvisor2/archives.php
Sponsorship Opportunities:
For information, E-mail wine@wineloverspage.com