Wine label immortality
Mild days and a few flowery signs of spring contend this week with the bluster of winter's last days; and for those who observe the season, Ash Wednesday and its austere end to Carnival inspires thoughts of "ashes to ashes, dust to dust."
I come to these deep thoughts today from a recent tasting, the rediscovery of a California wine bearing a familiar name that brought back memories of a sad event during my early days in wine appreciation.
Back in the 1980s, when the idea of single-varietal Cabernet Sauvignon was even more dominant in California wine than it is today, wine-maker Munro "Chip" Lyeth heard the beat of a different drummer. Lyeth put his family name on the labels of excellent Sonoma red and white wines made not from single grape varieties but with the cuvées - blends of grapes - traditional in Bordeaux.
Bearing the deliberately simple, generic names "Lyeth Red" and "Lyeth White," these wines appealed to me as a lover of the then still affordable wines of Bordeaux. I tasted them in every vintage, and duly reported on them.
But tragedy intervened: Lyeth, who enjoyed racing aircraft along with his careers as restaurateur and winery owner, was killed in a small-plane crash in 1988. The winery, and the label, disappeared, at least from my view.
Over the ensuing years, as it turns out, the French-owned firm Boisset U.S.A. purchased rights to the Lyeth label. In recent years they have continued making red and white blends - now from California in general, not specifically Sonoma - positioned primarily for sale as modest restaurant wines. (A quick run through Google reveals that Lyeth reds typically sell on restaurant lists for $25 or so per bottle, $7 or $8 for a glass.)
I spotted a bottle of Fleur de Lyeth 2009 California Red the other day, attractively priced at $12 in the wine shop, and couldn't resist an impulse buy for nostalgia's sake.
A blend of the traditional Bordeaux grapes Cabernet Sauvignon, Merlot and Malbec in undisclosed proportions, it proved to be a decent buy: A good Bordeaux-style blend with a Mid-Atlantic accent, perhaps worth cellaring for a few years to see how it evolves. Those aren't bad things to say about a $12 wine. You'll find my tasting notes below.
Is Lyeth typical? Well ... "wine label immortality" is not unknown, among family wineries where the progenitor's name is honored after his passing. Heitz Cellars, for example, or Louis M. Martini before the Napa firm was sold to Gallo. Perhaps less reputably, you'll see it where new industrial owners create something perhaps different than the namesake had in mind. Consider Franzia's "Charles Shaw," for instance, where a once artisanal product now flies out the doors of Trader Joe's stores as "Two Buck Chuck."
Today's Sponsor
Don't miss out! Get award-winning wines for as low as $9/bottle, Plus $1 shipping on every case!
The California Wine Club's $1 Shipping Spring Wine Sale is going on now. You can save up to 61% off retail prices, and every case, half case and mixed case ships for just $1.
At these prices, the wines are selling out fast. Shop now to ensure you don't miss phenomenal deals including:
* Courtney Benham Winery 2009 Russian River Valley Merlot. Retail Price: $28. CWC Sale Price: $10.99.
* Peters Family Winery 2005 Sonoma Coast Pinot Noir. Retail Price: $42. CWC Sale Price: $27.
* Vinum Cellars 2008 California Petite Sirah. Retail Price: $18. CWC Sale Price: $9.
Sale ends March 31, 2011, so don't wait!
To shop now, click here, or call 1-800-777-4443.
Today's Tasting Report
Fleur de Lyeth 2009 California Red Wine ($11.99)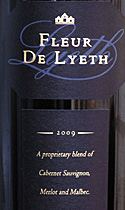 Purple color, clear but very dark, almost black, with a clear garnet edge. Black cherries and currants, pleasant, elegant fruit aromas. Good black fruit flavor, medium-bodied with firm acidity and marked but palatable tannins, rational alcohol level by modern standards at 13.5%. A blend of Cabernet Sauvignon, Merlot and Malbec in undisclosed proportions. (March 5, 2011)
FOOD MATCH: A wine for red meat, fine with a grass-fed rib eye steak from a local farm; standard presentation crusted with coarsely ground black pepper, pan-seared and oven-finished medium-rare.
VALUE: Excellent Cabernet-blend character in a California red of very good value at this local price. In some regions it may be worth shopping online, as Wine-Searcher.com shows an unusual span of prices from $9 to $16.
WHEN TO DRINK: Good now, especially with red meat, although the fruit, acidity and tannins suggest some potential for at least a few years' cellaring.
PRONUNCIATION:
Lyeth = "Leeth"
WEB LINKS:
Boisset Family Estates, the corporate holder of this property, has its Lyeth information page here. Similar information is available on the Lyeth Estate Web link.
FIND THIS WINE ONLINE:
Compare prices and find vendors for Fleur de Lyeth on Wine-Searcher.com.
For a list of Boisset's state-by-state wholesale distributors in the U.S., click here.
Talk About Wine Online
If you have questions, comments or ideas to share about today's article or wine in general, you're always welcome to drop by our online WineLovers Discussion Group, the Internet's first and still the most civil online community. To find our forums, click:
http://www.wineloverspage.com/forum/village
Discussions are open for public viewing, but you must register to post. Registration is free and easy; we ask only that you join following our Real Names Real Format system, using your real name in the format "John Doe" or "John D". Anonymous, cryptic or first-name-only registrations are discarded without notice.
Once your registration has been approved, which usually happens quickly, you'll be able to participate in all our online wine, food and travel forums.
To contact me by E-mail, write wine@wineloverspage.com. I'll respond personally to the extent that time and volume permit.
Subscriptions and Administrivia
Unsubscribe:
We're sorry if you must leave us, but simply click the "unsubscribe"
link at the bottom of your Email edition to be instantly removed from the mailing list.
Change address:
The quickest and easiest way to change your Email address is simply to register anew, using the link below. If you are keeping your old address but no longer wish to get the Wine Advisor there, click the unsubscribe link below to take it off our list; if you are closing the mailbox, you needn't take any action, as our system will delete your old address as soon as the mail to your old address starts to "bounce."
Subscribe to this Email edition (free):
http://www.wineloverspage.com/wineadvisor
WineLoversPage.com RSS Feed (free):
http://www.wineloverspage.com/rss
Wine Advisor Archives:
http://www.wineloverspage.com/wineadvisor2/archives.php
Sponsorship Opportunities:
For information, E-mail wine@wineloverspage.com