The Zen of Rhône
Fine wine, as we've often discussed before, is often not only a matter of quality grapes and competent wine making. Real estate also comes into the equation, and as the people who sell it say, the secret of success lies in "location, location, location."
In France's Rhône river valley, for example, prime locations include the historic Hermitage hill in the Northern Rhône; the Southern Rhône's answer to Park Place and Boardwalk might be Châteauneuf-du-Pape.
Many of the valley's vineyards, lacking this cachet, are designated as generic Côtes-du-Rhône ("Hillsides of the Rhone"), which cover a swath along both the Southern and Northern Rhône; vineyards surrounding a roster of specific villages thought to produce better fruit win a promotion to Côtes-du-Rhône Villages.
About two dozen village vineyards are sufficiently regarded to earn the specific name of their village on the label; and from time to time a village gains such a reputation (Vacqueyras and Gigondas, for example) that it's elevated to the distinction of a label under its own name, standing alone.
At the bottom of the status ladder, the relatively new designation Vin de France ("Wine of France") identifies the old Vins de Table ("Table Wines"), those that toil without further geographical distinction. But it remains possible for a wine from low-rent district to boast a family tree, and for these wines the old Vin de Pays ("wine of the country") designation remains available.
In the Rhône, it's the Vin de Pays du Comté de Grignan that serves the Zen-like status of filling in the spaces between things. Both above and below Montélimar, dividing line that separates the Mediterranean climate of the Southern Rhône from the cooler Continental climate and soil of the North, Vin de Pays du Comté de Grignan stretches 50 miles along the valley, filling in all the spaces not otherwise covered by controlled appellations.
Today's wine, Olivier Cuilleras's Domaine la Guintrandy 2008 "Saint-Leger," offers a fine, affordable example of Vin de Pays du Comté de Grignan red. A blend of half-and-half Grenache and Syrah, it belies its downscale appellation with excellent ratio of quality to price.
We're reaturing the wines of the Southern Rhône in Wine Focus for March in our WineLovers Discussion Group. Join us as our friendly international crowd of wine lovers share our thoughts, questions and tasting notes on the wines of the the region. To participate, simply click to the topic "Farther on up the Rhône!"
All forum discussions are open for public viewing, but you must register to post your comments and participate actively in the conversation.
Registration is free and easy; we ask only that you join following our Real Names Real Format system. For your user name, enter your real name in the format "John Doe" or "John D", with the capital letters and the space.
Having a real name on your name tag is so important to us that all non-conforming registrations will be quietly discarded. Redemption is possible, though. If you overlook this rule and get no response to your registration, feel free to contact me personally by Email at wine@wineloverspage.com, and we'll sort it out.
Once your registration has been approved, which usually happens quickly with correctly formed user names, you'll be able to participate in Wine Focus and in all our online wine and food forums.
Vintage of last week's REDS
In last week's report, Bold and bright and REDS all over, the introduction referred to the 2009 vintage of REDS, while the tasting report cited the 2008. In fact, the wine was the 2008, and I regret the typo. (The "8" and the "9" are really close together on the keyboard, aren't they?)
As it turns out, I've learned from wine maker Patrick Campbell that the 2009 vintage has just been released, and he thinks its style will be to my liking; and, I hope, to yours. I'm making every effort to get my hands on a bottle and hope to be able to tell you about it soon.
Today's Tasting Report
Domaine la Guintrandy 2008 "Saint-Léger" Vin du Pays du Comté de Grignan ($10.99)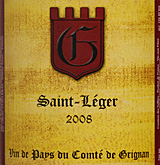 Dark ruby with a clear reddish-orange edge. Attractive and correct varietal aromas, Syrah black pepper and Grenache raspberry, reflect its 50-50 blend. Good raspberry fruit on the palate, fresh and juicy, held in restraint by snappy acidity, with fragrant black pepper and soft tannins becoming more evident in the long, clean red-berry finish. Good fruit and acid balance and rational 13% alcohol make it a fine food wine, and a benchmark example of a simple, well-made Rhóne red. U.S. importer: Vanguard Wines LLC, Columbus. (March 3, 2011)
FOOD MATCH: Grilled red meat and Rhône reds make natural partners, and some leftover grilled lamb kebabs from a local Jordanian eatery that we had on hand made a splendid match, enhanced by aromatic leftover rice from the same source.
VALUE: A quality-price-ratio winner for just over $10.
WHEN TO DRINK: It won't fade over the next year or so, but modest red Rhônes aren't really agers, and the slick-sleeved foam synthetic stopper isn't meant for the cellar.
WEB LINKS:
The producer's Website is available in French and English. Here's an English-language page about the property's long history. For brief tasting and tech notes on the Saint-Léger, click this link.
Wine-Searcher.com has an interesting summary of information about the Vin de Pays du Comte de Grignan, along with links to representative wines.
FIND THIS WINE ONLINE:
Find limited vendors for Domaine la Guintrandy "Saint-Leger" on Wine-Searcher.com.
Talk About Wine Online
If you have questions, comments or ideas to share about today's article or wine in general, you're always welcome to drop by our online WineLovers Discussion Group, the Internet's first and still the most civil online community. To find our forums, click:
http://www.wineloverspage.com/forum/village
Discussions are open for public viewing, but you must register to post. Registration is free and easy; we ask only that you join following our Real Names Real Format system, using your real name in the format "John Doe" or "John D". Anonymous, cryptic or first-name-only registrations are discarded without notice.
Once your registration has been approved, which usually happens quickly, you'll be able to participate in all our online wine, food and travel forums.
To contact me by E-mail, write wine@wineloverspage.com. I'll respond personally to the extent that time and volume permit.
Subscriptions and Administrivia
Unsubscribe:
We're sorry if you must leave us, but simply click the "unsubscribe"
link at the bottom of your Email edition to be instantly removed from the mailing list.
Change address:
The quickest and easiest way to change your Email address is simply to register anew, using the link below. If you are keeping your old address but no longer wish to get the Wine Advisor there, click the unsubscribe link below to take it off our list; if you are closing the mailbox, you needn't take any action, as our system will delete your old address as soon as the mail to your old address starts to "bounce."
Subscribe to this Email edition (free):
http://www.wineloverspage.com/wineadvisor
WineLoversPage.com RSS Feed (free):
http://www.wineloverspage.com/rss
Wine Advisor Archives:
http://www.wineloverspage.com/wineadvisor2/archives.php
Sponsorship Opportunities:
For information, E-mail wine@wineloverspage.com