Seeking the offbeat wine blog
Time flies when you're having fun, and blogging certainly must be fun, or a bazillion people wouldn't be doing it. Blogging is popular because it makes it easy for any reasonably literate person with a passion and a computer to become a writer and maybe even to become a recognized expert with a following.
Bloggers cover just about every subject under the sun, not to mention literally thousands of wine enthusiasts who blog about the fruit of the vine. Google "wine blog" and get back 127 million results, ranging from myriad false hits to a few jewels like the fellow at the bottom of Page 10 of the results who boasts of having "probably the best wine blog in the world."
Who wants to read them all? Not me! I won't quote Sturgeon's Law here, but let's just say that the quest for a really creative, outside-the-box wine blog is much like the quest for a really creative, outside-the-box wine: You have to kiss an awful lot of frogs before you find a princess.
The other day, however, looking up a curiously gulpable French red, I discovered a surprisingly effective way to spot random wine blogs that stand out from the pack: Find an offbeat wine that you really like, an artisanal, somewhat hard-to-find wine of value and quality, and run a search on Google or other favorite Internet search engine.
What comes back, in addition to the usual gaggle of wine shops and tasting-notes aggregate sites, is very likely to include a few offbeat bloggers who like the same wacky wine that you did, and who wrote it up in an attention-getting way.
So it was with my search for Marcel Lapierre "IX" Raisins gaulois Vin de France. The top 10 hits brought back two intriguing blogs and an online magazine, all worth bookmarking; a .300 batting average that's pretty good in baseball or wine.
Here are quick links to the three blogs. If you like them, I'm sure the authors would be delighted to have you subscribe.
* Repository Of Useless Information, subtitled "A memory aid for all things subjective: links to videos and music I want to remember, my notes on wine and books and music and food and whatever else I fancy," is written in English, I believe, by a Finnish forum pal whose name I won't mention because he doesn't provide it on his own blog. He writes of Raisins gaulois, "Not a VdP de Gaules anymore this year, but simply Vin de France. But otherwise this is a repeat of all the wonderfulness of the '07 VdP deGaules: lovely, natural Gamay fruit, refreshing and lively. The fruit is a darker than in the '07 and it doesn't seem quite as ethereal, but this is still an awesomely joyous wine. I love it."
* BottleDJ.com, a.k.a. "Where Wine & Music Get Mixed, Matched And Paired," is based in Montreal, where its also-unnamed author uses the shtick of pairing wine-tasting reports with videos of music he considers well-matched to the beverage. Of Raisins gaulois, he writes, "This wine is juicy and sassy, with berry flavours and even some spearmint on the finish. So as your well heeled friends are thinking about investing in '09 Bordeaux futures, jump to the head of the line and order a case of this very affordable small run wine and forget about future value." His music match? "While you are living like a Rock Star chugging down (moderately) this wine, crank your stereo up to 11 and air guitar along to Lyla by Oasis. This song is about a girl with a flowery name who breaks out of a life of monotony and blossoms while living life to the fullest… just like the Raisins Gaulois 2009."
* Organic Wine Journal is an online wine journal with many contributors, published by Jonathan Russo and edited by Adam Morganstern. The articles, many of them multi-media, seem generally thoughtful and intelligent, two good things to find on the 'net. The link above zeroes in on a video essay by wine consultant Lyle Fass, who fondly remembers Marcel Lapierre as he describes a glass of Raisins Gaulois: "It's like someone took a spigot to the wines and they put the glass under ... It's a wine about fruit, and only about fruit. ... fruity like you wouldn't believe. It's a nuclear fruit bomb."
Indeed. It's good, though. My tasting notes are below.
Today's Sponsor
Secret E-Sale going on now at The California Wine Club!
The California Wine Club's $1 Shipping Spring Wine Sale starts next week, but you can order now! Save up to 61 percent off retail prices, plus every case ships for $1! Shop now!
Choose from hundreds of award-winning, limited-production wines including smooth Cabernets, buttery Chardonnays, silky Pinot Noirs and more at prices as low as $9 per bottle.
Every wine has been hand-selected from a small family winery by Bruce and Pam Boring, proprietors of The California Wine Club, and is backed by their 100 percent satisfaction guarantee!
Half, full and mixed cases all ship for $1. Don't miss your chance to stock up and save big on award-winning, limited-production wines! To shop the full selection of wines on sale, click here or call 1-800-777-4443.
Today's Tasting Report
This is a Beaujolais that's not a Beaujolais, made in the Vin de Pays de Gaules region (greater Beaujolais) from unclassified Gamay grapes; "Raisins gaulois" means "Gallic grapes." The wine is broadly designated "Vin de France" ("Wine of France") and thus can carry no vintage date, although the Roman numeral "IX" signals a 2009 harvest. This broad appellation is no sign of inferior quality in this case but a signal of wine maker Marcel Lapierre's inclination to march to the beat of a different drummer and produce wines that bear his own stamp. Sadly, Lapierre died last autumn, but his son Mathieu continues the family tradition.
Marcel Lapierre "IX" Raisins gaulois Vin de France ($11.99)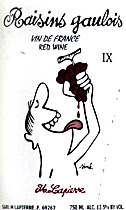 Clear dark garnet with a clear edge. Ripe wild-strawberry aroma with hints of red clay, gains berry intensity with time in the glass. Flavors follow the nose, juicy strawberries, dry and freshly acidic, with an undertone of minerality that pleasantly evokes red mud after a rain. Subtle berries persist, tart and gently tannic, moderate 12.5% alcohol in a long finish. U.S. importer: Kermit Lynch Wine Merchant, Berkeley, Calif. (Feb. 15, 2011)
FOOD MATCH: About as food-friendly as a very berry Pinot Noir; it was beautiful with a simple pasta dish of penne with local beef meatballs and a puree of roasted red peppers, onions and garlic.
VALUE: Extremely good value at this price.
WHEN TO DRINK: The bright, fresh fruit flavors suggest drinking it up over the next year or so. But in contrast with the "drink it before Christmas" tradition of Nouveau Beaujolais, this wine's complexity and depth - not to mention the sturdy modern metal screwcap - will likely see it hold, and possibly develop interesting flavor nuance - over at least a few more years.
WEB LINKS:
Kermit Lynch, the importer, offers this essay about a visit to Marcel Lapierre in an October 2010 entry to his "Inspiring Thirst" blog.
FIND THIS WINE ONLINE:
Compare prices and locate vendors for Marcel LaPierre's wines on Wine-Searcher.com.
Also, check the importer, Kermit Lynch Wine Merchant, which offers wines for direct sale, where legal, at this link, as well as this listing of state-by-state distributors
Talk About Wine Online
If you have questions, comments or ideas to share about today's article or wine in general, you're always welcome to drop by our online WineLovers Discussion Group, the Internet's first and still the most civil online community. To find our forums, click:
http://www.wineloverspage.com/forum/village
Discussions are open for public viewing, but you must register to post. Registration is free and easy; we ask only that you join following our Real Names Real Format system, using your real name in the format "John Doe" or "John D". Anonymous, cryptic or first-name-only registrations are discarded without notice.
Once your registration has been approved, which usually happens quickly, you'll be able to participate in all our online wine, food and travel forums.
To contact me by E-mail, write wine@wineloverspage.com. I'll respond personally to the extent that time and volume permit.
Subscriptions and Administrivia
Unsubscribe:
We're sorry if you must leave us, but simply click the "unsubscribe"
link at the bottom of your Email edition to be instantly removed from the mailing list.
Change address:
The quickest and easiest way to change your Email address is simply to register anew, using the link below. If you are keeping your old address but no longer wish to get the Wine Advisor there, click the unsubscribe link below to take it off our list; if you are closing the mailbox, you needn't take any action, as our system will delete your old address as soon as the mail to your old address starts to "bounce."
Subscribe to this Email edition (free):
http://www.wineloverspage.com/wineadvisor
WineLoversPage.com RSS Feed (free):
http://www.wineloverspage.com/rss
Wine Advisor Archives:
http://www.wineloverspage.com/wineadvisor2/archives.php
Sponsorship Opportunities:
For information, E-mail wine@wineloverspage.com