Today's Sponsors
Vinobazaar.com - great prices, fast service and very cheap shipping.
Check out our rare-find current special at Vinobazaar.com: Amarone Della Valpolicella Nando 2005 - $18.99

The California Wine Club: The perfect gift for that hard-to-buy-for person
Award-winning, limited-production wine from California's best "mom & pop" wineries!
www.cawineclub.com
Taste the wine, not the label
If you grew up in the age of television - and that essentially includes us all - you've probably long since learned not to place all your faith in advertising claims.
Yet even the most wary wine lover may overlook the possibility of promotional excess on the back label of our wine.
Now, a little perspective: This is not a rant, and I'm not likening our friends in the wine-making business to old-style snake oil salesmen. Well, not by much.
But it's worth remembering that the strict legal regulations governing the use of variety, vintage, producer and geographical origin on the wine label do not extend to the explanatory material or even the tasting notes on the back of the bottle. There, promotional language may prevail, and usually does.
To keep things honest, let's use as an example today's featured wine, Perrin 2009 Côtes du Rhône Réserve Blanc. It's a wine I like from a wine-making family that I like, so I have no reason to pick on them. But I couldn't resist chuckling as I read the back label while I tasted the wine.
Let's see here. It's "hand harvested from vineyards which have been cultivated for over 2,000 years." Wow! Great! That's really old vines! Of course, the Grenache Blanc, Bourbolenc, Marsanne, Roussanne and Viognier that went into this bottle are modern, but hey, the ancient Romans planted the Rhône valley's first wine grapes back around the start of the first millennium. That counts for something. Doesn't it?
Then I got to the tasting notes. The label assures me that this is a "rich, full-bodied" wine ... "Golden-hued, peach-scented, intensely flavored dry white."
Gold? I see straw. Peaches? Maybe it's just me, but I'm not getting that. My fruit impressions veer closer to pears, limes, some mango, maybe. Mango's not too far from peach on the aroma wheel, but it's not there either. Rich and full-bodied? I like its texture, and it's well past "light." I'd say "medium-bodied."
My advice? To avoid having your impressions tainted by suggestion, hold off on reading the back label's tasting notes until you've reached your own conclusions.
The bottom line: No matter how helpful the back label tries to be, the only nose and palate you have to please is your own. Enjoy! My tasting notes are below.
Today's Sponsor
The California Wine Club: The perfect gift for that hard-to-buy-for person
The perfect gift for that hard-to-buy-for person:
Award-winning, limited-production wine from California's best "mom & pop" wineries!
With The California Wine Club, you can send your gift recipients on an armchair tour of California's best "mom & pop" wineries. It's a unique gift that can't be found in stores.
Each gift month is just $35.95 plus shipping and handling and includes two bottles of award-winning, limited production wine and an in-depth look inside the featured winery with Uncorked Magazine.
Club owners Bruce and Pam Boring hand-select every wine, their commitment to quality is evident with every bottle they send out. "We guarantee that your gift recipients will love the wines we feature, or we'll give you your money back!" -Bruce & Pam Boring
Send more, save more: Special discounts are available on 3, 6, 9, and 12-month gifts. Send as many months as you wish. Call 1-800-777-4443 or visit www.cawineclub.com.
Today's Tasting Report
Perrin 2009 Côtes du Rhône Réserve Blanc ($12.99)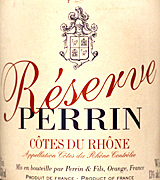 Transparent straw color. Fresh and pleasant white fruit, a hint of fresh pears and lime juice and a higher-pitched note of fresh mango. The flavors carry over on the palate, crisp, mouth-watering and fresh. Medium-bodied, with moderate 13% alcohol; zippy limey acidity hangs on in a long finish that invites a taste of something good. A typical white Rhône blend of Grenache Blanc (50%), Bourbolenc (20%), Marsanne (10%), Roussanne (10%) and Viognier (10%). U.S. importer: Vineyard Brands Inc., Birmingham, Ala. (Nov. 28, 2010)
FOOD MATCH: A versatile food wine, it was fine with turkey noodle soup on the first night; the refrigerated leftovers go just as well the following evening with a diverse autumn platter of roasted pumpkin, potato, onions, bell peppers and tomatoes and a bite of locally pastured pork bratwurst on the side.
VALUE: Worth this low-teens price, but look for the bargains; I'm paying a local premium compared with many vendors listing it at $10 or less on Wine-Searcher.com
PRONUNCIATION:
Côtes du Rhône = "Coat doo Roan"
Click this link to hear "Perrin Réserve Côtes du Rhône" spoken in excellent French on the importer's site.
WEB LINK: Here's the U.S. importer's info sheet on Perrin Réserve. Check the column of links on the right-hand side for abundant information about the wine and its producer.
FIND THIS WINE ONLINE:
Find vendors and compare prices for Perrin Côtes du Rhône Réserve Blanc on Wine-Searcher.com.
Today's Sponsor
Vinobazaar.com - great prices, fast service and very cheap shipping
Check out our rare-find current special at Vinobazaar.com - Amarone Della Valpolicella Nando 2005 - $18.99
Besides offering you highly rated wines from around the world, our knowledgeable wine experts seek out little-known wines from hot new wineries - at prices that are often below the wholesale cost of other stores. Our retail store in Clifton, N.J., has been serving satisfied winelovers since 1985. Now we bring our same great prices and fast service to winelovers everywhere.
Vinobazaar.com - your one-stop online discount wine store.
Talk About Wine Online
If you have questions, comments or ideas to share about today's article or wine in general, you're always welcome to drop by our online WineLovers Discussion Group, the Internet's first and still the most civil online community. To find our forums, click:
http://www.wineloverspage.com/forum/village
Discussions are open for public viewing, but you must register to post. Registration is free and easy; we ask only that you join following our Real Names Real Format system, using your real name in the format "John Doe" or "John D". Anonymous, cryptic or first-name-only registrations are discarded without notice.
Once your registration has been approved, which usually happens quickly, you'll be able to participate in all our online wine, food and travel forums.
To contact me by E-mail, write wine@wineloverspage.com. I'll respond personally to the extent that time and volume permit.
Subscriptions and Administrivia
Unsubscribe:
We're sorry if you must leave us, but simply click the "unsubscribe"
link at the bottom of your Email edition to be instantly removed from the mailing list.
Change address:
With our new Email system, the easiest way to change your Email address is simply to register anew, using the link below. If you are keeping your old address, you may unsubscribe; if you are closing it, you needn't take any action, as our system will delete your old address as soon as the mail starts to "bounce."
Subscribe to this Email edition (free):
http://www.wineloverspage.com/wineadvisor
WineLoversPage.com RSS Feed (free):
http://www.wineloverspage.com/rss
Wine Advisor Archives:
http://www.wineloverspage.com/wineadvisor2/archives.php
Sponsorship Opportunities:
For information, E-mail wine@wineloverspage.com