Today's Sponsors
Black Friday Special Offer from The California Wine Club
A Gift For Them, A Gift For You! Use Promo Code: GIFT when ordering gifts!
www.cawineclub.com

Vinobazaar.com - great prices, fast service and very cheap shipping.
Vinobazaar.com - your one-stop online discount wine store.
15% alcohol: How much is too much?
Unless we suffer a mighty cold December, scientists says, the year 2010 is on track to tie or break the record as hottest year worldwide since precise records have been kept.
Without trying to set off a debate about global warming (I'd really rather drink wine), this is a fact: The past decade, 2000-2009, was the warmest on record, and the previous record-hot years, 1998 and 2005, both had us simmering within recent memory.
And while we've been simmering, the world's grapevines have been baking. For two or three decades, long, hot summers have fostered ripe, juicy grapes, full of natural sugar that converts into powerful alcohol content when the grapes are fermented into wine.
As I've pointed out repeatedly (here and here and here, for instance), the combination of abnormal heat; applause from wine critics who seem to prefer "blockbuster" wines; and vineyard and winery efforts to make wines that satisfy those power-hungry palates, has bequeathed us a new wave of 14, 15 and even 16-percent alcohol wines.
Wines so strong rarely please my palate, which grew up attuned to balanced, elegant drinks that find their natural place alongside food on the dinner table. "Table" wines with 15 percent alcohol seldom give that kind of pleasure, as the extra octane often communicates itself as a rough, harsh, even hot flavor component that's far from food-friendly.
It has come to the point that - particularly when I'm shopping for wines from California, Australia or even warmer parts of Europe like Spain and the southern reaches of Italy and France - I'll check the tiny print that reveals the alcohol content, and if it's too high to suit me, put it back on the shelf.
It's a workable general policy, but I can't recommend it as a firm, inviolable rule. I've recorded too many impressive exceptions to recommend rejecting a wine on the basis of its alcohol content alone. If I did that, I would have missed the pleasure of a pretty good Spanish red the other night.
Frankly, if I had noticed at the store that Juan Gil 2007 Jumilla claimed 15 percent alcohol, I might have passed. But when lamb shanks were on the table, an earthy, intense Monastrell (Mourvèdre) from Spain's southern Jumilla region looked like just the ticket.
And sure enough, as I acknowledged in a WineLovers Discussion Group conversation, Insane high-alcohol arms race, "It tastes good, though." The wine was strong enough to give me pause, but to my pleased surprise proved to be flavorful, balanced and an excellent match to the robust flavors of locavore lamb. You'll find my tasting notes below.
Today's Sponsor
Vinobazaar.com - great prices, fast service and very cheap shipping
Check out our rare-find current special at Vinobazaar.com - Amarone Della Valpolicella Nando 2005 - $18.99
And another great wine at great price - Castello D'Albola Chianti Classico 2006 750ML (90 points WS) - $10.59
Besides offering you highly rated wines from around the world, our knowledgeable wine experts seek out little-known wines from hot new wineries - at prices that are often below the wholesale cost of other stores. Our retail store in Clifton, N.J., has been serving satisfied winelovers since 1985. Now we bring our same great prices and fast service to winelovers everywhere.
Vinobazaar.com - your one-stop online discount wine store.
Today's Tasting Report
Juan Gil 2007 Jumilla ($16.99)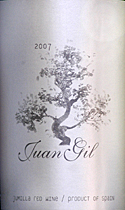 Very dark garnet, dark purple at the center. Dark red fruits, cherries and plums, on a backdrop of sweet smoky oak with an earthy back note reminiscent of tree bark. Ripe and fresh plums on the palate, a fruity impression that almost seems sweet at first, shaped by good acidity and soft tannins that finish dry. The stunning 15% alcohol, to its credit, is not obvious in the flavor, but watch that second glass! Made entirely from Monastrell grapes, said to be the Spanish equivalent of Mourvèdre. U.S. importer: Cutting Edge Selections Inc., Mariemont, Ohio; Jorge Ordoñez Selections. (Nov. 19, 2010)
FOOD MATCH: Its full flavor and forward alcohol really wants red meat; even venison should work well. It was fine with lamb shanks braised with fresh herbs and white beans.
VALUE: A fair buy at this mid-teens price, but shopping around may pay dividends, as my local toll is at the high end of the range. The 2008 vintage is already in distribution. It should be similar, and I wouldn't hesitate to pick it up instead.
PRONUNCIATION:
Jumilla = "Hoo-MEE-yah"
WEB LINK: The Bodegas Hijos de Juan Gil Website is published in Spanish and English. Click here for the English language start page.
FIND THIS WINE ONLINE:
You'll find plenty of vendors for this widely distributed wine on Wine-Searcher.com.
Today's Sponsor
Black Friday Special Offer from The California Wine Club
Black Friday Special Offer: A Gift For Them, A Gift For You!
Use Promo Code: GIFT when ordering gifts.
Get an autographed bottle of wine, signed by the winery owner or winemaker from Century Oak Winery as our gift to you for every gift you send from The California Wine Club.
Gifts from The California Wine Club feature award-winning, limited-production, handcrafted wine from California's best "mom & pop" wineries. For just $35.95 plus shipping and handling, you can send a 96-point, gold medal-winning Cabernet Sauvignon and a multi-medal winning Chardonnay from Century Oak Winery, along with Uncorked, the club's fun magazine that takes readers inside the featured winery.
Send as many months as you wish. Each month features a new artisan winery and a new adventure. There are special discounts on 3, 6, 9 and 12-month gifts.
Act now: This offer only good while supplies of limited-edition signed bottles last.
Call 1-800-777-4443 or visit www.cawineclub.com. Remember to use Promo Code: GIFT when ordering!
Talk About Wine Online
If you have questions, comments or ideas to share about today's article or wine in general, you're always welcome to drop by our online WineLovers Discussion Group, the Internet's first and still the most civil online community. To find our forums, click:
http://www.wineloverspage.com/forum/village
Discussions are open for public viewing, but you must register to post. Registration is free and easy; we ask only that you join following our Real Names Real Format system, using your real name in the format "John Doe" or "John D". Anonymous, cryptic or first-name-only registrations are discarded without notice.
Once your registration has been approved, which usually happens quickly, you'll be able to participate in all our online wine, food and travel forums.
To contact me by E-mail, write wine@wineloverspage.com. I'll respond personally to the extent that time and volume permit.
Subscriptions and Administrivia
Unsubscribe:
We're sorry if you must leave us, but simply click the "unsubscribe"
link at the bottom of your Email edition to be instantly removed from the mailing list.
Change address:
With our new Email system, the easiest way to change your Email address is simply to register anew, using the link below. If you are keeping your old address, you may unsubscribe; if you are closing it, you needn't take any action, as our system will delete your old address as soon as the mail starts to "bounce."
Subscribe to this Email edition (free):
http://www.wineloverspage.com/wineadvisor
WineLoversPage.com RSS Feed (free):
http://www.wineloverspage.com/rss
Wine Advisor Archives:
http://www.wineloverspage.com/wineadvisor2/archives.php
Sponsorship Opportunities:
For information, E-mail wine@wineloverspage.com