Good cheap Chianti, no basket
A few months ago, in a Chianti fiasco, I wrote about the familiar old wicker-wrapped Chianti bottles that many of us remember as pizza wine from back in the day, easily convertible to a funky candlestick in the family room or Italian-American eatery.
As I noted then, the fiasco bottle may not be entirely gone from the marketplace, but its lure has faded with the times. Nowadays upper-end Chianti Classico Riserva can sell for $20 and up, while the modernized "Super Tuscans" approach or even pass $100 and up, and earn the kind of hushed, reverent respect once reserved for fine old Burgundies.
But here's the good news: Although the wicker bottle basket may be disappearing, the kind of happy, sunny and delicious Chianti that used to be in those old bottles, crisp and made to go with pizza or pasta or rare red meat, is still easy to find. Better still, you can still get it for a very reasonable, inflation-adjusted $10, and sometimes even less.
Today we look at two amiable and traditionally styled Chiantis that cost around $10 locally, perhaps a bit less in some competitive wine markets.
Ruffino 2007 Chianti, a base-line Chianti made by a large, old-line producer, is a label that I remember fondly from back in college days when it was one of the most reliable names in the wicker-basket wine.
"365" 2007 Di Flora Chianti is a "benchmark" Chianti, too. Its label is the farthest thing from old Tuscan tradition: It bears the familiar "365" logo of generic products packaged for Whole Foods Markets in the U.S. But its style is right on point for this ancient and deservedly popular Tuscan red table wine.
You'll find my tasting notes below.
Wine Focus: Bubblies of the world
Just in time for the upcoming holidays, we're popping all manner of sparkling wines for our monthly Wine Focus in our WineLovers Discussion Group. All the world's sparklers are open for tasting and discussion, from the genuine French Champagne to Cremant de la Loire and all the other French Cremants; Italian Franciacorta, Prosecco or Asti; Spanish Cava, or sparkling wines from the USA, Austria, New Zealand, the UK or any other wine producing region that puts bubbles in wine.
To participate in Wine Focus on the WineLovers Discussion Group, click "Bubblies of the world." You don't need a reason to celebrate, just pop a cork on a sparkling wine with dinner tonight.
All forum discussions are open for public viewing, but you must register to post your comments and participate actively in the conversation. Registration is free and easy; we ask only that you join following our Real Names Real Format system. For your user name, enter your real name in the format "John Doe" or "John D", with the capital letters and the space.
Having a real name on your name tag is so important to us that all non-conforming registrations will be quietly discarded. Redemption is possible, though. If you overlook this rule and get no response to your registration, feel free to contact me personally by Email at wine@wineloverspage.com, and we'll sort it out.
Once your registration has been approved, which usually happens quickly with correctly formed user names, you'll be able to participate in Wine Focus and in all our online wine and food forums.
Wine maps and posters ...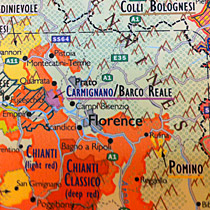 My pals Steve and Deborah De Long, creators of the innovative Wine Grape Varietal Table, recently added another top wine country to their beautiful collection of quality, poster-size wine maps. This one features Italy, (The detail shows the regions around Florence in Tuscany.)
The De Long Wine Map of Italy ($29.95) joins the De Longs' outstanding poster-size wine maps of California and the Iberian Peninsula in their growing wine-map library. (A wine map of France is coming soon.)
The Wine Map of Italy includes all wine regions in Italy as well as adjacent wine regions in France, Switzerland, Slovenia, Croatia and Tunisia.
To order The Wine Map of Italy or any of the other De Long wine maps, click www.delongwine.com/wine-maps.php?PARTNER=WLP or call 1-888-240-7565, toll-free in the U.S. Call the same number or Click this link for the fun and informative Wine Grape Varietal Table
Today's Tasting Reports
"365" 2007 Di Flora Chianti ($8.99)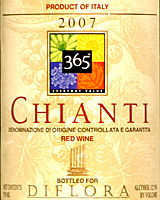 Clear dark purple with a garnet edge. Good, benchmark Chianti aromas, black cherries and dried fruit and just a wisp of spice. Chianti on the palate, too, black fruit built on a sturdy backbone of mouth-watering acidity and soft tannins, a combination made to work with red meat or that stereotypical match, pasta with tomato sauce. Bottled by V.S., Rufina, Italy, for Di Fara, sold by Whole Foods markets under their "365" store-brand value label. U.S. importer: Luneau USA Inc., Westport, Conn. (Oct. 30, 2010)
FOOD MATCH: Sure, it would work with red-sauced pasta or a pizza. But don't turn it down with red meat; it was fine with locally produced grass-fed lamb burgers.
VALUE: Don't knock the generic store label. You won't find better dollar-for-value Chianti anywhere I know of.
FIND THIS WINE ONLINE:
Available only at Whole Foods Markets in the U.S.
Click here for a promotional page about Whole Foods' wine program, and click here to find a Whole Foods Market near you.
Ruffino 2007 Chianti ($10.99)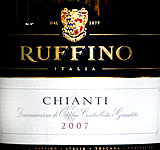 Dark purple with a ruby edge and reddish-orange glints against the light. Good black-cherry aroma with hints of dried fruit. Juicy black fruit on the palate, shaped by mouth-watering acidity, with just a hint of soft tannins on the tongue in the finish. Simple, a bit rustic, but balanced and an excellent food wine, just as basic Chianti should be. U.S. importer: Ruffino Import Co., Rutherford, Calif. (Aug. 14, 2010)
FOOD MATCH: Although this would go well with red meat or sharp cheese, too, I went the pasta route this time with spaghetti alla puttanesca made with fresh San Marzano tomatoes from our garden.
VALUE: My local $11 price is fair, but shop around, as Wine-Searcher.com shows it widely available under $10 and occasionally under $7.
WEB LINK: Here's a link to a commercial fact sheet about Ruffino Chianti in English on the winery Web page.
FIND THIS WINE ONLINE:
Ruffino Chianti is widely available and affordable around the world. Compare prices and find vendors on Wine-Searcher.com."
Talk About Wine Online
If you have questions, comments or ideas to share about today's article or wine in general, you're always welcome to drop by our online WineLovers Discussion Group, the Internet's first and still the most civil online community. To find our forums, click:
http://www.wineloverspage.com/forum/village
Discussions are open for public viewing, but you must register to post. Registration is free and easy; we ask only that you join following our Real Names Real Format system, using your real name in the format "John Doe" or "John D". Anonymous, cryptic or first-name-only registrations are discarded without notice.
Once your registration has been approved, which usually happens quickly, you'll be able to participate in all our online wine, food and travel forums.
To contact me by E-mail, write wine@wineloverspage.com. I'll respond personally to the extent that time and volume permit.
Subscriptions and Administrivia
Unsubscribe:
We're sorry if you must leave us, but simply click the "unsubscribe"
link at the bottom of your Email edition to be instantly removed from the mailing list.
Change address:
With our new Email system, the easiest way to change your Email address is simply to register anew, using the link below. If you are keeping your old address, you may unsubscribe; if you are closing it, you needn't take any action, as our system will delete your old address as soon as the mail starts to "bounce."
Subscribe to this Email edition (free):
http://www.wineloverspage.com/wineadvisor
WineLoversPage.com RSS Feed (free):
http://www.wineloverspage.com/rss
Wine Advisor Archives:
http://www.wineloverspage.com/wineadvisor2/archives.php
Sponsorship Opportunities:
For information, E-mail wine@wineloverspage.com