Today's Sponsor
Give a Gift They'll Love. Save $48.95. Look Brilliant.
Send your gift recipients on an armchair tour of California's best "mom & pop" wineries with The California Wine Club and save!
www.cawineclub.com
Good affordable Burgundy. Oxymoron? Not.
A lot of wallet-conscious wine lovers have pretty much written off Burgundy in recent years. All but the most ardent Burg-heads fret about Burgundy's reputation as a wine region that's hard to get to know, broken into tiny parcels of wildly variable terroir and beset by troublesome vintages. And perhaps most important, Burgundy is seen as subject to wild and incomprehensible vintage variation.
Best to avoid? It almost sounds so. And yet, if you've ever had the pleasure of tasting a great mature Burgundy, you know you won't die happy until you've had another.
While you're waiting for that transcendent "bucket list" experience, let's face it: Even a Burgundy from the lower end of the budget line, chosen with some care, reflects back a bit of the brilliance of the world's best source for Pinot Noir.
Don't expect to hear choirs of angels sing, but surely you can summon a string quartet, or maybe even a cool jazz trio, with a generic Bourgogne Pinot Noir from a decent proprietor.
Louis Jadot makes a reliably good version. This week, I spotted a smaller-production item, Moillard 2007 Pinot Noir "Tradition" Bourgogne.
It was grown in the 2007 vintage, a rainy season that dried up just in time for harvest, resulting in variable results depending on how each grower dealt with the hand that nature dealt. In this niche, though, the Moillard proved fully competitive at a couple of bucks under $20. Full of subtle red-berry fruit, it showed mouth-watering acidity and soft tannins that set up your palate for whatever's on your plate.
It's subtle, not in-your-face, but there's plenty of flavor and Pinot texture here. Let's put it this way: If wine were art, this one would be a numbered print of a watercolor or pen-and-ink drawing. Not a budget-breaker, not a wall-size landscape in oils, but a very attractive work nonetheless, and a decent value that would look great in your dining room.
Today's Sponsor
Give a Gift They'll Love. Save $48.95. Look Brilliant.
Give a three-month wine adventure for the price of a two-month adventure: just $97.90!
With The California Wine Club, you can send your gift recipients on an armchair tour of California's best "mom & pop" wineries. It's a unique gift that can't be found in stores.
Each gift month is just $48.95 (includes shipping & handling), and includes two bottles of award-winning, limited production wine and an in-depth look inside the featured winery with Uncorked Magazine. Every wine is 100 percent guaranteed to be one they'll love.

Send as many months as you wish. When you send a two-month gift or more, we'll include an extra month on us! Call 1-800-777-4443 or visit www.cawineclub.com and use promo code: ADVISOR when ordering.
P.S.: This would make a fantastic holiday gift - Just request a December shipping date!
Today's Tasting Report
Moillard 2007 Pinot Noir "Tradition" Bourgogne ($17.99)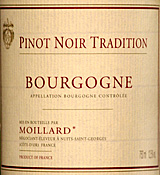 Clear ruby shading to a transparent edge. Subtle but appetizing red-berry aromas, delicate strawberry and raspberry, lead into a mouth-wateringly tart flavor of wild strawberries, bone-dry with a soft tannic astringency in the finish. U.S. importer: USA Imports Inc., NYC. (Oct. 19, 2010)
FOOD MATCH: One of the many joys of Burgundy, even a modest generic Bourgogne, is that it goes well with a broad range of fare: Red meat of course, but also poultry or pork, mushrooms, cheeses, even vegetarian fare. It was fine with a meatless Southwest Asian eggplant dish, Imam Bayildi, made with lots of garlic and juicy late-season garden tomatoes.
VALUE: As noted above, Burgundy isn't cheap. A good Bourgogne Pinot Noir well under $20 is a strong contender in its price neighborhood, though, and both the Moillard and recent vintages of Louis Jadot comfortably make it under that line..
PRONUNCIATION:
Moillard = "M'wahl-yar"
Bourgogne = "Boor-gon-yuh"
FIND THIS WINE ONLINE:
Wine-Searcher.com comes up with relatively few sources for Moillard "Tradition." For another source, try this link to the same wine at K&L Wines in the San Francisco Bay area.
If you can't locate Moillard but still ache for a good, affordable Bourgogne, try this link for the always reliable Louis Jadot Bourgogne Pinot Noir.
Talk About Wine Online
If you have questions, comments or ideas to share about today's article or wine in general, you're always welcome to drop by our online WineLovers Discussion Group, the Internet's first and still the most civil online community. To find our forums, click:
http://www.wineloverspage.com/forum/village
Discussions are open for public viewing, but you must register to post. Registration is free and easy; we ask only that you join following our Real Names Real Format system, using your real name in the format "John Doe" or "John D". Anonymous, cryptic or first-name-only registrations are discarded without notice.
Once your registration has been approved, which usually happens quickly, you'll be able to participate in all our online wine, food and travel forums.
To contact me by E-mail, write wine@wineloverspage.com. I'll respond personally to the extent that time and volume permit.
Subscriptions and Administrivia
Unsubscribe:
We're sorry if you must leave us, but simply click the "unsubscribe"
link at the bottom of your Email edition to be instantly removed from the mailing list.
Change address:
With our new Email system, the easiest way to change your Email address is simply to register anew, using the link below. If you are keeping your old address, you may unsubscribe; if you are closing it, you needn't take any action, as our system will delete your old address as soon as the mail starts to "bounce."
Subscribe to this Email edition (free):
http://www.wineloverspage.com/wineadvisor
WineLoversPage.com RSS Feed (free):
http://www.wineloverspage.com/rss
Wine Advisor Archives:
http://www.wineloverspage.com/wineadvisor2/archives.php
Sponsorship Opportunities:
For information, E-mail wine@wineloverspage.com