Today's Sponsor
Let Rioja buy you dinner!
Rioja wines are the best food pairing wines in the world. Vibrant Rioja will prove it by taking you and a friend to one of the best restaurants in your area.
Vibrant Rioja
Food-friendly Rioja
When I spoke of our Wine Focus discussion on the "other" wines of Spain last week, I expressed some concern about how many of Spain's "usual suspects" - Rioja, Ribero del Duero and Priorat in particular - have evolved into high-intensity, high-alcohol blockbusters that win acclaim from some of the critics but not from me.
In the discussion that has followed, the Spanish wine writer and wine maker Victor de la Serna responded with a reasoned rebuttal, noting that some supposed blockbuster producers have been unfairly maligned because in reality that's not their style at all.
Moreover, Victor said, the Spanish blockbuster trend "is fortunately beginning to ebb, as less extraction and less overt oak are finally beginning to be advanced by a new generation of terroir-driven winemakers. ... the better wines are powerful and naturally concentrated because this is a much warmer and drier land than almost anywhere else in Europe (and the world), but heaviness is increasingly frowned upon."
I have a lot of respect for Victor, who was our generous companion and travel guide during a visit to Spain's wine regions in 1998, so I paid attention. Even though Wine Focus is aiming at other Spanish regions this month, I dug around and found a very modestly priced Rioja that I had purchased last spring, choosing a retailer (Chambers Street) and importer (Polaner) that I would not expect to feature international-style blockbusters.
Sure enough, Zuazo Gaston 2007 Rioja "Vendemia Seleccionada" - a steal at just $10.99 - proved to be a revelation: Showing good black fruit and earthy notes, with American oak present but not overbearing, it was beautifully balanced among fruit, acidity and smooth tannins, and came in at a lovely, old-style 12.5% alcohol, perfect for the dinner table.
Note to self: Don't paint with a broad brush. My tasting notes are below.
Today's Sponsor
Let Rioja buy you dinner!
Rioja wines are the best food pairing wines in the world. The home of the amazing Tempranillo grape will prove it by taking you and a friend to one of the best restaurants in your area.
All you have to do is submit a recipe you think will go well with Rioja wines. We'll pick three winners and publish the best ones in our monthly e-newsletter that goes to nearly 70,000 people.
Just submit your recipe to RecipeContest@vibrantrioja.com and join our wine community at the same time. Just click here to get started.
Today's Tasting Report
Zuazo Gaston 2007 Rioja "Vendemia Seleccionada" ($10.99)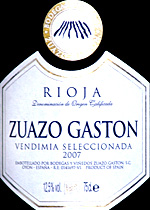 Dark garnet with a clear edge. Attractive black-cherry and plum aromas forecast black fruit on the palate, fresh and nicely balanced with a good structure of fresh-fruit acidity and a back note of soft but persistent tannic astringency. Nicely balanced, mouth-watering fruit and food-friendly 12.5% alcohol add an acidic snap that makes it an excellent food wine. U.S. importer: Polaner Selections, Mount Kisco, N.Y. (Oct. 7, 2010)
FOOD MATCH: Outstanding with a split, butterflied and high-heat roasted local free-range hen, with lots of garlic and fresh rosemary under the black-pepper-dusted breast skin. Fine with the chicken meat and almost transcendent with the herb-scented, peppery-crisp skin. It would be fine, too, with darker poultry like roast duck or guinea fowl, or rare red meat.
VALUE: Very good buy in the $10 to low teens price point, competitive with wines selling for substantially more.
WEB LINKS: Click here for the U.S. importer's fact sheet on the 2008 "Vendemia Seleccionada," which appears similar to the 2007. Click here for a fact sheet about the Zuazo Gaston winery.
The Zuazo Gaston Website (in English), is a slick, movie-style production with soft background music. Click "the wines," then "harvest selection" to view this particular wine.
FIND THIS WINE ONLINE:
Compare prices and find vendors for Zuazo Gaston's Riojas on Wine-Searcher.com.
Click here to order the 2008 Zuazo Gaston from my source, Chambers Street Wines in New York City.
Talk About Wine Online
If you have questions, comments or ideas to share about today's article or wine in general, you're always welcome to drop by our online WineLovers Discussion Group, the Internet's first and still the most civil online community. To find our forums, click:
http://www.wineloverspage.com/forum/village
Discussions are open for public viewing, but you must register to post. Registration is free and easy; we ask only that you join following our Real Names Real Format system, using your real name in the format "John Doe" or "John D". Anonymous, cryptic or first-name-only registrations are discarded without notice.
Once your registration has been approved, which usually happens quickly, you'll be able to participate in all our online wine, food and travel forums.
To contact me by E-mail, write wine@wineloverspage.com. I'll respond personally to the extent that time and volume permit.
Subscriptions and Administrivia
Unsubscribe:
We're sorry if you must leave us, but simply click the "unsubscribe"
link at the bottom of your Email edition to be instantly removed from the mailing list.
Change address:
With our new Email system, the easiest way to change your Email address is simply to register anew, using the link below. If you are keeping your old address, you may unsubscribe; if you are closing it, you needn't take any action, as our system will delete your old address as soon as the mail starts to "bounce."
Subscribe to this Email edition (free):
http://www.wineloverspage.com/wineadvisor
WineLoversPage.com RSS Feed (free):
http://www.wineloverspage.com/rss
Wine Advisor Archives:
http://www.wineloverspage.com/wineadvisor2/archives.php
Sponsorship Opportunities:
For information, E-mail wine@wineloverspage.com