Today's Sponsor
Wine Spectator's VintageChart+
The #1 wine magazine in the world presents its first app on the iPhone - free!
Wine Spectator's VintageChart+
Is cheap the new chic?
Is the recessionary world economy prompting wine buyers to look on the bargain shelves for wine, rather than reaching for the high-end stuff?
That's the way it looks from the heart of California's wine country, reports the Santa Rosa Press Democrat in Sonoma, where reporter Nathan Halverson wrote this week that Americans are drinking as much wine as ever, but are much more likely to choose a budget bottle than was the case just two years ago.
The story came out of the 19th Annual Wine Industry Financial Symposium in Napa, which wrapped up on Tuesday. Speaker Tony Correia, a longtime vineyard appraiser, put it bluntly, saying, "Cheap is chic."
"Chatter frequently revolved around when, if ever, wine drinkers would return in large numbers to high-end wines," Halverson wrote, quoting distributor Ray Chadwick as saying, "I think the next 12 months will be very hard for the $25 and up price points ... The lower price points will continue to do exceptionally well."
The market trend is critical for the wine industry, in Halverson's analysis, because consumer prices trickle down to affect every aspect of the business from grape prices to land value.
"Facing financial pressures," he wrote, "many North Coast wineries have discounted their retail prices since 2008. The practice has generated necessary cash, but often has resulted in prices that don't cover the higher costs of producing wine in Sonoma and Napa counties."
As every adult who's ever tried to balance a checkbook knows, when outgo exceeds income, you've got some hard choices to make if you want to avoid financial disaster.
As for me, I've been a great fan of budget-price wine since the very start, with the important caveat that what's in the bottle has to be both cheap and good to get my attention.
Today's featured wine, The Wolftrap 2008 red blend from South Africa, meets both criteria very nicely indeed. A hearty Syrah and Mourvedre blend with a splash of white Viognier, it shows a lot of French Rhône character at just under $10 at my local price.
How has the economy affected you? Are you, too, looking for lower-price wines while times are tough? Or are you drinking better but drinking less? Or are you one of the fortunate ones whose wine budget hasn't been hit by the economy at all?
To read others' comments and participate in the conversation on our WineLovers Discussion Group, click "'Cheap is Chic' in the wine market: True or false?"
All forum discussions are open for public viewing, but you must register to post your comments and participate actively in the conversation. Registration is free and easy; we ask only that you join following our Real Names Real Format system. For your user name, enter your real name in the format "John Doe" or "John D", with the capital letters and the space.
Having a real name on your name tag is so important to us that all non-conforming registrations will be quietly discarded. Redemption is possible, though. If you overlook this rule and get no response to your registration, feel free to contact me personally by Email at wine@wineloverspage.com, and we'll sort it out.
Once your registration has been approved, which usually happens quickly with correctly formed user names, you'll be able to participate in Wine Focus and in all our online wine and food forums.
Today's Sponsor
Wine Spectator's VintageChart+
The #1 wine magazine in the world presents its first app on the iPhone - free! Wine Spectator's VintageChart+ is a mobile re-imagining of vintage charts and gives you expert advice on which regions and years produced the best wine. Click now to download.
Today's Tasting Report
The Wolftrap 2008 Western Cape Syrah Mourvedre Viognier ($9.99)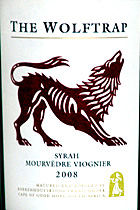 This blend of 68% Syrah, 30% Mourvedre and 2% Viognier shows a very dark garnet color in the glass. Its aroma focuses on black plums with a back note of subtle brown spice. Bright and ripe flavors, plums and black cherries, are structured by a good, food-friendly acidic backbone and smooth but persistent tannic texture, with black fruit and a hint of caramel in the long finish. U.S. importer: Vineyard Brands Inc., Birmingham, Ala. (Sept. 20, 2010)
FOOD MATCH: Like the Rhône reds that form its inspiration, it's a natural with red meat, beef, lamb or game. It was fine on our table with curry-scented lamb burgers made with local humanely raised natural lamb. Look to hearty bean-and-cheese based vegetarian dishes if you prefer a meatless match.
VALUE: To the point of today's article, this hearty South African red offers excellent quality-price ratio for just under $10 in my local markets. Check Wine-Searcher.com for comparative shopping, as it's available in some regions for a dollar or two less.
WEB LINKS: Boekenhoutskloof, the winery, has extensive information about The Wolftrap and its other labels at this link.
For specifics on The Wolftrap from the U.S. importer, Vineyard Brands Inc., click here.
FIND THIS WINE ONLINE:
Find vendors and compare prices for The Wolftrap red blend on Wine-Searcher.com.
The importer offers U.S. consumers this online form to request information about vendors near you.
Talk About Wine Online
If you have questions, comments or ideas to share about today's article or wine in general, you're always welcome to drop by our online WineLovers Discussion Group, the Internet's first and still the most civil online community. To find our forums, click:
http://www.wineloverspage.com/forum/village
Discussions are open for public viewing, but you must register to post. Registration is free and easy; we ask only that you join following our Real Names Real Format system, using your real name in the format "John Doe" or "John D". Anonymous, cryptic or first-name-only registrations are discarded without notice.
Once your registration has been approved, which usually happens quickly, you'll be able to participate in all our online wine, food and travel forums.
To contact me by E-mail, write wine@wineloverspage.com. I'll respond personally to the extent that time and volume permit.
Subscriptions and Administrivia
Unsubscribe:
We're sorry if you must leave us, but simply click the "unsubscribe"
link at the bottom of your Email edition to be instantly removed from the mailing list.
Change address:
With our new Email system, the easiest way to change your Email address is simply to register anew, using the link below. If you are keeping your old address, you may unsubscribe; if you are closing it, you needn't take any action, as our system will delete your old address as soon as the mail starts to "bounce."
Subscribe to this Email edition (free):
http://www.wineloverspage.com/wineadvisor
WineLoversPage.com RSS Feed (free):
http://www.wineloverspage.com/rss
Wine Advisor Archives:
http://www.wineloverspage.com/wineadvisor2/archives.php
Sponsorship Opportunities:
For information, E-mail wine@wineloverspage.com