Sing a song of Riesling
Now and then, love of wine inspires us to flights of fancy. My online pal David M. Bueker, a moderator in our WineLovers Discussion Group and a great fan of Riesling, hit a high note the other day in praise of his favorite grape. I can't resist sharing his ode to Riesling with you today:
"September is the time when summer turns to fall. In many places there is a certain chill to the air, a crispness that signals the change in weather. Yet September is not the time when that change is complete. There is often still a warmth (checked the east coast forecast today?), and outdoor activities continue, even if there is a shift from baseball and golf to soccer and football.
"My wine preferences often coincide with the seasons. When the air is crisp I seek out a wine with the same character. September (much like April) sends me to the cellar for Riesling. Perhaps it's the apple fruit in so many of the wines which matches the apples of the agricultural season. Perhaps it's the smoky elements in an aged Riesling that match with the scents from grills and fireplaces. It may be the purity and clarity of the wines that echoes the purity of a cool fall evening. Somehow, Riesling captures the essence of September."
Indeed. We're exploring Riesling from around the world this month in our online forum's Wine Focus. While German Riesling stands in the center ring - its roots run so deep in Germany's Rhine and Mosel valleys that its fame goes back to Charlemagne - but discussion is open for Rieslings from Austria, France, Italy, Australia, New York or the U.S. West Coast or anywhere else the grape is grown.
My tasting report today, for example, turns to Western Australia for a particularly impressive example, "Diddley Bow" from R Wines. (See my notes below.)
You're warmly welcome in Wine Focus. Click here to read and take part in the discussion on Riesling.
All forum discussions are open for public viewing, but you must register to post your comments and participate actively in the conversation. Registration is free and easy; we ask only that you join following our Real Names Real Format system. For your user name, enter your real name in the format "John Doe" or "John D", with the capital letters and the space.
Having a real name on your name tag is so important to us that all non-conforming registrations will be quietly discarded. Redemption is possible, though. If you overlook this rule and get no response to your registration, feel free to contact me personally by Email at wine@wineloverspage.com, and we'll sort it out.
Once your registration has been approved, which usually happens quickly with correctly formed user names, you'll be able to participate in Wine Focus and in all our online wine and food forums.
Taylor Eason on organic wines
Last week we said hello to Taylor Eason, a first-rate wine writer and blogger who has joined us as a regular contributor.
Taylor will publish a column weekly on WineLoversPage.com, usually on Tuesday. I think you'll enjoy this week's report, Organic wine isn't just for tofu-geeks, in which she wonders why organic wine remains at the margins, even as organic vegetable farming is becoming mainstream.
If you enjoy The 30 Second Wine Advisor, I expect you'll like Taylor's Email wine letter, too. Sign up on the front page of her Website, TaylorEason.com.
Today's Sponsor
$1 Shipping Fall Wine Sale at The California Wine Club!
Save up to 70% off retail prices PLUS save $36/shipping on every case with The California Wine Club.
Sample Deals:
* Renaissance Vineyard and Winery 2002 "Da Vinci" Sierra Foothills Cabernet Sauvignon, bronze medal-normal retail $30, CWC sale price $10.99
* Tamayo Family Vineyards 2007 CANA Proprietary Estate Red Rhone-Style Blend, Contra Costa County, 96, 93 & 92-Point ratings-normal retail $30, CWC sale price $10.99
* Handley Cellars Handley Vineyard Dry Creek Chardonnay, with one gold medal, nine silver medals and a "Highly recommended" rating-normal retail $20, CWC sale price $10.99
* Lancaster Estate 2005 Alexander Valley Cabernet Sauvignon, 95, 94, 91 and 90 Point ratings - normal retail $75, CWC sale price $46.
All half, full and mixed cases all ship for $1.
Don't miss your chance to stock up and save big on award-winning, limited-production wines during CWC's last sale of the year! To shop the full selection of wines on sale, visit www.cawineclub.com or call 1-800-777-4443.
Today's Tasting Report
R Wines 2009 "Diddley Bow" Western Australia Riesling ($19.99)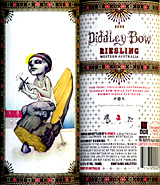 Abundant fresh Key lime and orange blossom aromas waft from this brassy-golden wine, shifting toward musky melon in flavor. Medium-bodied and just off-dry, it hits the palate with mouth-watering lime-juice acidity that lingers in a long, shimmering finish. A delightfully sane 11.7% alcohol, and a sturdy Stelvin-type metal screw cap to keep it fresh. U.S. importer: The Grateful Palate, Fairfield, Calif. (Sept. 1, 2010)
FOOD MATCH: Good with fish or fowl or even, possibly, good red meat: Illustrating the great versatility of Riesling as a table wine, it went very well with takeout gyros from a local Mediterranean eatery.
VALUE: Getting up there at $20, but available in the upper teens in some markets. Frankly, I'd rather have one bottle of this than two bottles of some $10 Rieslings I've tried.
WEB LINKS: The Grateful Palate Website is here, but links from "Our Wines" to R Wines (and many other destinations) are returning a "broken link" error message in my browsers. Try later in hope the importer's tech people are on the case.
FIND THIS WINE ONLINE:
Compare prices and find vendors for Diddley Bow Riesling on Wine-Searcher.com.
Talk About Wine Online
If you have questions, comments or ideas to share about today's article or wine in general, you're always welcome to drop by our online WineLovers Discussion Group, the Internet's first and still the most civil online community. To find our forums, click:
http://www.wineloverspage.com/forum/village
Discussions are open for public viewing, but you must register to post. Registration is free and easy; we ask only that you join following our Real Names Real Format system, using your real name in the format "John Doe" or "John D". Anonymous, cryptic or first-name-only registrations are discarded without notice.
Once your registration has been approved, which usually happens quickly, you'll be able to participate in all our online wine, food and travel forums.
To contact me by E-mail, write wine@wineloverspage.com. I'll respond personally to the extent that time and volume permit.
Subscriptions and Administrivia
Unsubscribe:
We're sorry if you must leave us, but simply click the "unsubscribe"
link at the bottom of your Email edition to be instantly removed from the mailing list.
Change address:
With our new Email system, the easiest way to change your Email address is simply to register anew, using the link below. If you are keeping your old address, you may unsubscribe; if you are closing it, you needn't take any action, as our system will delete your old address as soon as the mail starts to "bounce."
Subscribe to this Email edition (free):
http://www.wineloverspage.com/wineadvisor
WineLoversPage.com RSS Feed (free):
http://www.wineloverspage.com/rss
Wine Advisor Archives:
http://www.wineloverspage.com/wineadvisor2/archives.php
Sponsorship Opportunities:
For information, E-mail wine@wineloverspage.com