Today's Sponsor
Let Rioja buy you dinner!
Rioja wines are the best food pairing wines in the world. Vibrant Rioja will prove it by taking you and a friend to one of the best restaurants in your area.
Vibrant Rioja
Map your wine online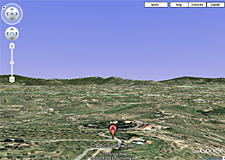 When I drink a wine from a place I've visited, an extra dimension of enjoyment happens as vivid memories of place, sight, sound and scent inform my perceptions of what's in the glass.
While there's no substitute for travel, the growing availability of online mapping and satellite image displays can make the Internet the next best thing to being there.
Why not use Google Maps online, the Google Earth application on your computer, or similar programs to take a closer look at the source of whatever you're drinking with dinner tonight?
If you haven't thought about this already, most of you are probably handy enough with your computer to need no further instructions. For you, go, grab tonight's bottle of wine and go look it up.
For the rest of us, let's illustrate a quick step-by-step with today's featured wine, Capezzana 2007 Barco Reale Carmignano, a Tuscan red from the smallish Barco Reale Carmignano district northwest of Florence.
For starters, I simply opened maps.google.com and typed "Barco Reale Carmignano" in the "Search Maps" space. Presto, up came an airliner's-eye view of the village of Carmignano. Pretty nice!
Want something even more specific? If the wine label doesn't list an exact address for the winery (many of them do), you can generally count on Web search engines like Google to help you find it. Sure enough, a quick search for "Capezzana Carmignano" dug up the winery Website, where I found the exact address, Via Capezzana 100, 59015 Carmignano Prato Italy.
I set my Google Maps view to "Earth," plugged in this address, and ... whoa! Next best thing to being there! You can use the controls on the left to zoom in closer and view the scene from different directions, and pull the image itself around with your mouse cursor to take a spin down an Italian wine-country lane.
That scene, by the way, is rich in Italian heritage. The property, long owned by the family of Conte Contini Bonacossi, originally incorporated the "Barco Reale," the royal property of the Medici family that famously ruled Renaissance-era Florence.
The Bonacossi family's Capezzana is one of the region's top producers. According to the winery Website, "Capezzana ... has a very long and storied history. It is believed that wine grapes have been grown in the area surrounding Capezzana (called Carmignano) for over 3,000 years. Written records of the present vineyards date all the way back to 804 A.D. The property was named Capezzana during Roman times."
Carmignano was the first Italian region (in 1975) to require Cabernet (between 10% and 20%) blended with the dominant Sangiovese, along with up to 20% Canaiolo and 10% Trebbiano at the wine maker's discretion. Barco Reale di Carmignano is a DOC created as a second wine to Carmignano, usually made from younger vines, in much the same way that Rosso di Montalcino is a second wine for Brunello. My tasting notes are below.
Maps, maps ...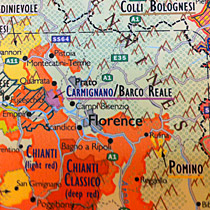 By happy coincidence, just as I was preparing this column, my pals Steve and Deborah De Long, creators of the innovative Wine Grape Varietal Table, sent me a copy of the latest in their beautiful collection of quality, poster-size maps of wine regions. This one features Italy, and sure enough, there's Carmignano/Barco Reale (image above).
The De Long Wine Map of Italy ($29.95), just released, joins the De Longs' outstanding poster-size wine maps of California and the Iberian Peninsula in their growing wine-map library. (A wine map of France is coming this autumn.)
The Wine Map of Italy includes all wine regions in Italy as well as adjacent wine regions in France, Switzerland, Slovenia, Croatia and Tunisia.
To order The Wine Map of Italy or any of the other De Long wine maps, click www.delongwine.com/wine-maps.php?PARTNER=WLP or call 1-888-240-7565, toll-free in the U.S.
... and more maps
When I want to enjoy wine maps on paper, enriched with extensive information about the wine regions, wine people and wineries, my go-to volume is invariably Hugh Johnson's and Jancis Robinson's World Atlas of Wine, a massive volume filled with colorful detailed maps and informative articles by two of Britain's (and the world's) best wine writers.
Hugh Johnson's and Jancis Robinson's World Atlas of Wine is available in hardcover from Amazon.com for $31.50, a saving of $18.50 (37%) off the $50 list price.
The Johnson-Robinson Concise World Atlas of Wine in large-format paperback is $19.79 from Amazon.com, a $10.20 (34%) saving from the $29.99 list price.
Today's Sponsor
Let Rioja buy you dinner!
Rioja wines are the best food pairing wines in the world. The home of the amazing Tempranillo grape will prove it by taking you and a friend to one of the best restaurants in your area.
All you have to do is submit a recipe you think will go well with Rioja wines. We'll pick three winners and publish the best ones in our monthly e-newsletter that goes to nearly 70,000 people.
Just submit your recipe to RecipeContest@vibrantrioja.com and join our wine community at the same time. Just click here to get started.
Today's Tasting Report
Capezzana 2007 Barco Reale Carmignano ($14.99)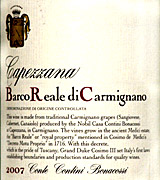 Very dark reddish-purple, garnet at the edge. Good black-cherry scent with whiffs of dried cherries and subtle spice, classic aroma pattern for Tuscan reds. Mouth-watering acidity surrounds black fruit on the palate, leaving tart black cherries and palatable but astringent tannins in the very long finish. Made of the customary Carmignano blend, mostly Sangiovese with some Cabernet and Canaiolo, it's robust if a bit rustic, a good food wine with a rational 13.5% alcohol. U.S. importer: Moet Hennessy USA Inc., NYC. (Aug. 4, 2010)
FOOD MATCH: It was fine with a vegetarian tomato sauce for spaghetti, fashioned from fresh San Marzano tomatoes mixed with a quick saute of minced onions, green peppers and garlic, and yellow summer squash sliced paper-thin. Its full and rustic structure, though, would frankly serve even better with rare red meat.
VALUE: Fine value in the middle teens.
WEB LINKS: Here's an article about Capezzana on the importer's Website. The winery Website is available in Italian and English. Here's an English-language fact sheet on Capezzana Barco Reale di Carmignano.
FIND THIS WINE ONLINE:
Look for vendors and check prices for Capezzana Barco Reale on Wine-Searcher.com.
Talk About Wine Online
If you have questions, comments or ideas to share about today's article or wine in general, you're always welcome to drop by our online WineLovers Discussion Group, the Internet's first and still the most civil online community. To find our forums, click:
http://www.wineloverspage.com/forum/village
Discussions are open for public viewing, but you must register to post. Registration is free and easy; we ask only that you join following our Real Names Real Format system, using your real name in the format "John Doe" or "John D". Anonymous, cryptic or first-name-only registrations are discarded without notice.
Once your registration has been approved, which usually happens quickly, you'll be able to participate in all our online wine, food and travel forums.
To contact me by E-mail, write wine@wineloverspage.com. I'll respond personally to the extent that time and volume permit.
Subscriptions and Administrivia
Unsubscribe:
We're sorry if you must leave us, but simply click the "unsubscribe"
link at the bottom of your Email edition to be instantly removed from the mailing list.
Change address:
With our new Email system, the easiest way to change your Email address is simply to register anew, using the link below. If you are keeping your old address, you may unsubscribe; if you are closing it, you needn't take any action, as our system will delete your old address as soon as the mail starts to "bounce."
Subscribe to this Email edition (free):
http://www.wineloverspage.com/wineadvisor
WineLoversPage.com RSS Feed (free):
http://www.wineloverspage.com/rss
Wine Advisor Archives:
http://www.wineloverspage.com/wineadvisor2/archives.php
Sponsorship Opportunities:
For information, E-mail wine@wineloverspage.com