Today's Sponsor
Find it on Wine-Searcher.com!
Wine-Searcher.com offers quick and easy access to wine prices and vendors of just about every wine in the world. Find your favorite, or that elusive specialty, in seconds. Searches through this link credit WineLoversPage.com:
Wine-Searcher.com
Wine Focus: Beaujolais
The challenge from WineLovers Discussion Group participant Dave E. was simple and direct: "Can we have a discussion of Beaujolais that does not include the phrase "serious wine" or disparaging remarks about carbonic maceration?"
Well, sure. Maybe.
Most people expect to read about Beaujolais in November, when wine writers in search of a seasonal idea almost invariably pick up on the release of the Nouveau Beaujolais, the French region's new wine of the vintage just past.
We're taking on the subject in August, though, in our online forum's monthly Wine Focus, because the excellent 2009 vintage of the named Beaujolais "Crus" has been released and will be hitting markets around the world soon.
Just about every year, these are the wines that prompt wine commentators to reach for words like, well, "serious," in a thesaurus-impaired effort to find a way to distinguish the upper-tier Beaujolais from the simple, fruity Nouveau.
"Bound and determined," "businesslike," "contemplative," "deliberate," "determined," "earnest," "genuine," "go for broke," "grave," "honest," "intent," "meditative," "no-nonsense," "pensive," "pokerfaced," "reflective," "resolute," "resolved," "sincere," "solemn," "steady," "stern," "thoughtful," "weighty"? Thanks, Thesaurus.com. This isn't as easy as it seems.
As for "carbonic maceration," let's just skip right past wine-making technology today and go straight to the tasting notes. I recently tasted through the 2009s from the ubiquitous Georges DuBoeuf and found them unexpectedly impressive.
While I wait for the 2009s to arrive at my local retailers, though, let's have a look at a couple of very decent 2008s: The widely available Beaujolais-Villages from Louis Jadot, and an earthy, artisanal Beaujolais "Terres Dorees" from J.P. Brun; my notes are below. This pairing mirrors a tasting of 2005s that I published in November (of course), 2006, Beaujolais, not Nouveau.
You're warmly welcome in Wine Focus, and in all our WineLovers Discussion Groups. Click here to read and take part in the August Wine Focus discussion on Beaujolais.
The discussions are open for public viewing, but you must register to post your comments and participate actively in the conversation. Registration is free and easy; we ask only that you join following our Real Names Real Format system. For your user name, enter your real name in the format "John Doe" or "John D", with the capital letters and the space.
Having a real name on your name tag is so important to us that all non-conforming registrations will be quietly discarded. Redemption is possible, though. If you overlook this rule and get no response to your registration, feel free to contact me personally by Email at wine@wineloverspage.com, and we'll sort it out.
Once your registration has been approved, which usually happens quickly with correctly formed user names, you'll be able to participate in Wine Focus and in all our online wine and food forums.
Today's Tasting Reports
Louis Jadot 2008 Beaujolais-Villages ($11.99)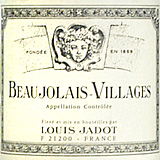 Very dark reddish-purple with a thin garnet rim. On the elegant side for a Beaujolais, red-berry aromas start with strawberry and add hints of plums and blackberries in the background. Good dark fruit and a clean "earthy" backnote akin to black loam. Tart, mouth-watering acidity and a touch of smooth tannins. Very good table wine, with structure and balance to match the top Beaujolais. U.S. Importer: Kobrand Corp., NYC. (July 29, 2010)
FOOD MATCH: The regional wine for the food-obsessed city of Lyon, Beaujolais has evolved as a versatile table wine well suited to a broad array of main courses from poultry and pork to beef and bold cheese. It made a fine pairing with green peppers stuffed with ground local pastured lamb and bulghur, topped with Gruyère and baked.
VALUE: Excellent at this price, which to my pleased surprise was the same as I paid for the 2005 vintage in 2006. Note, moreover, that Wine-Searcher.com reveals many sources for $10 or less.
WEB LINKS: Louis Jadot's Website is online in English, French, Japanese, Korean and Chinese. Click the flag of your choice if the system doesn't recognize your browser's resident language; then click "Wine Notes" on the home page and work your way through the lists and maps for information about the Beaujolais and Jadot's other wines.
FIND THIS WINE ONLINE:
Louis Jadot Beaujolais is available through scores of vendors on Wine-Searcher.com.
Jean-Paul Brun 2008 "Terres Dorees" Beaujolais "L'Ancien" Vieilles Vignes ($15.99)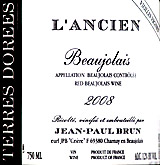 Clear garnet, dark at the center, bright closer to the edge. Fresh raspberry-strawberry scent, subtle but appetizing, with a whiff of pleasantly earthy "tree bark." Bright red fruit on the palate, shaped by mouth-watering acidity that lingers into a long, clean finish. If your view of Beaujolais is formed by the big-brand labels, this may recalibrate your impression ... in a good way. U.S. importer: LDM Wines Inc., NYC; Louis/Dressner Selections. (July 23, 2010)
FOOD MATCH: Another versatile food wine. I served it with poulet l'estragon, with a gently poached local free-range hen and a velouté fashioned from its broth and garden tarragon.
VALUE: Back up the truck at the wine shop door.
WEB LINKS: Importer LDM Wines offers an essay about Jean-Paul Brun, including a short but well-tuned rant about past abuse in Beaujolais of 71B, an industrial yeast strain that imparts an artificial banana aroma in some of the region's wines.
FIND THIS WINE ONLINE:
Find vendors and compare prices for J.P. Brun Beaujolais on Wine-Searcher.com.
My source, Chambers Street Wines in NYC, has a modest supply of the 2009 Brun Terres Dorees at $15.99. Use this search link to browse its inventory of Brun's wines including this Beaujolais.
Talk About Wine Online
If you have questions, comments or ideas to share about today's article or wine in general, you're always welcome to drop by our online WineLovers Discussion Group, the Internet's first and still the most civil online community. To find our forums, click:
http://www.wineloverspage.com/forum/village
Discussions are open for public viewing, but you must register to post. Registration is free and easy; we ask only that you join following our Real Names Real Format system, using your real name in the format "John Doe" or "John D". Anonymous, cryptic or first-name-only registrations are discarded without notice.
Once your registration has been approved, which usually happens quickly, you'll be able to participate in all our online wine, food and travel forums.
To contact me by E-mail, write wine@wineloverspage.com. I'll respond personally to the extent that time and volume permit.
Subscriptions and Administrivia
Unsubscribe:
We're sorry if you must leave us, but simply click the "unsubscribe"
link at the bottom of your Email edition to be instantly removed from the mailing list.
Change address:
With our new Email system, the easiest way to change your Email address is simply to register anew, using the link below. If you are keeping your old address, you may unsubscribe; if you are closing it, you needn't take any action, as our system will delete your old address as soon as the mail starts to "bounce."
Subscribe to this Email edition (free):
http://www.wineloverspage.com/wineadvisor
WineLoversPage.com RSS Feed (free):
http://www.wineloverspage.com/rss
Wine Advisor Archives:
http://www.wineloverspage.com/wineadvisor2/archives.php
Sponsorship Opportunities:
For information, E-mail wine@wineloverspage.com