Highly recommended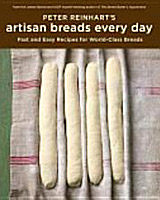 Do you enjoy baking French-style breads? I've been working my way through Peter Reinhart's Artisan Breads Every Day with spectacular results. Click the image or link to buy it from Amazon.com for $18.98, a 37% discount from list price.
2009 Beaujolais impressive
If you've been underwhelmed by Beaujolais, get ready: You're in for a happy surprise when the 2009 "Crus" hit the market this summer.
"For me 2009 is the vintage of the sun - in fact, this is the best vintage of my lifetime," exults Georges Duboeuf, the so-called King of Beaujolais, whose multiple labels seem to dominate most wine shops' Beaujolais sections. "The [2009] Beaujolais Crus are opulent, exceptionally full-bodied and fabulous. This vintage will be talked about for years to come."
More wine-marketing hype, the kind of thing we've become accustomed to hearing from Bordeaux every autumn? Well ... maybe not. Duboeuf isn't really known for exaggeration on that scale. Indeed, I came away with a similarly gobsmacked impression after a tasting last night with Mark Dreps, regional manager for W. J. Deutsch & Sons Ltd., which distributes Duboeuf's wines in the U.S.
Duboeuf won the affectionate royal title through his efforts over many years to rebuild commercial success for the Gamay-based wines of Beaujolais, which lies south of Burgundy near the gastronomic capital, Lyon. (For more about Duboeuf, see the June 11, 2007 30 Second Wine Advisor, A fresh look at Duboeuf, in which I reviewed Rudolph Chelminski's excellent recent Duboeuf biography, "I'll Drink to That: Beaujolais and the French Peasant Who Made It the World's Most Popular Wine.")
The Beaujolais "Crus," you'll recall, are the wines from 10 villages in the Beaujolais region whose vineyards are considered so superior that their labels may bear the village name rather than the more generic "Beaujolais." The crus occupy the northern half of the region, with generic Beaujolais in the south. Here's a complete list of the crus, from south to north: Côte de Brouilly, Brouilly, Régnié, Morgon, Chiroubles, Fleurie, Moulin-à-Vent, Chénas, Juliénas and Saint-Amour.
We tasted about a dozen 2009 Duboeuf Crus and a white Macon-Villages (Chardonnay). Here are my brief tasting reports.
Domaine les Chenevrières 2009 Mâon-Villages. Pale gold, with fresh, juicy apple aromas and crisp, tart and fresh flavor. Lean, food-friendly Chardonnay.
Georges Duboeuf 2009 Brouilly, flower label. Deep reddish purpose. Whoa! Ripe strawberry and tart cherry aromas and flavors, clean and fresh, on a sturdy structure. This one, like many in this release, will surprise those who think of Beaujolais as a "light" wine.
Georges Duboeuf 2009 Fleurie, flower label. Dark rosy red. Wild strawberry flavors add a note of the minerality that distinguishes good Crus.
Domaine des Quatre Vents 2009 Fleurie. Produced for Duboeuf by grower R. Darroze, this one shows subtle red berries and red clay. A real mouthful, red-berry flavors well structured with acidity.
Chateau des Capitans 2009 Juliénas. A joint winery venture between Duboeuf and importer Bill Deutsch, who restored a historic property that had been closed. The partnership worked: This dark-garnet wine's delicious mixed-berry, floral and mineral aromas and flavors, a bowl of berries and subtle minerality come together in an excellent wine that would make a splendid match with rare steak. Perhaps my pick for top rank among a bevy of good wines in this tasting.
"La Trinquée" 2009 Juliénas. Dark garnet. Berries and earth, complex and intriguing, good structure and length. Another winner.
Georges Duboeuf 2009 Morgon, flower label. Dark reddish-purple, strawberries and a whiff of Chambord liqueur with a back note of Beaujolais clay. Distinct tanning and mouth-watering acidity, it shows cellar potential, a characteristic of the best Crus.
Domaine de la Chaponne 2009 Morgon. Very dark garnet with a bright edge. Mixed berries and plums, typical subtle earthy minerality and bright acidity come together in balance.
Georges Duboeuf 2009 Moulin-A-Vent, flower label. Dark garnet. Earthy berries, plums and a hint of red apple skin on the nose; a mouthful of fruit and tart acidity, with soft tannins showing in the finish.
Domaine de la Tour du Bief 2009 Moulin-A-Vent. Produced for Duboeuf by Comte de Sparre. Dark garnet. A high note of banana over ripe strawberry scents; mouth-filling bananas and berries, almost seems sweet on the first taste but finishes dry and tart.
Domaine de Rosiers 2009 Moulin-A-Vent. Clear garnet, with wild strawberries and earth on the nose and palate. Bright acidity, with soft tannins becoming more apparent in the finish.
These wines will become available at U.S. retailers this summer. Suggested retail prices weren't provided, but I'd expect to pay around $12 to $20 in most markets for the various Duboeuf crus. This link will show vendors and prices for the Chateau des Capitans Juliénas. Once you've reached the Wine-Searcher.com page, try filling in other cru and producer names to track down the other wines.
Click here for Wine-Searcher.com's overview of Beaujolais Crus, including many product links.
To visit Georges Duboeuf's informative Website, click here.
Talk About Wine Online
If you have questions, comments or ideas to share about today's article or wine in general, you're always welcome to drop by our online WineLovers Discussion Group, the Internet's first and still the most civil online community. To find our forums, click:
http://www.wineloverspage.com/forum/village
Discussions are open for public viewing, but you must register to post. Registration is free and easy; we ask only that you join following our Real Names Real Format system, using your real name in the format "John Doe" or "John D". Anonymous, cryptic or first-name-only registrations are discarded without notice.
Once your registration has been approved, which usually happens quickly, you'll be able to participate in all our online wine, food and travel forums.
To contact me by E-mail, write wine@wineloverspage.com. I'll respond personally to the extent that time and volume permit.
Subscriptions and Administrivia
Unsubscribe:
We're sorry if you must leave us, but simply click the "unsubscribe"
link at the bottom of your Email edition to be instantly removed from the mailing list.
Change address:
With our new Email system, the easiest way to change your Email address is simply to register anew, using the link below. If you are keeping your old address, you may unsubscribe; if you are closing it, you needn't take any action, as our system will delete your old address as soon as the mail starts to "bounce."
Subscribe to this Email edition (free):
http://www.wineloverspage.com/wineadvisor
WineLoversPage.com RSS Feed (free):
http://www.wineloverspage.com/rss
Wine Advisor Archives:
http://www.wineloverspage.com/wineadvisor2/archives.php
Sponsorship Opportunities:
For information, E-mail wine@wineloverspage.com