Older or better?
Here's one of the many things about wine that distinguishes it from milk, iced tea or Coca-Cola: It changes with time in the bottle in strange and mysterious ways.
You can assume that most beverages have a brief shelf life before they turn rancid or sour. With wine, not so much.
Now, this is not to say that all wines improve with age. Most of the world's wines are meant to be drunk up right now, or within a reasonable time after you bring them home from the store.
(Only a smallish niche of mostly top-tier wines benefit significantly from aging; and if you're into that sort of thing, it's important to know the difference. Want a quick reference guide? Hugh Johnson's annual Pocket Wine Book packs a remarkable amount of information into a portable space.)
But even modest table wines will generally keep for a year or several, and within reason, you don't absolutely have to have a temperature-controlled wine cellar to watch them grow.
I recently returned for a re-taste of a French Chardonnay that I first tried about a year ago, and I found it had gained some refinement with time in the bottle.
Domaine Lafage 2008 Novellum "N" Chardonnay is a Vin de Pays that hails from the Côtes Catalanes, the hilly vine country where the Pyrenees meet the sea and France meets Spain.
It sees just a little oak, and, oddly, spends a bit of time on the lees of Viognier before bottling and early release. This wacky procedure yielded a wine that, initially, was just about overwhelming in its frooty, floral character. In August 2009 I described as "odd but slurpy," so fruity it almost seemed sweet.
Tasted again recently, it had turned the contrast and brightness down to normal. Still fruit-based, it's now more subtle, with a fully dry impression on the palate and tangy snap of lemon in the finish. You'll find my tasting report below.
Today's Sponsor
No Billing and No Shipping Until December with The California Wine Club
It's that time of year again when The California Wine Club offers deep discounts on holiday gifts reserved now.
Sure, we know that thinking about the holidays during the summer is tough to do, however the money and time you save by planning now make it enormously rewarding in December!
During Santa's Summer Sale, you'll save 20 percent per gift, your credit card won't be billed until December and your gifts will be scheduled to arrive right before the holidays.
When you are ready to take advantage of the savings and reserve your holiday gifts, call 1-800-777-4443 or visit www.cawineclub.com.
Pour yourself something cool, enjoy the summer sun and take a moment to make some holiday plans…we know you will be glad you did.
Visit www.cawineclub.com or call 1-800-777-4443 to learn more.
Today's Tasting Report
Domaine Lafage 2008 Novellum "N" Chardonnay Vin de Pays des Côtes Catalanes ($12.99)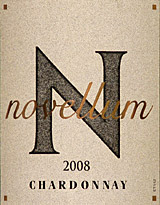 This transparent, bright straw-color wine offers subtle scents of cooking apples and tropical fruit, pineapple and dates. It hits your palate with mouth-filling, appley fruit shaped up by tart, zippy acidity, finishing with a palate-cleansing squirt of juicy lemon. Drink up soon; I suspect another year or so in the bottle will see it start to fade. U.S. importer: European Cellars LLC, Charlotte, N.C., an Eric Solomon selection. (May 21, 2010)
FOOD MATCH: A natural match with chicken in a cream sauce, pork or veal, swordfish or tuna. It was fine with swordfish cubed and sauteed with onions, garlic, capers, parsley and lemon over rigatoni.
VALUE: Good value, although our local price is near the high end of the range. You may be able to find it under $10 in many markets, at which point it's an exceptional bargain.
WEB LINK: The importer offers a short introduction to the producer, Domaine Lafage, at this link.
FIND THIS WINE ONLINE:
Find vendors and compare prices for Novellum Côtes Catalanes Chardonnay on Wine-Searcher.com.
Talk About Wine Online
If you have questions, comments or ideas to share about today's article or wine in general, you're always welcome to drop by our online WineLovers Discussion Group, the Internet's first and still the most civil online community. To find our forums, click:
http://www.wineloverspage.com/forum/village
Discussions are open for public viewing, but you must register to post. Registration is free and easy; we ask only that you join following our Real Names Real Format system, using your real name in the format "John Doe" or "John D". Anonymous, cryptic or first-name-only registrations are discarded without notice.
Once your registration has been approved, which usually happens quickly, you'll be able to participate in all our online wine, food and travel forums.
To contact me by E-mail, write wine@wineloverspage.com. I'll respond personally to the extent that time and volume permit.
Subscriptions and Administrivia
Unsubscribe:
We're sorry if you must leave us, but simply click the "unsubscribe"
link at the bottom of your Email edition to be instantly removed from the mailing list.
Change address:
With our new Email system, the easiest way to change your Email address is simply to register anew, using the link below. If you are keeping your old address, you may unsubscribe; if you are closing it, you needn't take any action, as our system will delete your old address as soon as the mail starts to "bounce."
Subscribe to this Email edition (free):
http://www.wineloverspage.com/wineadvisor
WineLoversPage.com RSS Feed (free):
http://www.wineloverspage.com/rss
Wine Advisor Archives:
http://www.wineloverspage.com/wineadvisor2/archives.php
Sponsorship Opportunities:
For information, E-mail wine@wineloverspage.com