A Chianti fiasco

What ever happened to the old Chianti bottles that came wrapped in wicker baskets? If you're past a certain age, you'll remember these well. Once the mainstay of modest Italian restaurants around the world, they served as handy candlesticks after the wine was gone.
Actually, the bottle - called a "fiasco," and there's a story behind that - is still made. They have fallen out of general fashion, though, for a couple of reasons.
One is that as Italy's economy prospered in the postwar years, the wages of the skilled workers who wove the baskets rose to the point that it cost more to make the bottle than the wine that goes inside.
Perhaps even more significantly, as Italy's modern wines have gained wider respect on the world market, Chianti's producers upgraded their image, fearing that the old fiasco bottles implied rustic country wine. Many of them switched to a standard square-shoulder wine bottle.
So why was the old bottle called a "fiasco"? Simple: It stems from the same ancestor word as the English "flask." But in Italian slang, "fare fiasco" - "make a bottle" - means, well, really screwing up, and the English word "fiasco" comes from that.
Want a vinous nostalgia trip? Find a family Italian eatery. Not your fancy "Northern" Italian spot with white tablecloths and waiters in waistcoats, but one of the cheery type with red-checked tablecloths and plastic grapevines on the ceiling. Chances are good that they'll be able to fix you up with a fiasco.
We gave it a try at a new local spot (DiFabio's Casapela, if you happen to be in or around Louisville). This amiable eatery carries only one Chianti, the Melini 2007 "Straw Bottle" Chianti, properly wrapped in wicker.
According to the importer's Website, this 305-year-old Tuscan winery "established itself as an 'international' winery in 1860 when Laborel Melini collaborated in developing the straw-covered flask (fiasco). This made it possible for the wine to travel and launched Melini in international markets.")
Today's Tasting Report
Melini 2007 Chianti ($26 restaurant price)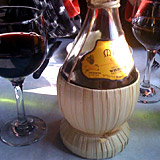 The wine inside this wicker-clad fiasco is a very traditional Chianti blend of 80% Sangiovese and 10% Canaiolo Nero with a splash of white grapes, 5% Trebbiano and 5% Malvasia. It's dry and tart, with pleasant, subtle black cherry and spice aromas. U.S. importer: Frederick Wildman & Sons Ltd., NYC. (May 11, 2010)
FOOD MATCH: Fun at a family-Italian eatery, stereotypically appropriate with spaghetti and meatballs and a hearty manicotti topped with a blanket of molten mozzarella.
VALUE: We paid a standard restaurant markup for this wine. Expect to pay about half that price when buying retail. Is it worth it, once, for the nostalgia hit? Sure!
WEB LINK: Click this link for the importer's fact sheet on the Straw Flask Chianti.
FIND THIS WINE ONLINE:
Find vendors and compare prices for Melini Straw Flask Chianti on Wine-Searcher.com. For a broader selection of Melini Chianti, try this link on Wine-Searcher.com.
Today's Sponsor
The California Wine Club: Sizzling Summer Sale Going on Now
The California Wine Club is clearing out their cellar, and that means sizzling savings for you. Visit The California Wine Club's Wine Store or call 1-800-777-4443 to take advantage of deals like these:
* $9 Super Savers!
* Buy 10 Wines, Get 12!
* Highly rated, limited-production Signature Series selections on sale up to 50 percent off normal retail prices.
Visit The California Wine Club's Wine Store or call 1-800-777-4443.
Shop confidently, as every wine is guaranteed 100 percent! If you are ever unhappy with a selection from The California Wine Club, just let them know and they'll replace or refund it immediately.
The Sizzling Summer Sale ends June 11. Order now to guarantee the best selection.
Talk About Wine Online
If you have questions, comments or ideas to share about today's article or wine in general, you're always welcome to drop by our online WineLovers Discussion Group, the Internet's first and still the most civil online community. To find our forums, click:
http://www.wineloverspage.com/forum/village
Discussions are open for public viewing, but you must register to post. Registration is free and easy; we ask only that you join following our Real Names Real Format system, using your real name in the format "John Doe" or "John D". Anonymous, cryptic or first-name-only registrations are discarded without notice.
Once your registration has been approved, which usually happens quickly, you'll be able to participate in all our online wine, food and travel forums.
To contact me by E-mail, write wine@wineloverspage.com. I'll respond personally to the extent that time and volume permit.
Subscriptions and Administrivia
Unsubscribe:
We're sorry if you must leave us, but simply click the "unsubscribe"
link at the bottom of your Email edition to be instantly removed from the mailing list.
Change address:
With our new Email system, the easiest way to change your Email address is simply to register anew, using the link below. If you are keeping your old address, you may unsubscribe; if you are closing it, you needn't take any action, as our system will delete your old address as soon as the mail starts to "bounce."
Subscribe to this Email edition (free):
http://www.wineloverspage.com/wineadvisor
WineLoversPage.com RSS Feed (free):
http://www.wineloverspage.com/rss
Wine Advisor Archives:
http://www.wineloverspage.com/wineadvisor2/archives.php
Sponsorship Opportunities:
For information, E-mail wine@wineloverspage.com