Food-friendly and affordable

What makes a wine "food-friendly"? In an age when blockbuster wines, soft and fat with fruit and oak and high-octane alcohol earn critical praise, I'm almost tempted to assert that the wines best suited for the dinner table are those that receive scores well under 90 from the Usual Suspects.
When I'm enjoying wine with food, give me a wine that introduces itself with the velvet glove, not the iron fist: Moderate in its alcohol, elegant in its fruit; shaped by the natural fresh-fruit acidity that cleanses, the subtle flavors that join what's on my plate in a delicious synergy that creates a whole greater than the sum of its parts.
And when don't I enjoy wine with food? A pleasurable part of human existence for the last 8,000 years or so, wine has evolved as a natural companion to food, a partner in a close, slow-music dance.
It's only in recent times - perhaps since the rise of the name-brand wine critic - that the notion of wine-as-cocktail, consumed on its own without reference to food, has become socially acceptable.
I'm sticking with wine and food as inseparable partners, though, and that's why you'll rarely see a tasting report here that doesn't mention the food I chose to match, often along with more general recommendations.
Today's tastings feature a quick look at two wines that easily passed the "food-friendly" test, and better yet, both are available at relatively modest prices in the $10 range. You'll find my reports below.
Today's Sponsor
The California Wine Club: Sizzling Summer Sale Going on Now
The California Wine Club is clearing out their cellar, and that means sizzling savings for you. Visit The California Wine Club's Wine Store or call 1-800-777-4443 to take advantage of deals like these:
* $9 Super Savers!
* Buy 10 Wines, Get 12!
* Highly rated, limited-production Signature Series selections on sale up to 50 percent off normal retail prices.
Visit The California Wine Club's Wine Store or call 1-800-777-4443.
Shop confidently, as every wine is guaranteed 100 percent! If you are ever unhappy with a selection from The California Wine Club, just let them know and they'll replace or refund it immediately.
The Sizzling Summer Sale ends June 11. Order now to guarantee the best selection.
Today's Tasting Report
Crios de Susanna Balbo 2008 Torrontes I.P. Salta ($12.99)

This crisp, food-friendly Argentine white is a very pale straw color with glints of gold. Citrus scents offer an appetizing blend of juicy white grapefruit, white pepper and grapefruit rind. Tart white grapefruit carries over in the flavor, medium-bodied and nicely shaped by snappy acidity, carrying into a long, clean finish. A sturdy modern screwcap ensures fresh, clean wine in the bottle. U.S. importer: Vine Connections, Sausalito, Calif. (April 30, 2010)
FOOD MATCH: Excellent with shrimp and not bad with deviled eggs on an Easter buffet. For more traditional table service, consider lighter-style chicken or pork dishes or freshwater fish.
VALUE: Competitive with higher-end Sauvignon Blanc, which it somewhat resembles, it's entirely fair at this bottom-of-the-teens price. Shop around, however, as it turns up for as little as $10 in many markets.
PRONUNCIATION:
Torrontes = "Tor-RON-tays" with a double-trilled Spanish "rr" if you dare.
WEB LINK: The winery Website offers your choice of English or Spanish. Click the name of your preferred language on the entry page. You'll find the importer's page about Crios here.
FIND THIS WINE ONLINE:
Find vendors and compare prices for Crios Torrontes on Wine-Searcher.com.
Mark West 2008 California Pinot Noir ($9.99)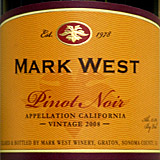 Ruby in color, dark but clear. Plummy fruit aromas are inviting, simple but fresh. Fruit-forward but not obnoxiously so on the palate, fresh red plums and cherries, medium-bodied and dry, structured with fresh-fruit acidity. Tasty if a bit on the simple side; it may be unreasonable to expect complexity in a $10 Pinot, but it's fine at the table, and the 13.8% alcohol, an almost moderate level by today's standards, doesn't interfere with dining pleasure. (April 30, 2010)
FOOD MATCH: As any balanced Pinot Noir should be, it's versatile at the dinner table, an easy match with a range of fare from beef to wild salmon. At a casual Easter brunch, it served well with grilled chicken and was outstanding with rare Kentucky bison burgers.
VALUE: Pinot Noir grapes are in such demand that I'm wary of low-end price tags and don't expect much at the $10 price point. This one, however, exceeds expectations. Good value, and in many markets it's available for a buck or two less.
WEB LINK: The winery Website is high-tech and slick, more for advertising than education, but it's an enjoyable online show.
FIND THIS WINE ONLINE:
Check prices and find vendors for Mark West California Pinot Noir on Wine-Searcher.com.
Talk About Wine Online
If you have questions, comments or ideas to share about today's article or wine in general, you're always welcome to drop by our online WineLovers Discussion Group, the Internet's first and still the most civil online community. To find our forums, click:
http://www.wineloverspage.com/forum/village
Discussions are open for public viewing, but you must register to post. Registration is free and easy; we ask only that you join following our Real Names Real Format system, using your real name in the format "John Doe" or "John D". Anonymous, cryptic or first-name-only registrations are discarded without notice.
Once your registration has been approved, which usually happens quickly, you'll be able to participate in all our online wine, food and travel forums.
To contact me by E-mail, write wine@wineloverspage.com. I'll respond personally to the extent that time and volume permit.
Subscriptions and Administrivia
Unsubscribe:
We're sorry if you must leave us, but simply click the "unsubscribe"
link at the bottom of your Email edition to be instantly removed from the mailing list.
Change address:
With our new Email system, the easiest way to change your Email address is simply to register anew, using the link below. If you are keeping your old address, you may unsubscribe; if you are closing it, you needn't take any action, as our system will delete your old address as soon as the mail starts to "bounce."
Subscribe to this Email edition (free):
http://www.wineloverspage.com/wineadvisor
WineLoversPage.com RSS Feed (free):
http://www.wineloverspage.com/rss
Wine Advisor Archives:
http://www.wineloverspage.com/wineadvisor2/archives.php
Sponsorship Opportunities:
For information, E-mail wine@wineloverspage.com