Today's Sponsor
The California Wine Club: Save $50 and order now for Mother's Day!
Mother's Day is Sunday, May 9, and what better way to honor the Mom in your life than with a gift of award-winning, limited-production wine from The California Wine Club!
Mother's Day Gift Package

Buy wine low, sell it high?

"In 2003 a bottle of 1982 Lafite-Rothschild sold for an average amount of US$490 at auctions. Six years later the same bottle went for $2,586, yielding the seller an annual return of around 70 percent."
Whoa! That sounds like serious money, provided you don't object to thinking about wine as an investible rather than a drinkable.
Economists Philippe Masset and Jean-Philippe Weisskopf continue in the same vein in "Raise your Glass: Wine Investment and the Financial Crisis," a February 2010 working paper for the American Association of Wine Economists:
"Examples of such hefty price increases for fine wines are frequently cited in newspapers and suggest that the demand and prices for wines have surged in recent years. An ever growing number of positive press commentaries on the favourable risk-return profile of this asset class has helped to convince investors of the advantages of adding wine to their financial portfolio.
"As a consequence," the economists argue, "wine is increasingly viewed not only as a pure consumer good but also as an interesting investment opportunity by many an investor. ... We confirm that the addition of wine to a portfolio as a separate asset-class is beneficial for private investors.
"Particularly during the recent financial crisis these effects are most pronounced and improve portfolio diversification when it is most needed."
An investment you can drink. Who knew? But does this argument really hold financial water?
Financial Post writer Ian McGugan isn't convinced. In an April 17 article headlined "Don't buy in to this cellar's market," he mounts a variety of arguments against the idea. For example, he says, transaction costs up to 21% when you buy and 10% when you sell can quickly "turn the investment appeal of most wines to vinegar."
Moreover, he said, wine auction markets are fickle, booming after 2005 when the Asian market became a growing competitor for top wines, but just as quickly flattening when times get tough.
"You can buy blue-chip vintages on the chance that one day you will be able to turn your bottles into a lush stock portfolio," McGuigan concludes. "To my mind, though, a better plan is to pour your money into blue-chip stocks on the near certainty that they will eventually pay for all the fine wine you can possibly drink."
This coincides with my standing advice to would-be wine investors: Fine wine is far less predictable than more traditional investment commodities.
What's more, a traditional investor may keep his portfolio in a safe-deposit box at the bank. Even commodities investors don't really have to unload 20 tons of pork bellies into the garage.
The wine investor, however, must take possession and keep the property in long-term storage. Temperature-controlled cellaring facilities are critical - a naturally cooled or electric cellar unit capable of storing all the wine at a constant 55F. Even then, a power failure can wipe out your inventory; while a negative review from a major wine critic can impose a paper loss from which you'll never recover.
My advice? Anyone who views wine as a mere investment would be better advised to get into more traditional markets that hold a more substantial hope for success. Invest in wine simply for your own pleasure, taking your profits in tasting pleasure. That way, you can hardly lose.
WEB LINKS:
Read the full American Association of Wine Economists working paper, "Raise Your Glass: Wine Investment and the Financial Crisis."
Read Ian McGugan's analysis in Financial Post.
Today's Sponsor
The California Wine Club: Save $50 and order now for Mother's Day!
Mother's Day is Sunday, May 9, and what better way to honor the Mom in your life than with a gift of award-winning, limited-production wine from The California Wine Club!
Send as many months as you wish and save on gifts of 3, 6, 9 and 12 months. Choose to send shipments monthly, every other month or quarterly.
Each gift month is $35.95 plus shipping and includes two bottles of award-winning wine hand selected by club owners Bruce and Pam Boring. Deliveries also include a copy of Uncorked, featuring an up-close look at the winery, tasting notes, wine tips and more.
This year's Mother's Day Gift Package includes a two-month wine club delivery plus $50 in bonus gifts for mom.
Order today and get Mom's gift notice before the holiday. Visit www.cawineclub.com or call 1-800-777-4443. For the wine collector or connoisseur, try the Signature Series, featuring California's highest rated and most coveted wine.
Today's Tasting Report
Jean-Paul Brun 2008 "Terres Dorées" Côte de Brouilly ($16.99)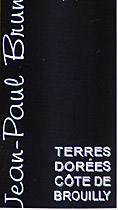 Clear, dark ruby. Black cherry and wild strawberry and subtle earth aromas, complex and appealing. Mouth-watering acidity holds up fresh red-berry fruit flavors on the palate, lingering in a long, palate-cleansing finish, with delightfully gentle alcohol at the 12% level. An exceptional Beaujolais, a revelation for those who know this region only through its popular mass-market labels. U.S. importer: LDM Wines Inc., NYC; Louis/Dressner Selections. (May 1, 2010)
FOOD MATCH: A versatile match with poultry, pork or even beef, it was a delight with a pasta primavera made with fresh spinach and peas, tomatoes and diced locavore ham over penne rigate from Rustichella d'Abruzzo.
VALUE: The middle to upper teens is an excellent price for an artisanal "cru" Beaujolais of this quality.
PRONUNCIATION:
Brouilly = "Brewl-yee"
WEB LINK: Here's a discussion of Jean-Paul Brun and his wines on the home page of the importer, Louis/Dressner Selections.
FIND THIS WINE ONLINE:
This very limited-production Beaujolais is going to be difficult to find, unfortunately. Wine-Searcher.com offers only a few vendors.
I got it from Chambers Street Wines in NYC, where you can browse this link for currently available bottlings from Jean-Paul Brun. You might also check with the importer for information on regional distribution.
Talk About Wine Online
If you have questions, comments or ideas to share about today's article or wine in general, you're always welcome to drop by our online WineLovers Discussion Group, the Internet's first and still the most civil online community. To find our forums, click:
http://www.wineloverspage.com/forum/village
Discussions are open for public viewing, but you must register to post. Registration is free and easy; we ask only that you join following our Real Names Real Format system, using your real name in the format "John Doe" or "John D". Anonymous, cryptic or first-name-only registrations are discarded without notice.
Once your registration has been approved, which usually happens quickly, you'll be able to participate in all our online wine, food and travel forums.
To contact me by E-mail, write wine@wineloverspage.com. I'll respond personally to the extent that time and volume permit.
Subscriptions and Administrivia
Unsubscribe:
We're sorry if you must leave us, but simply click the "unsubscribe"
link at the bottom of your Email edition to be instantly removed from the mailing list.
Change address:
With our new Email system, the easiest way to change your Email address is simply to register anew, using the link below. If you are keeping your old address, you may unsubscribe; if you are closing it, you needn't take any action, as our system will delete your old address as soon as the mail starts to "bounce."
Subscribe to this Email edition (free):
http://www.wineloverspage.com/wineadvisor
WineLoversPage.com RSS Feed (free):
http://www.wineloverspage.com/rss
Wine Advisor Archives:
http://www.wineloverspage.com/wineadvisor2/archives.php
Sponsorship Opportunities:
For information, E-mail wine@wineloverspage.com