Pinot Theory of Evolution

If you're looking for proof of the theory of evolution, here's a compelling demonstration: Pour a ration of young Pinot Noir into your wine glass and spend an hour or two getting to know it.
Like the real thing, Pinot Evolution can be unpredictable, even bizarre. (Duck-billed platypus, anyone?)
But in the best of cases, it's a wine lovers' joy - and a mini-education - to observe the way that extended airing in the glass, with occasional swirling and sipping, can send a simple wine through a surprising series of changes of personality.
Like no other variety I've experienced, Pinot has an amazing ability to open up and blossom like a virtual rose opening in your glass.
I think Charles Darwin would have approved. After all, when he fell seriously ill on his first voyage to the tropics in 1832, he wrote, "Cinnamon and Port wine cured me."
I don't know the chemical and physical activity that makes Pinot Noir such a chameleon in the glass, but I suspect it's tied in with the wine's similar reputation for a frustrating but sometimes glorious unpredictability in the cellar. If you plan to put away some ageworthy Pinot for a few years, it's a good idea to save a number of bottles, so you can pull one at random to check its development from time to time.
Which leads to a question: Would we love Pinot so much if it made a more predictable wine? I'm thinking not.
Today's tasting, Voillot 2007 Bourgogne Pinot Noir Vieilles Vignes, offered a benchmark example of Pinot evolution. Although the Bourgogne appelation is the most generic, permitting the use of grapes from anywhere in Burgundy, Domaine Joseph Voillot holds itself to a stricter standard.
According to the importer's Website, the wine is primarily sourced from five properties located just below the vineyards designated for Volnay villages wine. Some additional "press wine" from Volnay and Pommard village reds is blended in, but its vineyard sources suggest breeding that raises it above more mass-produced Bourgogne Pinot Noir.
First poured, it seemed simple, full of ripe strawberry fruit and little more. "It smells like Beaujolais," scowled my wife, who's no fan of Beaujolais; and it was a fair cop.
But 15 minutes later Pinot evolution had started to set in, and the wine quickly added dimensions that weren't present at the start. Hints of raspberry and cranberry appeared, all subtle notes in a wine more elegant than loud. Then came a distant back note of Burgundy "earth," not "barnyard" but something more like clean, freshly turned loam.
The flavor, too, evolved from simple, tart strawberries to a subtle mix of red fruits and that elusive "rainwater over rocks" minerality that speaks of terroir, all framed with crisp, food-friendly acidity.
Pinot evolution: It'll make a believer out of anyone.
Today's Sponsor
The Saratoga Wine Exchange is your source for fine wines online
The Saratoga Wine Exchange is your source for fine wines online offering more than 15,000 wines to choose from. Spend less time searching the web for hard-to-find wines. Sign up for our email list to get special offers and discounts only available through our email list.
Want to try a good Bourgogne Pinot Noir in the same price range as Robin Garr's featured tasting today? Try the 2007 Michel Noellat Pinot at the Saratoga Wine Exchange.
Browse our selection of wines rated 90 Points Under $20.
Our goal at the Saratoga Wine Exchange is to provide our customers with the best selection of wines at competitive prices. As wine lovers ourselves we understand how difficult it can be to find all the wines you love in one spot. We work hard every day to find additional sources for fine wines. We look forward to helping you find the wines you love.
Today's Tasting Report
Domaine Joseph Voillot 2007 Bourgogne Pinot Noir Vieilles Vignes ($19.99)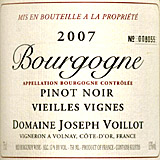 Clear ruby, on the light side, almost on the line between red and an intense rosé. Strawberry aromas at first opens up to mixed red berries and pleasant, subtle earth. Flavors follow the nose, red berries and a subtle, intriguing "rainwater over rocks" minerality; clean and fresh, nicely structured with lip-smacking acidity. U.S. importer: Vintage '59 Imports, Washington, D.C. (April 25, 2010)
FOOD MATCH: Pinot Noir is one of the world's most versatile red wines at the table, pairing well with red meats, poultry, even salmon. Mushrooms make a particularly fine match, and it was a delight with a mushroom risotto made with a mix of fresh domestic mushrooms and dried porcini, cooked in the porcini soaking liquid.
VALUE: While Burgundy is rarely cheap, it is often fine. Although Bourgogne Pinot Noir used to be a bargain at $10, the $20 range is frankly a reasonable price in today's economy, and the quality of this wine justifies the expense.
PRONUNCIATION:
Voillot = "V'wahl-yo"
Bourgogne = "Boor-gon-yuh"
WEB LINK: Vintage '59 Imports, the importer, offers an overview and discussion of Domaine Joseph Voillot and its wines.
The winery's quaintly homespun Website is available in French and English. Page to the end and look at lower right to choose your language.
FIND THIS WINE ONLINE:
Wine-Searcher.com reveals sources only in Europe and Asia for Voillot Bourgogne Pinot Noir. For more information about U.S. vendors, check local retailers; contact the "Distributors" page at the importer, Vintage '59 Imports, or look for comparably priced Bourgogne Pinot Noir of similar vintage from other producers, like the 2007 Michel Noellat Pinot offered above at the Saratoga Wine Exchange.
Talk About Wine Online
If you have questions, comments or ideas to share about today's article or wine in general, you're always welcome to drop by our online WineLovers Discussion Group, the Internet's first and still the most civil online community. To find our forums, click:
http://www.wineloverspage.com/forum/village
Discussions are open for public viewing, but you must register to post. Registration is free and easy; we ask only that you join following our Real Names Real Format system, using your real name in the format "John Doe" or "John D". Anonymous, cryptic or first-name-only registrations are discarded without notice.
Once your registration has been approved, which usually happens quickly, you'll be able to participate in all our online wine, food and travel forums.
To contact me by E-mail, write wine@wineloverspage.com. I'll respond personally to the extent that time and volume permit.
Subscriptions and Administrivia
Unsubscribe:
We're sorry if you must leave us, but simply click the "unsubscribe"
link at the bottom of your Email edition to be instantly removed from the mailing list.
Change address:
With our new Email system, the easiest way to change your Email address is simply to register anew, using the link below. If you are keeping your old address, you may unsubscribe; if you are closing it, you needn't take any action, as our system will delete your old address as soon as the mail starts to "bounce."
Subscribe to this Email edition (free):
http://www.wineloverspage.com/wineadvisor
WineLoversPage.com RSS Feed (free):
http://www.wineloverspage.com/rss
Wine Advisor Archives:
http://www.wineloverspage.com/wineadvisor2/archives.php
Sponsorship Opportunities:
For information, E-mail wine@wineloverspage.com