Today's Sponsor
California Wine Club: Advice from the Wall Street Journal!
The best wines come from the little wineries you've never heard of, The WSJ advises. This is exactly what The California Wine Club is all about! Save $35.95 on your first month: Use promo code ADVISOR.
The California Wine Club

Plug ugly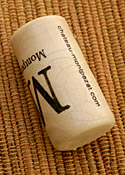 I've said it before, and I'll say it again: In its battle with natural cork, the modern metal wine screw cap has won my heart. Air-tight and attractive in appearance, it protects the wine from oxidation while imparting no fungus-triggered anisoles that can fatally taint the wine.
As for the cork-shaped plastic stopper, I'm not so smitten. Although they may deter random natural-cork "taint," I'm increasingly convinced that they simply don't provide much shelf life.
The higher-tech synthetic, with a smooth cylinder surrounding a foamy interior, seems to work reasonably well for wine intended to be drunk up while it's young and fresh.
But as far as I'm concerned, the zombie-color solid plastic plug, the one that sticks to your corkscrew like a plastic lamprey, has failed to justify its place in the wine world.
Time and again, particularly when the "zombie cork" is plugged into a bottle containing wine worth keeping more than a year or two after bottling, I've found the wine faded before its time, "scalped" of much of its fruit, leaving mostly earth and oak, acidity and astringent tannins.
Most irritating, because a plastic or foil capsule covers the business end of most bottles, you can't detect what kind of stopper is in use until you've bought the bottle and brought it home.
Give me a screw cap, thanks, or at least improve my odds against that musty, dusty taint with natural cork from a producer willing to invest in corks subject to intense quality control, or a modern "technical cork" like the DIAM featured in the Nov. 6, 2009 30 Second Wine Advisor, "Brother, can you spare a DIAM?"
For today's tasting I offer a case in point, a five-year-old Grenache-based red from the Coteaux du Languedoc that's showing the signs of what I shall rudely dub "zombie-cork decay." The wine's still drinkable with enjoyment, especially with red meat on the table. If it weren't, I wouldn't trouble you with a tasting report.
But I'm in little doubt that if it had worn a Stelvin-style screw cap - or, with luck, a taint-free natural cork - It would have retained more of that luscious raspberry-like Grenache fruit. (Time in the pipeline is also an issue here: This 2005 vintage remained on retail shelves here last month, well after the 2006 had entered the marketplace.
The wine, Chateau de Montpezat's 2005 "Palombièmbieres," comes from the Coteaux du Languedoc, the hillsides north of Montpellier and, in my opinion, source of some of Languedoc's best red wines. The vineyard, according to the importer's Website, is located at the edge of a small forest that holds many palombières - small thatched huts used as "blinds" where game-bird hunters can stay out of the sight of their prey.
The wine is 80 percent Grenache and 20 percent Mourvèdre; the Grenache sees no oak, while the more earthy Mourvèdre spends up to a year in barrels. "This is a big wine with complete, expressive and complex, structured flavors," says the website. Maybe. My tasting notes are below, and they are certainly not negative. But I'd have loved a chance to try it without the tender ministrations of the "zombie cork."
Today's Sponsor
California Wine Club: Advice from the Wall Street Journal!
Recently The Wall Street Journal offered this advice: "Drop into the little places you've never heard of. You are more likely to meet the actual owners or winemakers and have a better time. Not only that, but these are the wines you could never buy at home ..."
This is exactly what The California Wine Club is all about!
Since 1990 The California Wine Club has been introducing wine enthusiasts to limited production wines, handcrafted by California's best "mom & pop" wineries (no bulk wine - ever!). These award-winning wines are typically only found at the winery itself, and that's what makes The California Wine Club a true wine adventure.
Try it for yourself, or send a gift and get your first month for just $13 (save $35.95).
Visit www.cawineclub.com or call 1-800-777-4443 and use promo code: ADVISOR.
Today's Tasting Report
Montpezat 2005 Palombières Coteaux du Languedoc ($10.99)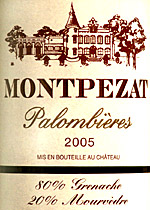 Very dark reddish-purple, garnet at the edge. Raspberry liqueur and pleasant dark, loamy earth aromas; mixed-berry fruit and tart acidity on the palate, with substantial tannins leaving an astringent impression and 14% alcohol adding texture and warmth. It's a bit rough-hewn and rustic for tasting without food, and I believe its short artificial cork has contributed to a gradual decline in fruit; but it's still quite alive, and serves well as a table wine with red meat or sharp cheese. A blend of 80% Grenache, 20% Mourvedre. U.S. importer: Robert Kacher Selections, Washington, D.C. (March 20, 2010)
FOOD MATCH: As noted, it's a natural with hearty beef or lamb dishes; it went well with pot-roasted Barr Farm Kentucky natural beef chuck roast.
VALUE: Fairly priced for a rustic table wine in the old country European style. The 2005 should be drunk up soon, however, and look for younger vintages.
WEB LINK: The Chateau de Montpezat Website covers the winery and its wines in detail. Click your choice of English or French from the home page.
Here's a link to the importer's fact sheet on the 2005 Palombières.
FIND THIS WINE ONLINE:
Compare prices and find vendors for Montpezat Palombières on Wine-Searcher.com.
Talk About Wine Online
If you have questions, comments or ideas to share about today's article or wine in general, you're always welcome to drop by our online WineLovers Discussion Group, the Internet's first and still the most civil online community. To find our forums, click:
http://www.wineloverspage.com/forum/village
Discussions are open for public viewing, but you must register to post. Registration is free and easy; we ask only that you join following our Real Names Real Format system, using your real name in the format "John Doe" or "John D". Anonymous, cryptic or first-name-only registrations are discarded without notice.
Once your registration has been approved, which usually happens quickly, you'll be able to participate in all our online wine, food and travel forums.
To contact me by E-mail, write wine@wineloverspage.com. I'll respond personally to the extent that time and volume permit.
Subscriptions and Administrivia
Unsubscribe:
We're sorry if you must leave us, but simply click the "unsubscribe"
link at the bottom of your Email edition to be instantly removed from the mailing list.
Change address:
With our new Email system, the easiest way to change your Email address is simply to register anew, using the link below. If you are keeping your old address, you may unsubscribe; if you are closing it, you needn't take any action, as our system will delete your old address as soon as the mail starts to "bounce."
Subscribe to this Email edition (free):
http://www.wineloverspage.com/wineadvisor
WineLoversPage.com RSS Feed (free):
http://www.wineloverspage.com/rss
Wine Advisor Archives:
http://www.wineloverspage.com/wineadvisor2/archives.php
Sponsorship Opportunities:
For information, E-mail wine@wineloverspage.com