No oxymoron: fine cheap wines
When I first started writing about wine for the late, great Louisville Times back in the early 1980s - so swiftly fly the years - conventional wisdom in wine retail held that most people would pay no more than $5 for an everyday bottle of table wine. It took a special occasion indeed to justify breaking the $6 barrier.
I doubt that we'll ever see days like that again. While there's been considerable publicity about the startling three-figure and four-figure prices of high-end wines like Chateau Petrus and the nouveau "cult" classic Screaming Eagle, prices at the other end of the spectrum have more quietly advanced.
The threshold price for "interesting" wine gradually increased from $5 to $10, then, after hesitating at the psychological barrier of double figures for a while, pushed past that mark in recent years when the strong Euro and rising energy prices re-wrote the pricing equation for producers and distributors.
Now $12 is the new $5, and even budget-conscious wine buyers are more likely than ever to push on to $15 or even $20 for an occasion not much more special than, well, Saturday night.
But wait, I can hear some of you saying. Aren't there still plenty of $5 wines around? Well, yes. But there's no snobbery in saying that life's too short to drink uninteresting wine. The problem with many of the lower-end wines, it seems to me (and yes, I've tried them so you don't have to) is that the cheapest, usually mass-produced bottles tend to be one-dimensional, simple, lacking balance and usually short on the tart acidity that makes good wines go so well with food.
When I choose wine, I want something more than a glass of alcoholic fruit juice, and like many other wine enthusiasts, I may whine about it, but I'll fork over $10 or $12 to enjoy something interesting rather than settle for less.
But it's a real treat for price-savvy wine consumers when we can find a single-digit bargain that satisfies at least our basic taste and quality requirements. Today let's take a peek at two such goodies, a low-end Chianti with a lot of Tuscan character, and a Grüner Veltliner that shows good Austrian style in a full liter bottle.
I'd love to hear about your favorite under-$10 wines of quality! Post about them on our WineLovers Discussion Group forum, or drop me an Email note at wine@wineloverspage.com
Caposaldo 2008 Chianti ($8.99)
Clear, dark ruby with a clear to reddish-orange edge. Good black-cherry aroma, simple and fresh. Cherries and subtle spice on the palate, nicely balanced with mouth-watering acidity and substantial but smooth tannic astringency. Black fruit and tangy acidity linger in a long finish. Fine food wine with a rational 12.5% alcohol content; a typical, characteristic everyday Chianti at a low-end price. Taking advantage of modern regulations, it adds 10% each of Cabernet Sauvignon and Merlot to the traditional mix of Sangiovese (75%) and white Malvasia (5%) Good value. U.S. importer: Kobrand Corp., NYC. (March 18, 2010)
FOOD MATCH: Perfect with my choice, locavore pork chops pan-seared and oven-finished with fresh sage. And yes, of course it would go with burger, steaks or red-sauce pasta.
VALUE: Unexpected quality in the high single-digit range.
WEB LINK: The importer's Website provides information about the Caposaldo label. For a specific fact sheet on the Caposaldo Chianti, click this link.
FIND THIS WINE ONLINE:
Compare prices and find vendors for Caposaldo Chianti on Wine-Searcher.com.
Weingut Ecker 2008 Grüner Veltliner Weinland Landwein Österreich Trocken ($9.99 for 1 liter)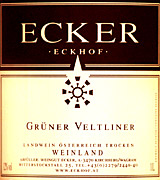 Modest in price but appealing in quality, this is a transparent, light straw-color wine with just a touch of natural carbonation that fizzes when the bottle is uncapped and poured. Characteristic GV aromas, subtle white fruit and something like split peas on the nose. Mouth-filling, simple fruit and mouth-watering acidity, with that distinct Austrian "minerality" that can only be compared to the childhood sensation of sucking on a clean, smooth pebble. Nicely balanced and food-friendly with only 12% alcohol, it's a fine match with fish, and an excellent bargain at this price. Closed with a short, inexpensive old-style screwcap, it's clearly not intended for long-term storage. Drink up! U.S. importer: Michael Skurnik Wines, Syosset, N.Y.; a Terry Theise Estate Selection.
FOOD MATCH: Grüner Veltliner has become almost as much a cliche with spicy Southeast Asian fare as is Chianti with Italian-American red-sauced pasta, and in both cases the principle stands because it works. It was a fine match with a modestly spicy Kerala-style fish curry with plenty of onions and coconut milk. Want something less exotic? It's fine with just about any kind of fish.
VALUE: At $9.99 for 1 liter, it's the equivalent of $7.50 for a standard bottle, and interesting wine doesn't get much cheaper than that.
WEB LINK: Here's the importer's fact sheet on Ecker and its wines, with links to specific bottlings including this GV. To read the producer's Website (in German), click here.
FIND THIS WINE ONLINE:
Compare prices and find vendors for Ecker Grüner Veltliner on Wine-Searcher.com. You can buy it direct from Saratoga Wine Exchange for $11.64.
Today's Sponsor
The Saratoga Wine Exchange is your source for fine wines online

The Saratoga Wine Exchange is your source for fine wines online, offering more than 15,000 wines to choose from. Spend less time searching the Web for hard-to-find wines. Sign up for our email list to get special offers and discounts only available through our email list.
Find information and a selection of Austrian wine at Saratoga Wine Exchange. Order Ecker Grüner Veltliner from Saratoga in the liter bottle.
Browse our selection of wines that have been recently rated by clicking "Professional Ratings."
Our goal at the Saratoga Wine Exchange is to provide our customers with the best selection of wines at competitive prices. As wine lovers ourselves we understand how difficult it can be to find all the wines you love in one spot. We work hard every day to find additional sources for fine wines. We look forward to helping you find the wines you love.
Talk About Wine Online
If you have questions, comments or ideas to share about today's article or wine in general, you're always welcome to drop by our online WineLovers Discussion Group, the Internet's first and still the most civil online community. To find our forums, click:
http://www.wineloverspage.com/forum/village
Discussions are open for public viewing, but you must register to post. Registration is free and easy; we ask only that you join following our Real Names Real Format system, using your real name in the format "John Doe" or "John D". Anonymous, cryptic or first-name-only registrations are discarded without notice.
Once your registration has been approved, which usually happens quickly, you'll be able to participate in all our online wine, food and travel forums.
To contact me by E-mail, write wine@wineloverspage.com. I'll respond personally to the extent that time and volume permit.
Subscriptions and Administrivia
Unsubscribe:
We're sorry if you must leave us, but simply click the "unsubscribe"
link at the bottom of your Email edition to be instantly removed from the mailing list.
Change address:
With our new Email system, the easiest way to change your Email address is simply to register anew, using the link below. If you are keeping your old address, you may unsubscribe; if you are closing it, you needn't take any action, as our system will delete your old address as soon as the mail starts to "bounce."
Subscribe to this Email edition (free):
http://www.wineloverspage.com/wineadvisor
WineLoversPage.com RSS Feed (free):
http://www.wineloverspage.com/rss
Wine Advisor Archives:
http://www.wineloverspage.com/wineadvisor2/archives.php
Sponsorship Opportunities:
For information, E-mail wine@wineloverspage.com