Radical reds
I'll no more buy a wine on the basis of its label than bet on a horse in the Kentucky Derby based on the color of the jockey's silks. Cute animals, funny cartoons, landscapes and fine art on the label tell us nothing about the wine inside the bottle.
But let's be honest: In a competitive marketplace where even a medium-size wine shop may offer a selection of 500 to 1,000 wines or more, an eye-catching wine label, like a voice raised in a quiet room, can grab your attention and increase the chances that you'll take a closer look.
Today let's take a look at a couple of offbeat labels that wrap around good, affordable wine from one of my favorite wine makers, Patrick Campbell of Sonoma County's Laurel Glen. Patrick, who describes himself as "a true child of the '60s" (I can relate to that), came to wine making from studies in English Literature at Pomona College and Philosophy of Religion at Harvard. "I have a degree in neither viticulture nor enology," he says on the Laurel Glen Website. "In short, I have the proper credentials for winemaking."
Indeed. He's an ex-hippie, philosopher, musician, child of the '60s, who lived in a Zen Buddhist commune before buying his winery. Campbell's Website goes on, "Making limited production (and hence, relatively expensive) wine had its charms; but Campbell, whose lifetime fascination with Che Guevara reveals a stubborn egalitarian streak, yearned to produce a more populist wine."
One outcome of that wish, REDS, described as "A wine for the people" and priced to sell under $10, is a hearty red blend of Zinfandel, Carignan and Petite Sirah grapes, made in recent years from "pioneer vineyards in the heartland of California" in the Lodi region, a cooler, more favored subclimate of the state's agricultural Central Valley south of Sacramento. For years, Campbell stoppered REDS with corks bearing tongue-in-cheek images of left-wing heroes like Lenin, Trotsky and Marx (Not just Karl but Groucho, too). Now it comes with a politics-free Stelvin metal screwcap.
Another memorable red wine with a decidedly political label is a Laurel Glen import from Chile, "Chévere," adorned with a red and black label featuring an image of Che that once adorned the walls of many a '60s hippie's pad. This is no mere '60s nostalgia, though: A 5 percent share of the purchase price on sales of Chévere is to be donated to the Lambi Fund, a non-profit organization that works toward economic justice, democracy and alternative sustainable development in Haiti, where it is currently deeply involved in earthquake recovery.

Chévere 2007 Valle Central Chile Cabernet Sauvignon ($11.99)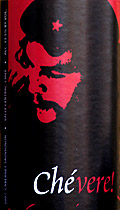 This dark garnet wine's European accent hints at the historic kinship between Chile's producers and the Bordeaux vignerons who fled the phylloxera vine plague to settle there. Currant and cranberry aromas add a hint of fresh green herbs on the nose. Full-bodied red fruit flavors are well balanced by tart acidity and substantial tannins. It's a wine made for red meat, although grilled or roast chicken or cheese wouldn't do it any harm. U.S. importer: Laurel Glen Vineyard, Santa Rosa, Calif. (Feb. 18, 2010)
FOOD MATCH: Classic Cabernet match with a pan-seared, oven-finished locavore rib eye steak.
VALUE: Fine value for a hearty Cabernet at this relatively low price point; the charitable contribution adds to its value appeal.
WEB LINK: Information about the wine and how to order it (where the law permits), on the Laurel Glen Website. You can also click through to the order page and find other ways to support Lambi on The Lambi Fund Website.
FIND THIS WINE ONLINE:
Compare prices and find vendors for Chévere on Wine-Searcher.com. It's also available from Saratoga Wine Exchange for $11.44.

Laurel Glen "REDS" 2007 Lodi Red Wine ($9.99)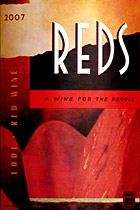 An old-style California red blend of 60 percent Zinfandel (from 40- to 80-year-old vines), 30 percent Carignane (from 118-year-old vines) and 10 percent Petite Sirah (from 20-year-old vines), REDS is a very dark purple color in the glass. The aromas blend earth and fruit in a style that blends California the Old World. On the palate it's a real mouthful of wine, whacking the palate with flavors that evoke red cherries and raspberries and maybe a dash of kirsh cherry liqueur, leaving a tangy lemon-squirt of acidity and a soft tannic astringency. (Feb. 20, 2010)
FOOD MATCH: It was perfect with a ragù of locavore beef shanks from Barr Farm in Rhodelia, Ky., over fresh pappardelle pasta. It would go with just about any red meat or anything you'd serve in an Italian-American restaurant with red-checked tablecloths.
VALUE: Great value at a penny under ten bucks; the winery's suggested retail is a dollar less.
WEB LINK: Read about Reds, and order it online where the law permits, on the Laurel Glen Website.
FIND THIS WINE ONLINE:
Compare prices and find vendors for 2007 Laurel Glen REDS on Wine-Searcher.com.
Today's Sponsor
The Saratoga Wine Exchange is your source for fine wines online

The Saratoga Wine Exchange is your source for fine wines online, offering more than 15,000 wines to choose from. Spend less time searching the Web for hard-to-find wines. Sign up for our email list to get special offers and discounts only available through our email list.
Looking for the Chévere wine featured today? Saratoga lists it for $11.44.
Browse our selection of wines that have been recently rated by clicking "Professional Ratings."
Our goal at the Saratoga Wine Exchange is to provide our customers with the best selection of wines at competitive prices. As wine lovers ourselves we understand how difficult it can be to find all the wines you love in one spot. We work hard every day to find additional sources for fine wines. We look forward to helping you find the wines you love.
Talk About Wine Online
If you have questions, comments or ideas to share about today's article or wine in general, you're always welcome to drop by our online WineLovers Discussion Group, the Internet's first and still the most civil online community. To find our forums, click:
http://www.wineloverspage.com/forum/village
Discussions are open for public viewing, but you must register to post. Registration is free and easy; we ask only that you join following our Real Names Real Format system, using your real name in the format "John Doe" or "John D". Anonymous, cryptic or first-name-only registrations are discarded without notice.
Once your registration has been approved, which usually happens quickly, you'll be able to participate in all our online wine, food and travel forums.
To contact me by E-mail, write wine@wineloverspage.com. I'll respond personally to the extent that time and volume permit.
Subscriptions and Administrivia
Unsubscribe:
We're sorry if you must leave us, but simply click the "unsubscribe"
link at the bottom of your Email edition to be instantly removed from the mailing list.
Change address:
With our new Email system, the easiest way to change your Email address is simply to register anew, using the link below. If you are keeping your old address, you may unsubscribe; if you are closing it, you needn't take any action, as our system will delete your old address as soon as the mail starts to "bounce."
Subscribe to this Email edition (free):
http://www.wineloverspage.com/wineadvisor
WineLoversPage.com RSS Feed (free):
http://www.wineloverspage.com/rss
Wine Advisor Archives:
http://www.wineloverspage.com/wineadvisor2/archives.php
Sponsorship Opportunities:
For information, E-mail wine@wineloverspage.com