Bubbles and fire
You've just swallowed a delicious bite of a fiery vindaloo, or maybe a five-pepper Thai curry, Jamaican jerk chicken, or something spicy from Sichuan. Your cheeks are red, drops of sweat are breaking out on your brow, and your mouth tingles with a tasty fire.
Now, what to drink?
Actually, if you're seeking to extinguish the fire, dairy works best. Indian yogurt lassi, Thai iced tea and Vietnamese coffee with a dollop of condensed milk all probably evolved to meet this need. But who wants a glass of Grade A when there's wine or beer to be had?
Beer, indeed, is a viable option, with its relatively low alcohol to allow for quaffing in quenching gulps, and its bubbly carbonation to scrub one's taste buds clean.
Wine poses a problem, at least in my culinary universe, because its relatively high alcohol levels make it less than prudent to gulp it in quantity. Worse, you're literally pouring alcohol on a burn, and that hurts.
In my experience, if wine's your choice, look for relatively low-alcohol items, ideally with a bit of residual sweetness (many Rieslings and some Chenin Blancs fill this bill); or crisp, bubbly carbonation that offers some of the same "palate-scrubbing" effect as a beer.
I've had surprisingly good results with Lambrusco, the much-maligned "pop" wine from Emilia-Romagna, because it's fizzy, somewhat sweet and very low in alcohol. But for those whose memories of "Chill a Cella" are still too vivid, Italy's Prosecco is an obvious alternative. Sparkly, dry or nearly so and not overly alcoholic, it's usually my first choice if I'm going to have wine with something on the hot-and-spicy side.
With prices for bubbly ranging from $5 for very bad industrial stuff to hundreds of dollars (or Euros) for the finest Champagnes, Prosecco hits the sweet spot in value for everyday drinking, typically falling in the $10 to $20 range. Spanish "Cava" is another affordable option, but Prosecco wins the quality-price ratio race for me.
Today's tasting, Caposaldo non-vintage Prosecco Vino Spumante Aromatico di Qualità Brut, is a good, straightforward Prosecco at a fair price in the lower teens. It made a fine companion with a quick, home-built curry of leftover free-range roasting hen, lots of onions, an Indian Madras curry powder and dried red-pepper flakes to taste.
Today's Sponsor
The Saratoga Wine Exchange is your source for fine wines online
Over 50 Proseccos to choose from online every day at The Saratoga Wine Exchange. Click here to see our current selection of Prosecco.

The Saratoga Wine Exchange is your source for fine wines online, offering more than 15,000 wines to choose from. Spend less time searching the web for hard-to-find wines. Sign up for our email list to get special offers and discounts only available through our email list.

Browse our selection of wines rated 90 Points Under $20.
Our goal at the Saratoga Wine Exchange is to provide our customers with the best selection of wines at competitive prices. As wine lovers ourselves we understand how difficult it can be to find all the wines you love in one spot. We work hard every day to find additional sources for fine wines. We look forward to helping you find the wines you love.
Today's Tasting Report
Caposaldo non-vintage Prosecco V.S.A.Q. Brut ($13.99)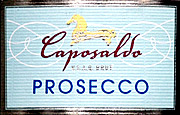 Pale, transparent straw color, pours up with a frothy mousse that falls back fast, but bubbles continue to float gently through the clear wine. A whiff of apples and pears and just a hint of rising bread dough on the nose. Crisp and tingly on the palate, prickly carbonation, with a tart taste of ripe apple in the finish. Labeled "V.S.A.Q." for "Vino Spumante Aromatico di Qualità," or "aromatic sparkling wine of quality." U.S. importer: Kobrand Corp., NYC. (Feb. 22, 2010)
FOOD MATCH: Prosecco will suit just about any food pairing that would work with a crisp white wine, from seafood to poultry to pork; it's fine for sipping alone, and, as discussed in today's column, it does relatively well with fiery fare. We enjoyed it with a moderately spicy chicken curry.
VALUE: Fairly priced in the lower teens.
WEB LINK: Browse the U.S. importer's Caposaldo pages beginning with this short tasting note on the Prosecco.
FIND THIS WINE ONLINE:
Compare prices and find vendors for the Caposaldo Prosecco on Wine-Searcher.com.
Talk About Wine Online
If you have questions, comments or ideas to share about today's article or wine in general, you're always welcome to drop by our online WineLovers Discussion Group, the Internet's first and still the most civil online community. To find our forums, click:
http://www.wineloverspage.com/forum/village
Discussions are open for public viewing, but you must register to post. Registration is free and easy; we ask only that you join following our Real Names Real Format system, using your real name in the format "John Doe" or "John D". Anonymous, cryptic or first-name-only registrations are discarded without notice.
Once your registration has been approved, which usually happens quickly, you'll be able to participate in all our online wine, food and travel forums.
To contact me by E-mail, write wine@wineloverspage.com. I'll respond personally to the extent that time and volume permit.
Subscriptions and Administrivia
Unsubscribe:
We're sorry if you must leave us, but simply click the "unsubscribe"
link at the bottom of your Email edition to be instantly removed from the mailing list.
Change address:
With our new Email system, the easiest way to change your Email address is simply to register anew, using the link below. If you are keeping your old address, you may unsubscribe; if you are closing it, you needn't take any action, as our system will delete your old address as soon as the mail starts to "bounce."
Subscribe to this Email edition (free):
http://www.wineloverspage.com/wineadvisor
WineLoversPage.com RSS Feed (free):
http://www.wineloverspage.com/rss
Wine Advisor Archives:
http://www.wineloverspage.com/wineadvisor2/archives.php
Sponsorship Opportunities:
For information, E-mail wine@wineloverspage.com