The anti-flavor wine elite
Most of us probably have more practical ways to waste our time than following the political side of the world of wine on the Internet; but the latest digital tempest in a teapot, er, wine glass, is worth watching.
The Web-based wine uproar focuses on the powerful American wine critic Robert M. Parker Jr., who recently began uttering wine-related "tweets" on the Twitter service. He stirred up a storm when he wrote, "lots of top wine merchants are heavily discounting once very expensive Aussie Shirazs (sic) ... out of fashion among the anti-flavor wine elites."
Whoa! Wine elites? This bore an eerie resemblance to a vinous Teabagger. It was red meat for a lot of people, ranging from lovers of Australian Shiraz and don't think it's at all out of fashion, to those who aren't great fans of the "blockbuster" style of wine made by some - definitely not all - Australian producers.
Full of oak and loaded with simple, almost sweet fruit flavors, these so-called "fruit bomb" wines from Australia and elsewhere have long been Parker favorites. For those who prefer a more subtle, complex and restrained wine style, this was interesting stuff, even if it stung a bit to have our tastes dissed as "anti-flavor" and "elite." Some online wine geeks have actually begun labeling themselves with the tongue-in-cheek acronym, "AFWE." I like that ...
So, love the Big Name Wine Critic or disdain him, we've now got a surprisingly firm opinion to sink our teeth into. Without accepting the charge of either "anti-flavor" or "elite," I'm sticking with my preference for the more subtle and interesting "Old World" style of wine.
I'd actually like to ask Parker whether his tastes in cinema run closer to The Seventh Seal or Avatar, but that would be mean. Let's learn by example instead.
Today's tasting report features a tasty, affordable and food-friendly Old World wine from France, made to the order of importer Kermit Lynch, a charter member of the AFWE. Kermit's 2008 Côtes du Rhône is fruity for sure, and comes in at a hefty 14% alcohol - it's happening everywhere. But its neat balance of varietal fruit, acidity and tannins takes it well out of "fruit-bomb" territory and onto the table of the AFWE. I like it.
Robin Garr in social media
If you're into this social media stuff and have any interest in keeping up with my ramblings on food, wine and other things, you'll find me at these locations:
* The WineLovers Discussion Group, online since 1995, was there at the dawn of social media on the Internet, the first wine discussion forum on the Web. We're still going strong, and welcome you. The forums are open for public viewing, but you must register to post. Registration is free and easy; we ask only that you join following our Real Names Real Format system, using your real name in the format "John Doe" or "John D". We'll check your registration and, if it complies with this rule, will activate your membership promptly. Click http://www.wineloverspage.com/forum/village to reach the forums.
* I've only dipped a toe in the waters of Twitter, at this point using it only to "tweet" each week's 30 Second Wine Advisor. If you want to follow, you'll find my wine-related account at "Robin_Garr", with an underscore. I've also got seldom-used accounts at "LouHotBytes" for my Louisville restaurant reviews and commentary, and "Robin Garr" (with a space) which I might use for personal off-topic commentary. Someday. Maybe.
* I've been a little more active on Facebook, posting my wine and restaurant columns along with more personal microblogging. Feel free to "friend" me here (please mention that you're a Wine Advisor reader so I'll get the connection), but if you do, please understand that my posts often feature wine and food and what I'm eating and drinking, but also cross over to a variety of subjects among several different communities of readers, personal friends and other connections.
See you online!
Today's Sponsor
The California Wine Club
If you are tired of wasting money on bad wine, The California Wine Club can help. The California Wine Club guarantees every wine featured and does what other wine clubs do not:
* Guarantees that every wine comes from a smaller, real-working winery
Visits each winery, gets to know the family and shares their stories with you
* Tastes thousands of wines before choosing the best
* Promises that every wine you receive is one you will pour with confidence

Experience The California Wine Club for yourself! Each month includes two bottles of award-winning wine and our detailed 12-page publication, Uncorked. Just $35.95 per month and you may choose to receive wines monthly, every other month or quarterly.
Visit www.cawineclub.com to become a member now, or call 1-800-777-4443. Use Promo Code: ADVISOR and receive your first month for just $13. No obligation and no commitment to stay, so if you're not happy - you're not stuck!
The California Wine Club takes the guesswork out of picking wine and delivers the best wine, every time!
Today's Tasting Report
Kermit Lynch 2008 Côtes du Rhône ($12.99)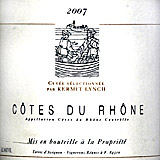 Very dark purple, shading to garnet and then clear at the edge. Red-berry fruit and black pepper, makes me guess Grenache and Syrah, though I have not looked up the specs. A real mouth full of red wine, dry and tart berry fruit with tannins present but somewhat tamed by the fruit and acidity. A sturdy, rustic Côtes du Rhône that seems as if it would suffer no harm from a couple more years in the bottle. Fine now, though, with rare red beef. Made by Terres d'Avignon - Vignerons Réunis for Kermit Lynch's label. U.S. importer: Kermit Lynch Wine Merchant, Berkeley, Calif. (Feb. 5, 2010)
FOOD MATCH: A wine that wants red meat, it was just fine with a locavore rib eye steak from Kentucky's Dreamcatcher Farm, pepper-crusted, pan-seared and oven-finished.
VALUE: Hard to beat for value in the lower teens. This local price matches the importer's suggested retail.
WEB LINK: Here's a discussion on the Kermit Lynch Website about his Rhône blends including the 2008 red Côtes du Rhône.
FIND THIS WINE ONLINE:
Compare prices and find vendors for the Kermit Lynch Côtes du Rhône on Wine-Searcher.com.
Click here for information about buying wine direct from Kermit Lynch where the law permits.
Talk About Wine Online
If you have questions, comments or ideas to share about today's article or wine in general, you're always welcome to drop by our online WineLovers Discussion Group, the Internet's first and still the most civil online community. To find our forums, click:
http://www.wineloverspage.com/forum/village
Discussions are open for public viewing, but you must register to post. Registration is free and easy; we ask only that you join following our Real Names Real Format system, using your real name in the format "John Doe" or "John D". Anonymous, cryptic or first-name-only registrations are discarded without notice.
Once your registration has been approved, which usually happens quickly, you'll be able to participate in all our online wine, food and travel forums.
To contact me by E-mail, write wine@wineloverspage.com. I'll respond personally to the extent that time and volume permit.
Subscriptions and Administrivia
Unsubscribe:
We're sorry if you must leave us, but simply click the "unsubscribe"
link at the bottom of your Email edition to be instantly removed from the mailing list.
Change address:
With our new Email system, the easiest way to change your Email address is simply to register anew, using the link below. If you are keeping your old address, you may unsubscribe; if you are closing it, you needn't take any action, as our system will delete your old address as soon as the mail starts to "bounce."
Subscribe to this Email edition (free):
http://www.wineloverspage.com/wineadvisor
WineLoversPage.com RSS Feed (free):
http://www.wineloverspage.com/rss
Wine Advisor Archives:
http://www.wineloverspage.com/wineadvisor2/archives.php
Sponsorship Opportunities:
For information, E-mail wine@wineloverspage.com