PX on IC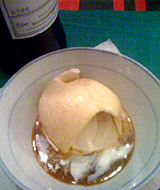 First, as Christmas draws near, highlighting the winter holidays that bring joy to people of many Earthly heritages, allow me to wish Wine Advisor readers a holiday season of happiness, peace and joy, a blessing that transcends creed and heritage to incorporate us all.
Now, turning back to wine, let's focus today on a thick, "sticky" dessert wine from Spain that's well suited to warm a winter's night.
Pedro Ximenez, an old-line white grape, is widely grown around Spain, almost always as a source for sweet wines. It makes the sweetest and stickiest of Sherries, although in modern times it's largely been supplanted in Jerez (Sherry) by the sturdier, less disease-prone Palomino.
But it's still available, and when you're looking for a dessert wine that's sweet as sweet can be, it's a good choice.
Some consider it a particularly appropriate wine for Christmas, too, observing that the common abbreviation, "PX," resembles the Greek letters Chi (which looks like an "X" but is sounded as "CH") and Rho (which looks like a "P" but stands for "R") ... in other words, the Chi-Ro of ancient Christianity, "CHR," an abbreviation and symbol of Christ.
There's no evidence that Pedro Ximenez was named with this in mind, and there's not likely much truth in the old story that the grape was brought to Spain from the Rhine, of all places, by a traveler named Peter Siemens, whose name the Spaniards rendered as, well, Pedro Ximenez. I'd place its etymology in category "unknown," and welcome information from anyone who has a better, verifiable story. Catch me by Email at wine@wineloverspage.com.
As for the wine, the Pedro Ximenez featured below, which comes from the old-line Sherry producer Osborne, is a dessert-wine bargain at $15 to $20, and bears a strong flavor resemblance to sweet black raisins. It's fine for sipping after dinner in small tastes, but a little experimenting has revealed an unexpected truth: Pour a healthy drop atop a scoop of fine quality vanilla ice cream, and dig into the best grown-up sundae you could imagine. I wouldn't mess it up with whipped cream or a cherry on top, but I won't blame you if you decide to try that.
Today's Sponsor
Introducing Le Cellier Modular Wine Rack: 20% off with coupon code WLP20
Introducing Le Cellier Modular Wine Rack: Regularly $24.95 - just $19.95 - 20% off with coupon code WLP20 - same day shipping
Le Cellier Wine Racks are as elegant as they are practical. Sturdy enough to hold twelve bottles of your finest in one rack. Or stack them to make a wall of racks. Ideal for your wine cellar, living room or anywhere in your home. And it costs less than a good bottle of wine!
So, if you appreciate fine wine, you'll love Le Cellier wine rack. Assembles in a minute or less (no tools necessary) Made of durable ABS plastic Available in black, red, and light or dark brown. Self-supporting or has slots for brackets to attach to wall but these are not necessary. Modular, stackable elements, yet beautiful as a single rack.
Free $18.95 e-book copy of The Complete Idiots Guide to Wine with every wine rack. Patent pending. Made in the USA. Retailers and wineries inquire about wholesale discounts. Order from www.wineracksinternational.com.
Today's Tasting Report
Osborne Premium Sherry Pedro Ximenez "1827" ($22.99)

This clear burnt-umber color wine offers a scent remarkably reminiscent of juicy black raisins on the nose and palate. It seems all raisins and sweetness on the first sip, but a tart, lemon-squirt of acidity quickly appears to balance the intense sweetness and keep the wine from cloying. Raisins and acidity and a hint of dark caramel linger in a very long finish. Fruit and sugar tend to mask its strength, so be aware that there's a hefty 17% alcohol in this fortified wine. (The "1827" on the label is not a vintage date, by the way. It could be the date of origin of the "solera" or ongoing blend of vintages used to make the non-vintage wine, but I can't confirm that from the limited information on the winery Website.) U.S. importer: Underdog Wine Merchants Inc., Livermore, Calif. (Dec. 22, 2009)
FOOD MATCH: Fine sipping after dinner, and it makes a remarkable flavor pairing when you pour a little over a bowl of vanilla ice cream. We are not kidding about this. Judiciously used, it also makes an intriguing condiment. A shot of it in homemade cream of roasted pumpkin soup popped the dish into a third dimension.
VALUE: The $20ish price is fair, and a bottle, dispensed in short tastes, will last a long time. Shop around, though, especially if your state has joined the 21st century in terms of shipping wine to individuals, as some vendors list it as low as $15 or so.
WEB LINK: The winery Website appears to be in Spanish only, and at this season it begins with a longish Flash Christmas movie with music. It's nice to watch. Once.
FIND THIS WINE ONLINE:
Locate vendors and compare prices for Osborne Pedro Ximenez wines on Wine-Searcher.com.
Today's Sponsor
Forget Someone? Send New Year's Cheer with a gift from The California Wine Club!
A gift of award-winning wine is always appreciated. For last-minute holiday gifts, call The California Wine Club at 1-800-777-4443 or visit www.cawineclub.com to download a beautiful Gift Card or send a fun E-Postcard.
Since 1990 The California Wine Club has been spreading holiday cheer with gifts that can't be found in local stores.
Each month features two bottles of award-winning wine, hand selected from one of California's best "mom & pop" wineries. Wine club deliveries also include Uncorked, an entertaining and informative 12 page, full color newsletter that gives members an up-close and personal look at the winemaking families. Uncorked also includes wine country news, wine tips, recipes and much more. Each month is like a trip to wine country, from the comfort of home!
Send as many months as you wish, just $34.95 plus s/h. Save on gifts of 3, 6, 9 and 12 months. Call 1-800-777-4443 or visit Need a gift out fast? No problem! www.cawineclub.com.
Talk About Wine Online
If you have questions, comments or ideas to share about today's article or wine in general, you're always welcome to drop by our online WineLovers Discussion Group, the Internet's first and still the most civil online community. To find our forums, click:
http://www.wineloverspage.com/forum/village
Discussions are open for public viewing, but you must register to post. Registration is free and easy; we ask only that you join following our Real Names Real Format system, using your real name in the format "John Doe" or "John D". Anonymous, cryptic or first-name-only registrations are discarded without notice.
Once your registration has been approved, which usually happens quickly, you'll be able to participate in all our online wine, food and travel forums.
To contact me by E-mail, write wine@wineloverspage.com. I'll respond personally to the extent that time and volume permit.
Subscriptions and Administrivia
Unsubscribe:
We're sorry if you must leave us, but simply click the "unsubscribe"
link at the bottom of your Email edition to be instantly removed from the mailing list.
Change address:
With our new Email system, the easiest way to change your Email address is simply to register anew, using the link below. If you are keeping your old address, you may unsubscribe; if you are closing it, you needn't take any action, as our system will delete your old address as soon as the mail starts to "bounce."
Subscribe to this Email edition (free):
http://www.wineloverspage.com/wineadvisor
WineLoversPage.com RSS Feed (free):
http://www.wineloverspage.com/rss
Wine Advisor Archives:
http://www.wineloverspage.com/wineadvisor2/archives.php
Sponsorship Opportunities:
For information, E-mail wine@wineloverspage.com