Let's get the wine on the road!
Over the river and through the woods, to Grandmother's house we go ...
You're headed home for the holidays, and you'd like to take along a bottle or two of fine wine. Does this plan make sense? Will that delicate Burgundy you've been keeping in the cellar survive the trip? Will you run into trouble at the airport?
Like a lot of other things in daily life, the answers to some of these questions have changed profoundly during the past decade, with new and frequently changing air-security regulations following 9/11.
As a fairly frequent business traveler, I've often packed wine to share with friends in distant cities. However, the wine that I used to casually carry on board in my hand baggage now must survive the risks of checked-in luggage. How about that corkscrew? Don't even ask.
Still, if you want to take home wine for the holidays, or on that winter beach vacation, it can be done. Here are a few tips based on current rules as I understand them.
PACKING IT: New rules banning all but tiny amounts of liquids rule out bringing wine in the passenger cabin. If you want to pack wine, it must go in your checked baggage. The risk of breakage or pilferage can't be ruled out, but in fairness, I've checked wine on dozens of domestic and international trips without incident ... so far. Still, I'd advise not shipping any wine of value so great that you would mourn its loss. Pack the bottles securely, well wrapped; I strongly suggest using plastic bags in the slight hope of keeping any possible leakage away from your dress shirts and underwear.
AIRLINE SECURITY: Before the ban on liquids in the cabin, inspectors frequently asked to hand-inspect bags containing bottles, but this is now a non-issue. If you put wine in your carry-on, you'll be leaving it in the confiscation bin or carrying it back out to check-in - or to your car - before you can fly. Wine in sealed bottles in checked luggage has never posed a problem for me. Sometimes my bag gets selected for inspection, but this seems to be random, not wine-related.
Now, about that corkscrew: Transportation Security Administration rules theoretically permit some small corkscrews provided that they have no knife attachment. But in my experience, TSA policy doesn't always reach inspectors at the gates. I pack my corkscrew in my checked luggage, and leave home any with sentimental or financial value.
For a bit more insight into corkscrews on board, by the way, TSA offers this surprisingly light-hearted and fun blog post about corkscrews, knitting needles and nail clippers. I still wouldn't to get into a fight with an over-zealous inspector over my pricey, rosewood-handled French Laguiole corkscrew , but it's a good read for the reluctant traveler:
CUSTOMS: Crossing an international boundary? Be sure to declare your wine! In my experience, particularly bringing wine back to the U.S. from other countries, Customs will routinely wave you through without bothering with the paperwork required for minimal duties. But get caught trying to fool Mr. Customs Officer, and you may really wish you hadn't thought smuggling would be a good idea.
AUTO AND GROUND TRAVEL: If you're driving on vacation (or taking the train or bus), treat your wine as you do airline luggage: Pack it with care. Wrap each bottle separately in paper and plastic, pack towels or clothing between them, and avoid shaking them up any more than necessary.
TRAVEL SHOCK: Fine wines - older reds in particular - may not show their best soon after the rigors of shipment. It makes sense to save your oldest and finest wines to enjoy on a special occasion at home.
BE PREPARED: You probably won't carry that corkscrew on board in your pocket, but do tuck one into your checked luggage. It would be a shame to pull out that prized bottle for the holiday dinner ... and discover your host doesn't have the tools to pull the cork!
I wouldn't hesitate to tuck this week's featured wine (details below) into my roller bag. A great value at $9.99, its lusty, rustic red-wine character would go great with Christmas prime rib or even turkey dark meat. And its sturdy metal screwap eliminates the corkscrew issue entirely.
Today's Sponsor
The California Wine Club: There is Still Time!
Need a gift out fast? No problem! The California Wine Club offers one, two, and three day delivery service. Call 1-800-777-4443 or visit www.cawineclub.com to order.
For 20 years, The California Wine Club has featured award-winning wines from California's small "mom & pop" wineries. These handcrafted wines are made in such limited supply, they can't be found in local stores. A gift from The California Wine Club is a true wine adventure and an experience just not found anywhere else.
Gifts start at $34.95, plus shipping. Call us today and let us help you with your gift giving needs. 1-800-777- 4443 or visit www.cawineclub.com.
For the best in quality and service, trust The California Wine Club. They guarantee 100% satisfaction for you and each of your gift recipients.
Today's Tasting Report
Sacred Stone California Master's Red Blend Cask #004 ($9.99)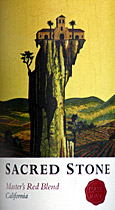 A blend of Merlot, Sangiovese, Zinfandel and Dolcetto grapes, this is a dark purple wine with appealing cherry-berry and oaky smoke aromas. Big and ripe flavors, juicy and tart, blend fruit and oak in a mouth-filling texture with marked tannins and a slight touch of oxidation that becomes more noticeable after two or three days in the opened bottle. Still, it's quite an impressive bottle of rustic, old-style California red for a good price. (Dec. 6, 2009)
FOOD MATCH: As noted, I wouldn't turn it down with holiday banquet fare, particularly roast beef. We enjoyed it with a more prosaic cheese pizza, and it was even better a couple of days later with natural, grass-fed short ribs.
WEB LINK: The winery offers a Sacred Stone fact sheet at this link.
FIND THIS WINE ONLINE:
Find vendors and compare prices for Sacred Stone wines on Wine-Searcher.com.
Talk About Wine Online
If you have questions, comments or ideas to share about today's article or wine in general, you're always welcome to drop by our online WineLovers Discussion Group, the Internet's first and still the most civil online community. To find our forums, click:
http://www.wineloverspage.com/forum/village
Discussions are open for public viewing, but you must register to post. Registration is free and easy; we ask only that you join following our Real Names Real Format system, using your real name in the format "John Doe" or "John D". Anonymous, cryptic or first-name-only registrations are discarded without notice.
Once your registration has been approved, which usually happens quickly, you'll be able to participate in all our online wine, food and travel forums.
To contact me by E-mail, write wine@wineloverspage.com. I'll respond personally to the extent that time and volume permit.
Subscriptions and Administrivia
Unsubscribe:
We're sorry if you must leave us, but simply click the "unsubscribe"
link at the bottom of your Email edition to be instantly removed from the mailing list.
Change address:
With our new Email system, the easiest way to change your Email address is simply to register anew, using the link below. If you are keeping your old address, you may unsubscribe; if you are closing it, you needn't take any action, as our system will delete your old address as soon as the mail starts to "bounce."
Subscribe to this Email edition (free):
http://www.wineloverspage.com/wineadvisor
WineLoversPage.com RSS Feed (free):
http://www.wineloverspage.com/rss
Wine Advisor Archives:
http://www.wineloverspage.com/wineadvisor2/archives.php
Sponsorship Opportunities:
For information, E-mail wine@wineloverspage.com