Today's Sponsors
A Message from The California Wine Club
In this age of high-tech, mass-production and big business we are proud to be the same "mom & pop" company we started 20 years ago.
The California Wine Club
Discover the heart and soul of Rioja
Join the Vibrant Rioja Community for a chance to win a case of wine or a trip to Rioja, Spain.
Vibrant Rioja
The universal turkey wine
Remember the old science joke about the "universal solvent"? An eager student rushes into the professor's office, jumping up and down with excitement. "I've invented a universal solvent," the student exulted. "It will dissolve anything!"
"Really," mused the prof. "So what do you intend to keep it in?"
Happily, today's Thanksgiving quest - the search for a universal wine to accompany all the meats, poultry and other goodies that load the holiday table - may be a difficult challenge, but it lacks the fatal flaw of the universal solvent. It can be done.
As I've observed before, roast turkey is the most traditional meat for Thanksgiving dinner (and often Christmas and secular winter celebrations too). But it's certainly not the only possibility. In our family, we've chosen duck, goose, guinea hen and even moved away from poultry in favor of standing rib of roast beef. Or perhaps a pizza.
Wine enthusiasts have little difficulty picking a wine to go with any of those main courses specifically, even turkey, although that big bird poses a special challenge because it's built with both light meat and rich, dark meat, contrasting flavors and textures that may not go equally well with the same wine.
When you consider the appetizing side dishes that load the holiday table - mashed potatoes and dressing, cranberry sauce, green-bean casserole and even candied sweet potatoes - the idea of finding a "universal wine" looms almost as pardon-the-expression insoluble a challenge as that universal solvent.
One easy out involves forgetting the whole idea of a perfect food-wine match and simply pulling a special wine off your wine rack or out of your cellar and enjoying it in the spirit of Thanksgiving, sipping between courses and frankly deciding not to worry about a precise pairing.
If you're having a festive meal for a crowd, it's also fun to open both red and white wines, giving your guests the option to choose one or the other or a little of both, as their taste buds dictate.
But what specific wine? I've often invoked what I call the "cranberry sauce rule," looking for a wine with a flavor profile similar to that of the traditional condiment for turkey: Cranberry sauce is fruity, tart, with only a touch of sweetness at the most; you'll find no scent of oak, nor tannic astringency in your cranberries, whether you choose them whole or jellied.
Quite a few wines have this flavor profile, not least the Nouveau Beaujolais, the first French wine of the new vintage, which was released into the marketplace last week and is widely available at wine shops for $10 or so. It's a good wine, not a great wine, but it will work well on your holiday table.
Other wine-grape varieties that fit the cranberry-sauce rule are Riesling, Gewurztraminer or Chenin Blanc if you're in the mood for a white wine; if you want a red, the aforementioned Beaujolais or the American Zinfandel - the real red Zin, please! A sparkling wine affords a completely different approach, washing down the holiday fare and inspiring a festive table with the happy pop and fizz that attends its opening.
Saving the best for last, however, the king of holiday wine in my hierarchy is Pinot Noir, the grape that the comic movie Sideways made famous. Smooth, complex and balanced, with flavors of red fruit and earth and a texture that makes you think of velvet, an excellent Pinot Noir - choose among France's Burgundy region, California's cooler valleys or Oregon at your leisure - is a star in its own right and should go with just about anything on your table.
For my tasting report on a California Pinot Noir favorite with a distinctly French name and a mid-Atlantic mix of Old World and New World flavors, see below.
Today's Sponsor
A Message from The California Wine Club
In this age of high-tech, mass-production and big business we are proud to be the same "mom & pop" company we started 20 years ago.
We personally select every wine and share the winemaking family's story with you. Our dedicated staff answers your calls, processes, packs and ships your orders…all from our office here in breezy Camarillo, California.
We don't outsource, we don't sell bulk wines and we don't take our customers for granted! Your business (and referrals) is greatly appreciated.
Wishing a safe and happy holiday season to you!
Cheers, Bruce and Pam Boring, Proprietors, The California Wine Club
A gift from The California Wine Club is a unique way to say "Happy Holidays." Order now and your gifts will arrive right in time for the holiday season!
Visit www.cawineclub.com to send a gift or call 1-800-777-4443.
Today's Tasting Report
Au Bon Climat 2008 Santa Barbara County Pinot Noir ($19.99)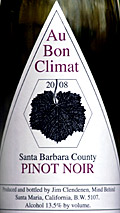 Very dark ruby with a clear edge. Black cherry and subtle spice aromas with a distinct hint of "barnyard," earthy and not unpleasant. Fresh tart-cherry fruit and snappy acidity come together in a mouth-filling, food-friendly flavor, with a fresh acidic tang and soft tannins in the finish. (Oct. 3, 2009)
FOOD MATCH: As a well-balanced example of a "universal" food wine, this appealing Pinot will go with just about any choice of meat or poultry, not to mention a variety of cheeses and dark, flavorful fish from salmon - perhaps its No. 1 partner - to tuna, mackerel or bluefish. It would even make a fair pick at the sushi bar!
WEB LINK: The Au Bon Climat Website includes information about the wine, the winery and wine maker Jim Clendenen, plus a winery wine club and online store allowing shipping at winery prices where the law permits.
FIND THIS WINE ONLINE:
Look for vendors and compare prices for the Pinot Noirs of Au Bon Climat on Wine-Searcher.com.
Today's Sponsor
Discover the heart and soul of one of the world's greatest wine regions - Rioja
How would you like to discover the land of a thousand wines? How about uncovering the heart and soul of one of the world's greatest wine regions? Vibrant Rioja is giving you the chance to win the experience of a lifetime - a trip to Rioja, Spain, and all you have to do is join the Vibrant Rioja Community. Oh! and you'll receive our newsletters, which will keep you informed of our tastings, events, delicious recipes, tasting notes and much, much more! Just click here to get started: Vibrant Rioja!
And if you're in the wine trade, you can join the Vibrant Rioja Trade Community! You will also have the chance to win a trip to Rioja as well as receive invitations to seminars and tastings, Rioja images and POS, newsletters that are aimed at helping you build your business, merchandising materials and much more! Just click here to get started.

In the meantime, visit VibrantRioja.com and learn more about Rioja, its grapes, climate, terroir, architecture culture, gastronomy and more! Remember, the trip of a lifetime is only a click away! Salud! Vibrant Rioja!
Talk About Wine Online
If you have questions, comments or ideas to share about today's article or wine in general, you're always welcome to drop by our online WineLovers Discussion Group, the Internet's first and still the most civil online community. To find our forums, click:
http://www.wineloverspage.com/forum/village
Discussions are open for public viewing, but you must register to post. Registration is free and easy; we ask only that you join following our Real Names Real Format system, using your real name in the format "John Doe" or "John D". Anonymous, cryptic or first-name-only registrations are discarded without notice.
Once your registration has been approved, which usually happens quickly, you'll be able to participate in all our online wine, food and travel forums.
To contact me by E-mail, write wine@wineloverspage.com. I'll respond personally to the extent that time and volume permit.
Subscriptions and Administrivia
Unsubscribe:
We're sorry if you must leave us, but simply click the "unsubscribe"
link at the bottom of your Email edition to be instantly removed from the mailing list.
Change address:
With our new Email system, the easiest way to change your Email address is simply to register anew, using the link below. If you are keeping your old address, you may unsubscribe; if you are closing it, you needn't take any action, as our system will delete your old address as soon as the mail starts to "bounce."
Subscribe to this Email edition (free):
http://www.wineloverspage.com/wineadvisor
WineLoversPage.com RSS Feed (free):
http://www.wineloverspage.com/rss
Wine Advisor Archives:
http://www.wineloverspage.com/wineadvisor2/archives.php
Sponsorship Opportunities:
For information, E-mail wine@wineloverspage.com