Rule-breaking blend
Some people love Chardonnay, while others remain card-carrying members of the "Anything But Chardonnay" Club. Among those who shun Chardonnay, many favor Sauvignon Blanc; on the other hand, scratch a Chardonnay-lover and chances are you'll find a taster whose attitude toward Sauvignon Blanc is a not-so-gentle "Meh."
What's your pleasure? Rich, full-bodied Chardonnay with its range of flavors from tart green apples to luscious tropical fruit? Or leaner, meaner Sauvignon Blanc with its flavor spectrum reaching from citrus on the sunny side to herbal, "grassy" aromatics in the shade?
Or perhaps you're a fence-sitter who doesn't take sides in this combat? You'll enjoy this, then. Here's an odd, affordable alternative: A Chardonnay-Sauvignon Blanc blend from a Southwestern French winery that glories in its historic preference for disobeying the rules.
Famille Grassa, a producer in the Bas-Armagnac region of France's Gascony (imagined home of Dumas's fourth Musketeer, D'Artagnan), defies the conventional wisdom by growing - and blending - an assortment of white varieties not normally scene or grown in Gascony. And if today's tasting report on their 50% Chardonnay and 50% Sauvignon Blanc serves as evidence, they do it very well.
Here's what the Grassa family has to say about their philosophy on an English-language page of the winery Website, in an essay charmingly titled, "In Praise of Disobedience ... Breaking the rules."
" ... The fact that Tariquet wines and Bas-Armagnacs brandies have been acclaimed with the best of their class is due largely to the boldness of one man. Yves Grassa, now an internationally renowned winemaker from Gascony, began 25 years ago by breaking the rules of traditional winemaking, proposing white wines that were consistently characterised by a fresh finesse and fruity elegance.
"He was the first in the region to dare to plant Chardonnay, Sauvignon or Chenin grapes, which were far from popular in those days. Worse still, he conjured up combinations of sworn enemies such as Chardonnay with Sauvignon or Chenin with Chardonnay. The Tariquet brand was born of contemplation, rebellion and reason, followed by continuous observation and improvement. ... Defying his detractors, Yves Grassa took on the challenge of producing white wine and was duly rewarded for his work by being selected as Winemaker of The Year in 1987."
Crisp and refreshing, the "Côté" Chardonnay-Sauvignon is a fine value in the $10 to $12 range, but not a wine for keeping. With its slick-sleeve synthetic label, the producer recommends storing it upright, not on its side, and drinking it up within a year or two after the vintage. Here's my tasting report:
Tariquet 2007 "Côté" Gascogne 50% Chardonnay - 50% Sauvignon ($12.99)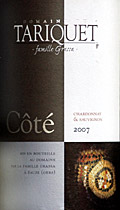 Transparent straw color. Apples and a hint of grapefruit and "sappy" herbal notes combine in the nose, pleasant enough if not really strongly recognizable as either Chardonnay or Sauvignon Blanc. Mouth-filling and tart, green-apple and grapefruit, just a hint of fresh-fruit sweetness and the faintest touch of spritz, with a light 11.5% alcohol to make it a pleasant aperitif or dinner wine. U.S. importer: Robert Kacher Selections, Washington, D.C. (Oct. 23, 2009)
FOOD MATCH: An attractive aperitif, as the label suggests, and certainly passable with fresh fish, chicken or - my choice - a fresh, natural locavore pork chop braised with onions.
WEB LINK: Famille Grassa, the producer, has its Website in French, English, German, Spanish and Italian. Click the tiny flag icon for the language you prefer.
Click here for a fact sheet on the C Chardonnay-Sauvignon Blend.
FIND THIS WINE ONLINE:
Look for vendors and compare prices for Tariquet "Côté" on Wine-Searcher.com.
Today's Sponsor
Give Confidently With The California Wine Club!
This holiday season send a gift that will be enjoyed and remembered! Give The California Wine Club!
We are confident your gift recipients will be delighted because The California Wine Club does what other wine clubs do not:
* Guarantees that every wine comes from a smaller, real-working winery
* Visits each winery, gets to know the family and shares their stories with you
* Tastes thousands of wines before choosing the best
* Promises that every wine you receive is one you will pour with confidence
Give a holiday gift to cheer about! Each month includes two bottles of award-winning wine and detailed 12-page publication, Uncorked. Just $34.95 per month and you may choose to send as many months as you wish. Schedule deliveries to arrive monthly, every other month or quarterly. Visit www.cawineclub.com to send a gift or call 1-800-777-4443.
The California Wine Club takes the guesswork out of picking the right gift and delivers the best wine, every time!
Talk About Wine Online
If you have questions, comments or ideas to share about today's article or wine in general, you're always welcome to drop by our online WineLovers Discussion Group, the Internet's first and still the most civil online community. To find our forums, click:
http://www.wineloverspage.com/forum/village
Discussions are open for public viewing, but you must register to post. Registration is free and easy; we ask only that you join following our Real Names Real Format system, using your real name in the format "John Doe" or "John D". Anonymous, cryptic or first-name-only registrations are discarded without notice.
Once your registration has been approved, which usually happens quickly, you'll be able to participate in all our online wine, food and travel forums.
To contact me by E-mail, write wine@wineloverspage.com. I'll respond personally to the extent that time and volume permit.
Subscriptions and Administrivia
Unsubscribe:
We're sorry if you must leave us, but simply click the "unsubscribe"
link at the bottom of your Email edition to be instantly removed from the mailing list.
Change address:
With our new Email system, the easiest way to change your Email address is simply to register anew, using the link below. If you are keeping your old address, you may unsubscribe; if you are closing it, you needn't take any action, as our system will delete your old address as soon as the mail starts to "bounce."
Subscribe to this Email edition (free):
http://www.wineloverspage.com/wineadvisor
WineLoversPage.com RSS Feed (free):
http://www.wineloverspage.com/rss
Wine Advisor Archives:
http://www.wineloverspage.com/wineadvisor2/archives.php
Sponsorship Opportunities:
For information, E-mail wine@wineloverspage.com