Brother, can you spare a DIAM?
We've been talking about artificial replacements for natural cork - synthetic plugs, screw caps and even old-fashioned glass apothecary stoppers - ever since the alternative market started to boom during the 1990s.
Despite a serious defensive response by the cork industry, wine lovers have begun to view the once-maligned metal screwcap, in particular, as an appealing alternative to natural cork, which bears at least a slight risk of "tainting" wine in the bottle thanks to a cork fungus that can impart a musty, chlorinated scent that spoils the beverage.
While barriers remain - most significantly, controlling the precise rate of oxygen exchange into the bottle at a rate that matches the ideal median for natural cork, allowing maximum aging for cellarworthy wines - synthetics and other alternatives continue to gain market share.
Now joining the horse race, er, cork race, is a relatively new, reportedly strongly effective option, made out of, well, cork.
The DIAM closure, made by France-based, international OENEO Bouchage, looks a lot like a cork. In fact, it looks suspiciously like an agglomerated cork, an early substitute technology that spectacularly failed when it proved to be much more prone to taint than the original.
But DIAM is different. Without going into extensive detail (which, however, may be found at DIAM's Website, http://www.diam-cork.com/proof/), DIAM's process involves boiling the natural cork, then grinding it into a "flour" of tiny granules, washing them in a specialized form of carbon dioxide, then reassembling the granules with patented synthetic "microspheres" into cork-shaped stoppers.
OENEO declares these "technical corks" to be taint-free, and the British supermarket giant Tesco, the UK's largest wine retailer and a strong advocate for eliminating cork taint from wines, is apparently persuaded, having accepted DIAM as one of its three acceptable wine stoppers. (The others are screwcaps and high-quality natural cork.)
DIAM looks a lot like a cork, albeit a cork with an attractively variegated surface that looks a bit like corky marble. It acts like a cork, OENO's scientists say. But it doesn't smell much like a cork. Thanks to the cleaning process, the resulting stopper is clean and virtually odorless.
Great stuff? Sounds like. But how can we find wines that use it? Ah, there's the rub. Few wine producers advertise their closure, even when they've expended the effort to come up with a taint-free version. Among all the corks I've pulled over the years, I knowingly encountered my first DIAM just the other day, plugged into a 2006 Pietra Santa Cienega Valley (California) Sangiovese from The California Wine Club. No taint here! But no notice on the bottle, either.
Want to find a DIAM? Trying the Pietra Santa wouldn't be a bad idea, as it's an excellent wine (notes below). DIAM also posts a list of some of its international winery clients on its Website at this link:
http://www.diam-cork.com/proof/client-list/.
Happy hunting!
Today's Sponsor
Why Wait? Order now from The California Wine Club!
Why wait? Order now and The California Wine Club won't bill or ship your holiday gifts until December!
Since 1990 The California Wine Club has been spreading holiday cheer with gifts that can't be found in local stores.
Each month features two bottles of award-winning wine, hand selected from one of California's best "mom & pop" wineries. Wine club deliveries also include Uncorked, an entertaining and informative 12 page, full color newsletter that offers an up close and personal look at the winemaking families. Uncorked also includes wine country news, wine tips, recipes and much more. Each month is like a trip to wine country, from the comfort of home!
Send as many months as you wish, just $34.95 per month. Save on gifts of 3, 6, 9 and 12 months. Call 1-800-777-4443 or visit www.cawineclub.com to order now and receive no billing and no shipping until December!
Today's Tasting Report
Pietra Santa 2006 Cienega Valley Sangiovese ($18)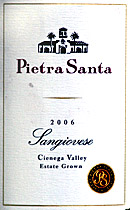 Sealed with a taint-free DIAM cork, it's clear and very dark blackish-purple, shiny as patent leather in the glass. Delicious aromas of mixed red and black cherries with a distinct whiff of fennel and a lighter touch of warm spice. Flavors are consistent with the nose, ripe but not overstated cherry-berry fruit, mouth-watering acidity and soft but perceptible tannins; it carries its substantial 14.7% alcohol with style. Wine maker says the fermented wine was kept on the grapeskins for 20 days to pick up maximum color and intensity; then the wine aged 24 months in French oak. A splash (8%) of Cabernet Sauvignon was blended in just before bottling to enhance the wine's aging potential. (Oct. 24, 2009)
FOOD MATCH: Needs an appropriate food match of beef, bison or venison to smooth its youthful astringency at this point - We enjoyed it with a Dreamcatcher Farm Kentucky natural grass-fed rib eye, pepper-crusted, pan-seared with garlic and oven-finished medium-rare - but it shows considerable promise for five to 10 years in a good cellar.
WEB LINK: Pietra Santa ("Sacred Stone") Winery is located at Hollister, Calif., where Alessio Carli is the wine maker. Here's a link to the winery Website.
http://www.pietrasantawinery.com
FIND THIS WINE ONLINE:
Check prices and find vendors for the wines of Pietra Santa on Wine-Searcher.com:
http://www.wine-searcher.com/find/Pietra%2bSanta%2bSangiovese/-/-/USD/A?referring_site=WLP
Pietra Santa 2006 Cienega Valley Sangiovese is appropriately priced at $18 at the winery, but it's a no-brainer at $10.99 for half- or full-case reorders by California Wine Club members. For details on this particular wine, click
http://www.cawineclub.com/Pietra-Santa-Vineyards-%26-Winery-2006-Cienega-Valley-Sangiovese_PD735.html
Talk About Wine Online
If you have questions, comments or ideas to share about today's article or wine in general, you're always welcome to drop by our online WineLovers Discussion Group, the Internet's first and still the most civil online community. To find our forums, click:
http://www.wineloverspage.com/forum/village
Discussions are open for public viewing, but you must register to post. Registration is free and easy; we ask only that you join following our Real Names Real Format system, using your real name in the format "John Doe" or "John D". Anonymous, cryptic or first-name-only registrations are discarded without notice.
Once your registration has been approved, which usually happens quickly, you'll be able to participate in all our online wine, food and travel forums.
To contact me by E-mail, write wine@wineloverspage.com. I'll respond personally to the extent that time and volume permit.
Subscriptions and Administrivia
Unsubscribe:
We're sorry if you must leave us, but simply click the "unsubscribe"
link at the bottom of your Email edition to be instantly removed from the mailing list.
Change address:
With our new Email system, the easiest way to change your Email address is simply to register anew, using the link below. If you are keeping your old address, you may unsubscribe; if you are closing it, you needn't take any action, as our system will delete your old address as soon as the mail starts to "bounce."
Subscribe to this Email edition (free):
http://www.wineloverspage.com/wineadvisor
WineLoversPage.com RSS Feed (free):
http://www.wineloverspage.com/rss
Wine Advisor Archives:
http://www.wineloverspage.com/wineadvisor2/archives.php
Sponsorship Opportunities:
For information, E-mail wine@wineloverspage.com