Scientists sample red wine and fish
I've probably written about the quirky match of red wine and fish a dozen times or more, talking about how the old wisdom recommending it is often correct but sometimes widely misses the mark.
Delicate, white-fleshed seafood like sole, cod or scallops rarely works with red wine, I join most wine enthusiasts in saying, because red wine's tannic astringency and bold flavors don't work well with such delicate fare.
But anyone who thinks the rule invariably applies has clearly never sampled the joys of Pinot Noir with fresh wild salmon or rare fresh tuna.
Today, a Japanese research report on just this topic hit the general media, inspiring a lot of "gee whiz" stories expressing surprise that science has apparently confirmed the old wisdom.
But has it? Let's take a quick look.
Science has confirmed the "golden rule" about red wine with fish, ScienceDaily concluded: "Scientists in Japan are reporting the first scientific explanation for one of the most widely known rules of thumb for pairing wine with food: "Red wine with red meat, white wine with fish. ... The scientists are reporting that the unpleasant, fishy aftertaste noticeable when consuming red wine with fish results from naturally occurring iron in red wine."
In an abstract of a study published Wednesday in the American Chemical Society's Journal of Agricultural and Food Chemistry, scientists Takayuki Tamura and colleagues reported that a "fishy aftertaste is sometimes perceived in wine with fish and seafood pairing. However, what component of wine clashes with seafood or what compound contributes to the unpleasant fishy aftertaste in the mouth remains an open problem."
The scientists acknowledged exceptions to the rule, pointing out that "some red wines actually [go] well with seafood. Until now," they added, showing apparent ignorance of the Pinot-and-salmon experience, "nobody could consistently predict which wines might trigger a fishy aftertaste because of the lack of knowledge about its cause."
The scientists convened a panel of tasters to sample 38 red wines and 26 white wines served with, of all things, dried scallops. The tasters ranked the wines in order of how unpleasant they found the combination, whereupon the scientists subjected the wines to chemical analysis and found "strong positive correlations" between the intensity of the chemical flavor and the presence and degree of iron compounds in the wine.
Tweaking the experiment further, they added iron ions to some wines, and used a chemical technique to reduce the amount of iron in others. Sure enough, the tasting panel responded appropriately to the changes, finding a direct connection between the amount of iron and the unpleasant flavor combination.
Concluded ScienceDaily: "The findings indicate that iron is the key factor in the fishy aftertaste of wine-seafood pairings, the researchers say, suggesting that low-iron red wines might be a good match with seafood."
This is interesting material, and I for one am always intrigued by research that sheds light on the tasting experience. I've got a few questions about this one, though.
First and foremost, anyone who's ever cooked with Asian dried scallops knows that they have a distinct aroma and flavor that's a far cry from Dover sole or fresh cod. This strikes me as a distinct flaw in the study, and I'd love to see similar research done with a variety of seafood and fish ranging from delicate and mild to dark and oil.
Nor did the abstract disclose the specific varieties and regions of the 64 wines tasted. Did they broadly represent the world of wine, or was it an imbalanced selection? I don't know, and frankly, I don't particularly want to pay $30 for the full report to find out.
Finally, it's not going to be easy to translate this advice into practice. All wines naturally contain some iron from the soil - 30 milligrams per liter is typical, according to Emile Peynaud's Knowing and Making Wine.
Indeed, trace amounts of iron in the soil are essential to vine health, and some of that iron is taken up through the roots and into the fruit. But wines don't list ingredients or nutritional information, and iron content isn't something you're likely to learn from the label. I'd guess that red-soil vineyards (like Australia's Coonawarra) are more likely to contain iron in quantity than chalk or limestone soil (like Burgundy) or granite (like the Loire).
But it's not really practical to seek out low-iron wines to match with your fish.
My advice? Stick with Pinot and salmon and be happy. And in general, take science reporting in the general media (or, for that matter, in this column), with a grain of salt.
Today's Wine Book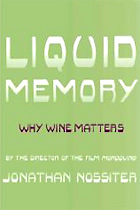 Poetry or manure? "Mondovino" maker's new book sparks controversy
Here's a new book from Jonathan Nossiter, the filmmaker who made waves with his indie film, "Mondovino," which attacked, among other targets, industrial-style wine making, globalization of wine, and the influence of "flying winemakers" like Michel Rolland and influential wine critics such as Robert M. Parker Jr. and Wine Spectator.
The book is just as controversial, maybe more so. Reviewing it on Amazon.com, the author Bill Buford (whose recent book about Chef Mario Batali was a personal favorite), loved it with an almost embarrassing passion, writing, "I'll put myself right out there and declare that this is the greatest book ever written about wine and that I cannot imagine coming across a more resonating or important one before I die. Samuel Beckett meets Martin Scorsese meets Malcolm Lowry meets dirt meets a poet named Fermentation. Bravo, Nossiter!"
Uh huh.
In Sunday's New York Times Book Review, author Jim Holt, who writes about philosophy but not, apparently, about wine, took a more balanced view:
"This can be an irritating book. It is full of little eruptions of pomposity ... and self-regard. ... But it can also be extremely entertaining, especially when Nossiter's hackles are raised, which (happily for the reader) is a lot of the time.
"... if this book were a bottle of wine, I'd describe it as having a firm structure, a core of mature but voluptuous fruit ... lots of bracing acidity, with just a hint of manure on the nose."
You have to love the snark in that "hint of manure."
My copy of the book just arrived from Amazon. I'll enter my own opinion after I've read it.
Want to draw your own conclusions? Click to buy it for $17.16 from Amazon.com, a 32 percent discount from the $26 list price.
As always, purchases made by using this exact link will return a small commission to WineLoversPage.com, helping us maintain our online publications (and this E-letter) without charge.
Talk About Wine Online
If you have questions, comments or ideas to share about today's article or wine in general, you're always welcome to drop by our online WineLovers Discussion Group, the Internet's first and still the most civil online community. To find our forums, click:
http://www.wineloverspage.com/forum/village
Discussions are open for public viewing, but you must register to post. Registration is free and easy; we ask only that you join following our Real Names Real Format system, using your real name in the format "John Doe" or "John D". Anonymous, cryptic or first-name-only registrations are discarded without notice.
Once your registration has been approved, which usually happens quickly, you'll be able to participate in all our online wine, food and travel forums.
To contact me by E-mail, write wine@wineloverspage.com. I'll respond personally to the extent that time and volume permit.
Subscriptions and Administrivia
Unsubscribe:
We're sorry if you must leave us, but simply click the "unsubscribe"
link at the bottom of your Email edition to be instantly removed from the mailing list.
Change address:
With our new Email system, the easiest way to change your Email address is simply to register anew, using the link below. If you are keeping your old address, you may unsubscribe; if you are closing it, you needn't take any action, as our system will delete your old address as soon as the mail starts to "bounce."
Subscribe to this Email edition (free):
http://www.wineloverspage.com/wineadvisor
WineLoversPage.com RSS Feed (free):
http://www.wineloverspage.com/rss
Wine Advisor Archives:
http://www.wineloverspage.com/wineadvisor2/archives.php
Sponsorship Opportunities:
For information, E-mail wine@wineloverspage.com