Old-style value California red
We're running a little late this week, so let's wrap things up briskly with a recent tasting report on a perennial budget-price favorite, Marietta Cellars "Old Vine Red."
A Sonoma County, California winery owned and operated by wine maker Chris Bilbro and his family since 1979, Marietta makes varietal Zinfandel, Cabernet Sauvignon and Petite Sirah and oak-aged blends called Angeli Cuvée and Emilia's Cuvée.
Most thrifty wine lovers, though, may know Marietta best for its Old Vine Red, a Zinfandel-dominant modern model of an old-style California field blend, wines made from gnarled old grapevines - typically Zin, Carignan, Petite Sirah and others - planted hodgepodge in a single vineyard.
Marietta Old Vine Red is non-vintage, designated by Lot Numbers rather than harvest years; and I'm pretty sure I can remember it back when the lot numbers were still in single digits. Now No. 50 has been released from the winery, while No. 49 - reported here today - was released in April 2009 and is widely available at retail in the $10 to $12 range in most markets.
The winery no longer clearly discloses the varietal blend on the label or Website, as far as I can see, but chances are it hasn't changed much since Lot No. 31, which I reported in July 2003 and which was 60 percent Zinfandel, 25 percent Carignane, 10 percent Petite Sirah and 5 percent Cabernet Sauvignon, all grown in old-vine patches in several California regions. Lot No. 49, the winery says, is grown in Sonoma and Mendocino counties.
Not a wine meant for aging, it's best drunk up within two or three years after the vintage while its very berry fruity flavors are fresh. But it's a fine value, and a particularly good match with meats from the grill, burgers, chili and other simple fare.

Marietta Cellars "Old Vine Red" Lot 49 California Red Wine ($11.99)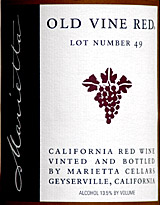 Very dark reddish purple, with a garnet edge against bright light. Berry fruit and spice, full and intense. A mouthful of dark berry fruit, structured with fresh-fruit acidity and a firm backbone that suggests a little more alcohol than the 13.5% that the label reports. Predominantly Zinfandel, it's made to replicate field blends of old vineyards in Sonoma, Napa and Mendocino counties, the back label says. (Sept. 26, 2009)
FOOD MATCH: Fine with a spicy Midwestern-style beef chili.
WEB LINK: Here's a link to the winery Website, bypassing the Flash intro and going straight to the content:
http://www.mariettacellars.com/hidden/welcome/
For a quick overview of Lot 49 Red, see this link:
http://www.mariettawines.com/wines/wine_redlot.html
FIND THIS WINE ONLINE:
Look for vendors and compare prices for Marietta Old Vine Red Lot 49 on Wine-Searcher.com:
http://www.wine-searcher.com/find/Marietta%2bOld%2bVine%2b49/-/-/USD/A?referring_site=WLP
The winery's online store offers other Marietta brands, but they don't sell Old Vine Red online, in order to maximize availability at local retail. To see other brands, click here:
http://www.mariettacellars.com/store/
To find distributors by state (and a few Canadian provinces) for Marietta Old Vines Red, try this winery Website link:
http://www.mariettacellars.com/distributors/
Today's Sponsor
Pour Confidently With The California Wine Club!

The California Wine Club guarantees every wine featured because it does what other wine clubs do not:
* Guarantees that every wine comes from a smaller, real-working winery
* Visits each winery, gets to know the family and shares their stories with you
* Tastes thousands of wines before choosing the best
* Promises that every wine you receive is one you will pour with confidence

Experience The California Wine Club for yourself! Each month includes two bottles of award-winning wine and detailed 12-page publication, Uncorked. Just $34.95 per month, and you may choose to receive wines monthly, every other month or quarterly. Visit www.cawineclub.com to become a member now, or call 1-800-777-4443.

First month just $13! Use Promotional Code: WineLoversPage during checkout and save.

The California Wine Club takes the guesswork out of picking wine and delivers the best wine, every time! Makes a fun and unique gift too!
Talk About Wine Online
If you have questions, comments or ideas to share about today's article or wine in general, you're always welcome to drop by our online WineLovers Discussion Group, the Internet's first and still the most civil online community. To find our forums, click:
http://www.wineloverspage.com/forum/village
Discussions are open for public viewing, but you must register to post. Registration is free and easy; we ask only that you join following our Real Names Real Format system, using your real name in the format "John Doe" or "John D". Anonymous, cryptic or first-name-only registrations are discarded without notice.
Once your registration has been approved, which usually happens quickly, you'll be able to participate in all our online wine, food and travel forums.
To contact me by E-mail, write wine@wineloverspage.com. I'll respond personally to the extent that time and volume permit.
Subscriptions and Administrivia
Unsubscribe:
We're sorry if you must leave us, but simply click the "unsubscribe"
link at the bottom of your Email edition to be instantly removed from the mailing list.
Change address:
With our new Email system, the easiest way to change your Email address is simply to register anew, using the link below. If you are keeping your old address, you may unsubscribe; if you are closing it, you needn't take any action, as our system will delete your old address as soon as the mail starts to "bounce."
Subscribe to this Email edition (free):
http://www.wineloverspage.com/wineadvisor
WineLoversPage.com RSS Feed (free):
http://www.wineloverspage.com/rss
Wine Advisor Archives:
http://www.wineloverspage.com/wineadvisor2/archives.php
Sponsorship Opportunities:
For information, E-mail wine@wineloverspage.com