90 points? What's the point?
I was browsing my local wine shop the other day, looking for a good, reasonably priced red for dinner, and an interesting Southern Italian Aglianico blend caught my eye.
But then I saw the advertising card dangling proudly below the display bottle, bragging about the wine's 90-point rating from Robert M. Parker Jr.'s Wine Advocate.
Well, excuuuuuse me! Call me an exception to the rule that high scores sell wine, but I've never been an enthusiastic, er, advocate for rating wine by the numbers.
I'm not so smitten by the purported romance of wine that I can't get used to screwcaps or even good wine dispensed from a box, when product quality and value make the sale.
But reducing wine to numbers turns it from a joy for the senses into something more like chemistry for me. Moreover - although there are some exceptions to this rule - my tastes generally depart from the Parker and Wine Spectator crowd to the extent that their highly rated wines scream "Danger, Will Robinson!" to me.
Show me a 90-plus rating, and I'll expect to find a big, alcoholic, fruit-forward and oak-laden blockbuster wine in the bottle. The more subtle, earthy and food-friendly wines that I love tend to grab scores in the 80s from the usual suspects, and that's fine with me. It keeps the points-chasers from grabbing up "my" wine.
So the other day, while browsing through a recently arrived wine book of unusual intelligence and charm, I was delighted to discover that the authors - the Australian father-and-son team of Evan and Brian Mitchell - don't think much more of rating by the numbers than I do.
I'll review their new book, The Psychology of Wine: Truth and Beauty by the Glass (pictured above), in more detail before the holiday book-buying season.
But on today's point, I thought you'd enjoy this excerpt, which shows an eclectic, idiosyncratic approach to the world of wine that's a long stretch from the usual recitation of appellations and varieties and vinification and terroir. In a world of books about wine science, it's a book for liberal arts majors, and that's me.
Here's what the Mitchells have to say about points. What do you think?
"It's a shame today that scores rule the way they do. Taking wine instruction "by the numbers," so to speak, is a dry and didactic kind of learning. There's little soul in it. Taking wine instruction rather from an expert's detailed tasting notes is akin to the method of the Socratic dialogues, the 'maiuetic' method of teaching, described by the philosopher Simon Blackburn as 'the method of the midwife, merely assisting [them] to give birth to their own understanding.' ...
"Still, scores will endure because most people would riot if they were taken away. Well, perhaps not riot, but they would abandon in droves those publications that so dared, until a new breed of number-crunchers arose to fill the vacuum that nature abhors."
Hmm. "Abandon in droves"? In quite a few years of writing about wine, I've generally avoided points scores. Perhaps that's why I am not rich.
But you have to admire, if not embrace, a wine book that in a single long paragraph invokes Socrates, the philosopher Simon Blackburn and "maiuetic" teaching ... yet remains immensely readable.
It's not a book for everyone, and it's not inexpensive even with the Amazon.com discount. But I'm finding it irresistible, at least in small, daily doses, not unlike a ritual glass of wine. If you think it's your style - perhaps you took up English Lit, or maybe Philosophy, in college - then I recommend it.
The Psychology of Wine: Truth and Beauty by the Glass is available through our Amazon.com link for $32.36, a 28 percent discount from the $44.95 list price.
Click to view details or order from Amazon.com:
http://www.amazon.com/exec/obidos/ASIN/0313376506/robingarrswineloA/
As always, purchases made by using this exact link will return a small commission to WineLoversPage.com, helping us maintain our online publications (and this E-letter) without charge.
Still wondering about that Southern Italian red? I expressed concern to John Johnson, the genial proprietor of my neighborhood wine shop, The Wine Rack in Louisville, and he reassured me. Sure enough, it's one of those exceptions that "proves" a rule: Although it's as nearly opaque as you'd expect from a 90-pointer, its fruit, licorice and subtle earthy flavors are intriguing but subtly balanced, with alcohol held to a very rational 13 percent. Good, mouth-watering acidity and soft tannins make it a fine food wine. I'd give it a 90 myself, if I gave out numbers.
Today's Tasting Report
Fidelis 2005 Aglianico del Taburno ($14.99)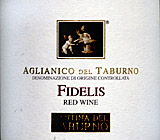 A blend of 90% Aglianico with a splash of Cabernet Sauvignon and a dash of Merlot, produced by Cantina del Taburno, this is a clear, very dark blackish-purple wine showing almost a patent-leather look in the glass. Pleasant aromas blend black cherry and a scent somewhere between fennel and licorice on the aroma scale. Ripe cherry-berry fruit and subtle earthiness is well balanced by tart, food-friendly acidity, with soft tannins adding a touch of astringency in the long finish. Very good wine and a good value, showing good balance and complexity. U.S. importer: Vintner Select, Mason, Ohio. (Sept. 9, 2009)
FOOD MATCH: This balanced, acidic red met its natural match in a locally produced rib eye steak, pepper-crusted and medium rare, natural grass-fed beef from Dreamcatcher Farm in Kentucky. Showing its versatility, the leftovers went very well indeed with fried chicken for lunch a couple of days later.
WEB LINK: One of its U.S. importers has a detailed fact sheet about Cantina del Taburno on this page, from which you can find a link to the Taburno Aglianico and other wines.
http://www.skurnikwines.com/
prospects.cgi?rm=view_prospect_detail&prospect_id=395
FIND THIS WINE ONLINE:
Look for vendors and compare prices for Fidelis Aglianico del Taburno on Wine-Searcher.com:
http://www.wine-searcher.com/find/Fidelis%2bTaburno/-/-/-/USD/A?referring_site=WLP
Talk About Wine Online
If you have questions, comments or ideas to share about today's article or wine in general, you're always welcome to drop by our online WineLovers Discussion Group, the Internet's first and still the most civil online community. To find our forums, click:
http://www.wineloverspage.com/forum/village
Discussions are open for public viewing, but you must register to post. Registration is free and easy; we ask only that you join following our Real Names Real Format system, using your real name in the format "John Doe" or "John D". Anonymous, cryptic or first-name-only registrations are discarded without notice.
Once your registration has been approved, which usually happens quickly, you'll be able to participate in all our online wine, food and travel forums.
To contact me by E-mail, write wine@wineloverspage.com. I'll respond personally to the extent that time and volume permit.
Subscriptions and Administrivia
Unsubscribe:
We're sorry if you must leave us, but simply click the "unsubscribe"
link at the bottom of your Email edition to be instantly removed from the mailing list.
Subscribe to this Email edition (free):
http://www.wineloverspage.com/wineadvisor
WineLoversPage.com RSS Feed (free):
http://www.wineloverspage.com/rss
Wine Advisor Archives:
http://www.wineloverspage.com/wineadvisor2/archives.php
Sponsorship Opportunities:
For information, E-mail wine@wineloverspage.com