Today's Sponsor
Discover the heart and soul of Rioja
Join the Vibrant Rioja Community for a chance to win a case of wine or a trip to Rioja, Spain.
Vibrant Rioja
Another year, another Hugh Johnson pocket book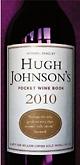 When I start feeling that I've been writing about wine for an awfully long time, I stop and think about Hugh Johnson's Pocket Wine Book.
This handy little book, which crams small-print info on thousands of wines and wineries into its pocket-size dimensions, was already in its third or fourth edition when I started writing about wine for the old Louisville Times in the early 1980s. I bought one, devoured it, and have been getting every annual edition ever since.
The other day Johnson's 33rd edition arrived in my mailbox, and it will still fit into a pocket, although it might need a larger pocket than those early editions did. At 320 fully-packed pages, it might be a better fit for a cargo pocket than a golf shirt.
It's still portable enough to carry with you into the wine shop or restaurant, though, and that remains what it's all about: Just about any wine you'll encounter is in here, sorted by wine region and ready for quick reference including a brief description, rating (no fancy 100-point stuff, just a useful one to four stars), and Johnson's estimate as to which vintages are best and when it will be ready to drink. He hasn't reached China or India as yet, but just about every other wine-producing nation is featured, right down to England and Wales and Eastern Europe.
Whether you're using it as a wine-buying guide or simply a quick reference when you have a question about wine, Johnson's Pocket Wine Book is an easy choice, whether it's one of hundreds of books in your wine library or the only book in your wine library.
Available through our Amazon.com link for just $10.19, a 32 percent discount from the $14.95 list price, it costs no more than a very modest bottle of wine.
Click to view details or order from Amazon.com:
http://www.amazon.com/exec/obidos/ASIN/1845335295/robingarrswineloA/
As always, purchases made by using this exact link will return a small commission to WineLoversPage.com, helping us maintain our online publications (and this E-letter) without charge.
As a quick sample, let's see what Johnson has to say about Muscadet de Sèvre et Maine, featured in this week's tasting report.
He rates it in a range from one star ("plain, everyday quality") to three stars ("well-known, highly reputed"). Under "Muscadet," he categorizes it as a Loire Valley white to be drunk as young as possible, declaring it "Popular, good value, often delicious bone-dry wine from near Nantes. Should never be sharp, but should always be refreshing. Perfect with fish and seafood."
Under Muscadet de Sèvre et Maine, which he calls "largest and best of Muscadet's delimited zones," he calls it "a safe bet," listing among top producers Guy Bossard (Dom de l'Ecu), Barnard Chereau, Bruno Cormeral, Michel Delhommeau, Douillard, Gadais, Dom de la Haute Fevrie, Joseph Landron, Luneau-Papin, Louis Métareau, and Sauvion, producer of our featured wine (see below). He lists all vintages between 2001 and 2008 as good and currently drinkable, and adds that wines from the named properties can "age beautifully." He suggests trying 1986 or 1989 ... if you can find them.
To be nitpicky, he doesn't mention the rather offbeat grape variety used in Muscadet (Melon de Bourgogne), and it's also omitted from his list of varieties elsewhere. Nor does he get into the "sur lie" process of aging the wine on its yeast sediment that adds character to many Muscadets, although a brief summary of this process can be found - if you know to look for it - under "S" in the "France" chapter. But for a quick overview, vintage and aging information and simple rating, this pocket book is hard to beat.
Today's Sponsor
Discover the heart and soul of one of the world's greatest wine regions - Rioja
How would you like to discover the land of a thousand wines? How about uncovering the heart and soul of one of the world's greatest wine regions? Vibrant Rioja is giving you the chance to win the experience of a lifetime - a trip to Rioja, Spain, and all you have to do is join the Vibrant Rioja Community. Oh! and you'll receive our newsletters, which will keep you informed of our tastings, events, delicious recipes, tasting notes and much, much more! Just click here to get started: Vibrant Rioja!
And if you're in the wine trade, you can join the Vibrant Rioja Trade Community! You will also have the chance to win a trip to Rioja as well as receive invitations to seminars and tastings, Rioja images and POS, newsletters that are aimed at helping you build your business, merchandising materials and much more! Just click here to get started.

In the meantime, visit VibrantRioja.com and learn more about Rioja, its grapes, climate, terroir, architecture culture, gastronomy and more! Remember, the trip of a lifetime is only a click away! Salud! Vibrant Rioja!
Today's Tasting Report
Sauvion 2007 Muscadet Sèvre et Maine ($9.99)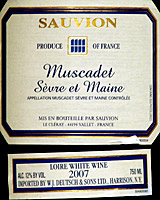 Transparent light straw color. Good, typical scents of light honeydew melon and a touch of rising bread dough. Fresh and crisp on the palate, light white fruit and mouth-watering acidity; a touch of "stony" minerality sings harmony with the delicate fruit. Simple, fresh, needs time to develop the complexity of top Muscadets, but it's a tasty summer white now, good with food, and an exceptional value at the $10 point. U.S. importer: W.J. Deutsch & Sons Ltd., Harrison, N.Y. (July 6, 2009)
FOOD MATCH: Although made for seafood and fish, it's a good match with chicken or pork, and went very well indeed with a Stone Cross Farm Kentucky natural pork chop with fresh Roma beans and new potatoes..
WEB LINK: Here's a brief importer's fact sheet on Sauvion Muscadet:
http://www.wjdeutsch.com/channels/WinePortfolio/Sauvion/Wines/sauv_muscadet.aspx
FIND THIS WINE ONLINE:
Look for vendors and compare prices for Sauvion Muscadet on Wine-Searcher.com:
http://www.wine-searcher.com/find/Sauvion%2bMuscadet/-/-/-/USD/A?referring_site=WLP
Talk About Wine Online
If you have questions, comments or ideas to share about today's article or wine in general, you're always welcome to drop by our online WineLovers Discussion Group, the Internet's first and still the most civil online community. To find our forums, click:
http://www.wineloverspage.com/forum/village
Discussions are open for public viewing, but you must register to post. Registration is free and easy; we ask only that you join following our Real Names Real Format system, using your real name in the format "John Doe" or "John D". Anonymous, cryptic or first-name-only registrations are discarded without notice.
Once your registration has been approved, which usually happens quickly, you'll be able to participate in all our online wine, food and travel forums.
To contact me by E-mail, write wine@wineloverspage.com. I'll respond personally to the extent that time and volume permit.
Subscriptions and Administrivia
Unsubscribe:
We're sorry if you must leave us, but simply click the "unsubscribe"
link at the bottom of your Email edition to be instantly removed from the mailing list.
Subscribe to this Email edition (free):
http://www.wineloverspage.com/wineadvisor
WineLoversPage.com RSS Feed (free):
http://www.wineloverspage.com/rss
Wine Advisor Archives:
http://www.wineloverspage.com/wineadvisor2/archives.php
Sponsorship Opportunities:
For information, E-mail wine@wineloverspage.com