Today's Sponsor
Finally! Access To Napa Valley's Most Prestigious Aged Cabernet Sauvignons
Experience aged Cabernets from top Napa producers like Joseph Phelps, Mayacamas, Heitz, Clos du Val, Chappellet and many more.
Aged Cabernet Series
An odd but slurpy Chardonnay
If you think you're just about over Chardonnay because of its ubiquitous status as "a glass of white wine" for casual sipping, you're not alone: As I've often observed, the "anything but Chardonnay" club is a large and growing body among wine enthusiasts.
Still, every rule has its exception, and Chardonnay is no exception to this rule. I've always found my head easily turned by White Burgundy, for example, which is 100 percent Chardonnay of course. But cheap Chardonnay? There's a category that's easy to diss. Too often greedily over-cropped and industrially made, low-end Chardonnay - even from France - comes up short on flavor, length and character.
I said "often." I didn't say "always."
Today let's hail an offbeat Chardonnay that's a long stretch from the typical style. Ripe, juicy and luscious, so fruity and aromatic that it conveys a distinct impression of sweetness, Domaine Lafage's "Novellum" Chardonnay is an approachable outlier that sells in the recession-busting range of $10 to $12 in most markets.
Made by young Languedoc wine maker Jean Marc Lafage and exported to the U.S. by the reliable Eric Solomon, the wine bears only the basics on its simple front label: The word "Novellum" is centered over a large capital "N," with "2008 Chardonnay" added almost as an afterthought. You have to turn the bottle around to learn that it's made by Lafage and comes from the Cotes Catalanes ("Catalan hillsides"), a hot, arid region where the Pyrenees drop down to the Mediterranean coast where France meets Spain.
The Latin name "Novellum" echoes "Nouveau" ("new"), and the recent vintage suggests a wine that saw little delay between the vineyard and the bottle. Certainly it's fresh and bright. The wine sees a bit of oak (30 percent of it ages briefly in new barrels, the rest staying in stainless steel). But the real oddity comes when the new wine is aged on the "lees" of previously fermented Viognier for three months, imparting a luscious floral character that's different from just about any Chardonnay you've tasted.
If you aren't worried about wine in an offbeat style, this one's a fine value at the price. As the name "Novellum" suggests, it's best drunk up young and fresh. My tasting notes are below.
Today's Sponsor
Finally! Access To Napa Valley's Most Prestigious Aged Cabernet Sauvignons
Experience aged Cabernets from top Napa producers like Joseph Phelps, Mayacamas, Heitz, Clos du Val, Chappellet and many more.
Aged Cabernet is the ultimate reward of fine viticulture, deft winemaking and years of patience. Years in the cellar transform a finely made, boisterous young Cabernet into a magical mix of rich texture, multi-layered flavors and complex nuances of oak and tannin.
Introducing The Aged Cabernet Series. This exciting new club delivers premium Napa Valley Cabernets 10 to 15 years old, with our guarantee of quality, and your enjoyment.
Each month members will receive two different bottles of 10-15 year old Napa Valley Cabernet, aged in stringent temperature-controlled conditions and ready to drink now. Members may choose to receive shipments monthly, every other month or quarterly. Cost will average $150-$235 per shipment, every wine is 100% guaranteed and a discount of 20% is available on reorders (limited to 6 bottles per member).
Experience the luxury of aged Napa Valley Cabernets with The Aged Cabernet Series.
Call 1-800-777-4443 to learn more or visit www.cawineclub.com/aged-cabernet-series
Today's Tasting Report
Maison Lafage 2008 "Novellum" Chardonnay Vin de Pays Cotes Catalanes ($12.99)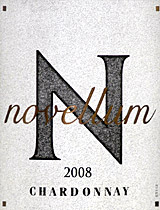 Odd but interesting wine. A floral note plays counterpoint to abundant fresh-apple fruit, so fruity and textured that it almost seems sweet, although sufficient acidity keeps it reasonable with food. Definitely slurpy, relatively light in alcohol at 11.5%. U.S. importer: European Cellars LLC, Charlotte, N.C., an Eric Solomon selection. (July 28, 2009)
FOOD MATCH: Its fruity character made it a fine match with a local, natural pork chop braised with onions and garlic.
WEB LINK: Here's a link to the importer's short fact sheet on Domaine Lafage, but I can't find specifics about the Novellum:
http://www.europeancellars.com/portfolio_region.cfm?producer=82&region=1
FIND THIS WINE ONLINE:
You'll find a few vendors for Lafage Novellum Chardonnay on Wine-Searcher.com:
http://www.wine-searcher.com/find/Lafage%2bNovellum/-/-/-/USD/A?referring_site=WLP
For U.S. distributors by state, see the importer's Website,
http://www.europeancellars.com/distributors.cfm
Talk About Wine Online
If you have questions, comments or ideas to share about today's article or wine in general, you're always welcome to drop by our online WineLovers Discussion Group, the Internet's first and still the most civil online community. To find our forums, click:
http://www.wineloverspage.com/forum/village
Discussions are open for public viewing, but you must register to post. Registration is free and easy; we ask only that you join following our Real Names Real Format system, using your real name in the format "John Doe" or "John D". Anonymous, cryptic or first-name-only registrations are discarded without notice.
Once your registration has been approved, which usually happens quickly, you'll be able to participate in all our online wine, food and travel forums.
To contact me by E-mail, write wine@wineloverspage.com. I'll respond personally to the extent that time and volume permit.
Subscriptions and Administrivia
Unsubscribe:
We're sorry if you must leave us, but simply click the "unsubscribe"
link at the bottom of your Email edition to be instantly removed from the mailing list.
Subscribe to this Email edition (free):
http://www.wineloverspage.com/wineadvisor
WineLoversPage.com RSS Feed (free):
http://www.wineloverspage.com/rss
Wine Advisor Archives:
http://www.wineloverspage.com/wineadvisor2/archives.php
Sponsorship Opportunities:
For information, E-mail wine@wineloverspage.com