Today's Sponsors
The California Wine Club
No Billing and No Shipping Until December! Deep discounts on holiday gifts reserved now.
The California Wine Club
Discover the heart and soul of Rioja
Join the Vibrant Rioja Community for a chance to win a case of wine or a trip to Rioja, Spain.
Vibrant Rioja
Bottom-feeding Bordeaux
In a time of recession and shrinking savings, a lot of us are more hesitant than ever to invest in high-end wines, and that moves a lot of the world's finest bottles off the bargaining table.
Burgundy, high-end Northern Italians and Napa Cabernets earn skeptical glances when bottle prices rise into the three-figure range. And the same is true, of course, of Bordeaux.
Bordeaux, with a heritage that reaches back 700 years or more, saw its high end fixed in 1855 in the Medoc Classification, a hierarchy of top labels that, despite vast changes in property, ownership and management, remains a buying guide for many wine lovers today.
The small core group of Bordeaux "first growths" and "super seconds" command breathtaking prices, year in and year out, without much regard for the quality of the vintage. While there's more than merely the "emperor's new clothes" going on here - these are wines of elegance, made from extraordinary fruit - any real connection between quality and value seems to be lost.
At the other end of the price curve, low-end Bordeaux has fallen into such disrepute that many lower-tier producers are now legally permitted to turn their product over for "crisis distillation," turning Cabernet Sauvignon, Merlot and Cabernet Franc over to factories to be converted into fuel alcohol.
The question for thrifty wine lovers becomes, quite simply: Can we find value in a niche where the critics and points-chasers focus on the three-figure bottles while much of the cheap stuff is plonk?
Sure we can! As always, plenty of good value stands hiding in plain sight on the bargain shelves, provided we use common-sense tools to seek it out. Here are a few quick tips for Bordeaux bottom-feeding.
* Avoid the big names. Unless you find an incredible sale (which might raise questions about storage and handling), steer clear of the classified Bordeaux growths in favor of the lower steps of the hierarchy. The so-called Crus Bourgeois that didn't make the first cut in the 1855 Classification offer good value; and even the generic Bordeaux Superieur and just-plain Bordeaux can rise above their humble origins.
* Along similar lines, shy away from the more pricey Bordeaux neighborhoods. You might find a bargain from sought-after Pauillac, Margaux or Pomerol, but chances are better that the price will be right in the less trendy "satellite" appellations; there are dozens, such as Moulis, Listrac, Cotes de Blaye, Cotes de Bourg, Lussac and many more.
* Look for estate bottling. While it's no sure guarantee of quality, the French "Mis en bouteille au chateau" ("bottled on the property") at least theoretically signals the presence of the owner and winemaker working on the premises with their own grapes.
* Sniff out the Merlot. A good dash of Merlot with the Cabernets and lesser grapes in a Bordeaux blend may add mellow fruit and early drinkability to a cheaper bottling, making it more accessible and easy to enjoy than a Cabernet Sauvignon-dominant blend at the lower end.
* Look for advice that you can trust. A good wine-shop owner whose recommendations have worked for you can be a treasure when you're on the quest for value. Be more cautious of the major publications, Robert Parker's Wine Advocate, Wine Spectator and others, which tend to praise the bigger, more pricey, ageworthy big-name bottlings while dismissing value choices for just the reasons we seek them: Lighter, fresher drinkability and immediate enjoyment, even at the expense of cellaring.
Enjoy the quest! You'll find two of my recent successes - one in the lower $20s, the other in the mid-teens - reviewed below.
Today's Sponsors
No Billing and No Shipping Until December with The California Wine Club
It's that time of year again when The California Wine Club offers deep discounts on holiday gifts reserved now.
Sure, we know that thinking about the holidays during the summer is tough to do, however the money and time you save by planning now make it enormously rewarding in December!
During Santa's Summer Sale, you'll save 20 percent, plus your credit card won't be billed until December and your gifts will be scheduled to arrive right before the holidays.
When you are ready to take advantage of the savings and reserve your holiday gifts, call 1-800-777-4443 or visit www.cawineclub.com
Pour yourself something cool, enjoy the summer sun and take a moment to make some holiday plans…we know you will be glad you did.
Gift memberships include two bottles of award-winning limited production wine and the club's entertaining 12 page full color newsletter, Uncorked. Uncorked introduces the family making the wine, includes tasting notes, recipes, wine tips, insight to California's wine scene and much more!
Send as many months as you wish!
Discover the heart and soul of one of the world's greatest wine regions - Rioja
Discover the heart and soul of one of the world's greatest wine regions - Rioja. Join the Vibrant Rioja Community for a chance to win a case of wine or a trip to Rioja, Spain.
You'll receive our newsletters, which will keep you informed of our tastings, events, delicious recipes, tasting notes, and much more! Just click here to get started: Vibrant Rioja!
And if you're in the wine trade, you can join the Vibrant Rioja Trade Community! You will also have the chance to win a trip to Rioja as well as receive invitations to seminars and tastings, Rioja images and POS, newsletters that are aimed at helping you build your business, merchandising materials and much more! Just click here to get started.

In the meantime, visit Vibrant Rioja and learn more about Rioja, its grapes, climate, terroir, culture, gastronomy and more to discover why some of the best chefs consider Rioja wines to be the best food pairing wines in the world.

Salud! Vibrant Rioja!
Today's Tasting Report
Château Tour de Ségur 2005 Lussac-Saint-Émilion ($22.99)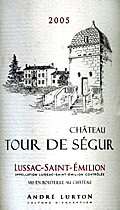 Dark garnet with a clear edge. Black plums and more subtle mixed berries in an appealing but not really fruit-forward scent. A pleasant touch of earthy sweet leather joins delicate black fruit on the palate with good, food-friendly acidity and just a gentle touch of tannins. Tart plums and a hint of old leather books hang on in a long, appealing finish. Quite a buy for the lower $20s in a world of pricey Bordeaux. A blend of 65% Merlot, 25% Cabernet Franc, 10% Cabernet Sauvignon from André Lurton, it sees a year in oak barrels, 25% of them new. U.S. importer: W.J. Deutsch & Sons Ltd., Armonk, N.Y. (June 9, 2009)
FOOD MATCH:
It was outstanding with local natural lamb chops, heavy on the black pepper, pan-seared and oven-finished with garlic and fresh rosemary. On the second night, it went surprisingly well with a much less customary pairing, sauteed chunks of swordfish over saffron basmati rice in a gently spicy curry sauce.
FIND THIS WINE ONLINE:
To find local vendors and compare prices for Château Tour de Ségur Lussac-Saint-Émilion, consult Wine-Searcher.com:
http://www.wine-searcher.com/find/Tour%2bSegur%2bLussac/-/-/-/USD/A?referring_site=WLP

Chateau des Tuquets 2006 Bordeaux ($12.99)
Ruby, clear and very dark. Earthy blackcurrants, a rustic but delicious aroma and flavor that mingles tart fruit with minerality that evokes something like walking down a dusty country road on a summer day. Good, tart fresh-fruit acidity and moderate 12 percent alcohol makes it food-friendly; tannic astringency is present but not overly aggressive, suggesting that this one - like many good but lower-end Bordeaux - is better for drinking up over the next few years than cellaring. A blend of 40% Merlot, 40% Cabernet Sauvignon and 20% Cabernet Franc from Jean-Hubert Laville. U.S. importer: European Wine Imports Inc., Cleveland. (June 28,2009)
FOOD MATCH: Bordeaux and lamb make a natural match; it was fine with lamb burgers made with fresh natural lamb and pan-seared with garlic and fresh rosemary.
FIND THIS WINE ONLINE:
Wine-Searcher.com offers only European vendors for Chateau des Tuquets Bordeaux:
http://www.wine-searcher.com/find/Tuquets%2bBordeaux/-/-/-/USD/A?referring_site=WLP
For information about U.S. availability, try contacting the importer, European Wine Imports,
http://www.europeanwineimports.com/
Talk About Wine Online
If you have questions, comments or ideas to share about today's article or wine in general, you're always welcome to drop by our online WineLovers Discussion Group, the Internet's first and still the most civil online community. To find our forums, click:
http://www.wineloverspage.com/forum/village
Discussions are open for public viewing, but you must register to post. Registration is free and easy; we ask only that you join following our Real Names Real Format system, using your real name in the format "John Doe" or "John D". Anonymous, cryptic or first-name-only registrations are discarded without notice.
Once your registration has been approved, which usually happens quickly, you'll be able to participate in all our online wine, food and travel forums.
To contact me by E-mail, write wine@wineloverspage.com. I'll respond personally to the extent that time and volume permit.
Subscriptions and Administrivia
Unsubscribe:
We're sorry if you must leave us, but simply click the "unsubscribe"
link at the bottom of your Email edition to be instantly removed from the mailing list.
Subscribe to this Email edition (free):
http://www.wineloverspage.com/wineadvisor
WineLoversPage.com RSS Feed (free):
http://www.wineloverspage.com/rss
Wine Advisor Archives:
http://www.wineloverspage.com/wineadvisor2/archives.php