Wine Focus - Cool summer reds
It's June, the summer solstice in the Northern Hemisphere is only three weeks away, and a lot of wine lovers who usually prefer hearty, more robust red wines are turning to something more, well, refreshing.
Chill a white, chill a pink wine, that much is easy. But how about a summer wine for red-wine lovers? This is our quest for June in Wine Focus in our WineLovers Discussion Groups.
Let's consider the criteria that separate a summer red from its warmer winter cousin: Light in weight, low in alcohol, even chillable. (I'd never ice down a red, but a half-hour's refrigerator chill on a sultry day? Absolutely!)
The Gamay grape of Beaujolais is an obvious choice, but we're sure you'll find plenty more "cool" reds particularly well suited for cooling enjoyment when it's too darn hot. Bonarda from Argentina, lighter-styled Dolcetto and Barbera from Northwestern Italy, and even Pinot Noir will often serve this purpose well, although I wouldn't try to tame a big-boy California Pinot for this purpose, nor take a Burgundy of any quality much below a just-cool "cellar temperature."
We tried an Italian red, Gianfranco Alessandria 2007 Dolcetto d'Alba, over two nights recently, serving it the first night at room temperature and the second after about 45 minutes in the refrigerator, just until the bottle felt cool to the touch. The warm glass was certainly more typical of Dolcetto, earthy and more tannic than tart. Chilled, it seemed distinctly lighter and more refreshing, although the combination of chilling and, perhaps, a day in an opened bottled slightly heightened a noticeable but acceptable whiff of red-wine vinaigrette. See my tasting notes below.
I hope you'll tell us about your favorites, and if you're willing, add a tasting report. You'll find Wine Focus in our WineLovers Discussion Groups at this link:
http://www.wineloverspage.com/forum/village/viewforum.php?f=18
The discussions are open for public viewing, but you must register to post. Registration is free and easy; we ask only that you join following our Real Names Real Format system, using your real name in the format "John Doe" or "John D".
Once your registration has been approved, which usually happens quickly, you'll be able to participate in all our online wine, food and travel forums.
READERS NOTE The 30 Second Wine Advisor is published once per week for now, usually mailing on Monday, Tuesday or Wednesday. We're using new Emailing software that should be much more efficient in the long run, but if you discover formatting problems or find the Wine Advisor trapped by an overly aggressive "spam" filter, please drop me a note at wine@wineloverspage.com to let me know.
Today's Sponsor
Give Dad his Dream Weekend with a special gift from The California Wine Club
This Father's Day give Dad more of what he loves! The California Wine Club has a special Father's Day gift set that is available now and includes these three limited and award-winning wines:
* Side Job Cellars 2005 C-5 Dry Creek Zinfandel - This 90 pts Zin is a perfect match for Pepperoni Pizza.
* Red Car Wine Company 2006 "Speakeasy" Syrah – This 93 pt Syrah is big, bold and Barbecue friendly.
* Courtney Benham 2006 Paso Robles Lucca Cabernet Blend – An easy-going blend to pair with Sunday's game.
Save $25 on Dad's Dream Weekend Gift Set. This three bottle gift is just $88 plus shipping and handling. Visit Dad's Dream Weekend Wine Gift Set to learn more or call 1-800-777-4443.
Quantities are extremely limited, please reserve your gift now.
Since 1990 The California Wine Club has introduced wine enthusiasts to the best of California's small, "mom & pop" wineries. It's a true California wine adventure! There are no membership fees, you may cancel anytime and every wine is 100 percent guaranteed. To learn more or try the club for yourself, visit www.cawineclub.com or call 1-800-777-4443.
Today's Tasting Reports
Gianfranco Alessandria 2007 Dolcetto d'Alba ($12.99)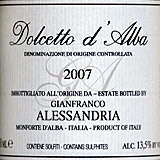 Dark garnet, with a clear reddish-violet edge. Blueberries and dusty earth on the nose with some "high-toned" hints of volatile acidity; black and blue fruit and a buzz of tannins on the palate. Earthy, good with food, leaves a pleasant tart-berry flavor in a longish finish. U.S. importer: Vanguard Wines LLC, Columbus. (May 30, 2009)
FIND THIS WINE ONLINE:
Find vendors and compare prices for Gianfranco Alessandria Dolcetto on Wine-Searcher.com:
http://www.wine-searcher.com/find/Gianfranco%2bAlessandria%2bDolcetto/-/-/-/USD/A?referring_site=WLP
Talk About Wine Online
If you have questions, comments or ideas to share about today's article
or wine in general, you're always welcome to drop by our online WineLovers Discussion Group. This link will take you to the forum home page, where you can read discussions in all the forum sections:
http://www.wineloverspage.com/forum/village
Everyone is free to browse. If you'd like to post a comment, question or reply, you must register, but registration is free and easy. Do take care to register using your real name, or as a minimum, your real first name and last initial. Anonymous registrations are quietly discarded.
To contact me by E-mail, write wine@wineloverspage.com. I'll respond personally to the extent that time and volume permit.
Subscriptions and Administrivia
Unsubscribe:
We're sorry if you must leave us, but simply click the "unsubscribe"
link at the bottom of your Email edition to be instantly removed from the mailing list.
Subscribe to this Email edition (free):
http://www.wineloverspage.com/wineadvisor
WineLoversPage.com RSS Feed (free):
http://www.wineloverspage.com/rss
Wine Advisor Archives:
http://www.wineloverspage.com/wineadvisor2/archives.php