Today's Sponsor
More Recession Buster Savings from The California Wine Club!
The California Wine Club is celebrating 20 Years of Wine Adventures with their first-ever $1 Shipping Sale. Take advantage of these recession buster savings and stock up now!
www.cawineclub.com

Wine Focus - South Africa
Only eight of the world's nations produce more wine than South Africa, but market statistics reveal that the African country's own citizens don't drink much wine.
What's more, although South Africa sends a flood of its wines to The Netherlands and Great Britain, North America isn't doing much to ease this glut: Only 1 percent of wine sales in the United States involve South African wines.
But with the arrival of President Barack Obama in the White House, the popularity of South African wine in the U.S. just might start to change.
"The Obamas had a dinner reservation for the night Democrats announced their presidential candidate, and the restaurant was looking for a wine that popped but also made a statement," Associated Press writer Michelle Paul reported this week from Johannesburg in South Africa.
"That night in the private dining room at Chicago's Blackbird restaurant, Eduard Seitan served them a bottle of Graham Beck Brut - the same sparkling wine sipped by Nelson Mandela at his inauguration as South Africa's first black president.
"(Obama) liked it so much that when they had the election, they called me and asked if they could order six more for their Election Night party," Seitan told The Associated Press.
Just as George H.W. Bush's professed hatred of broccoli may have given thousands of his supporters a political reason to shun the green vegetable, it's a reasonable guess that Obama's affection for South African wines could give them a boost ... even if he later chooses to "Buy American" in the White House.
We've been featuring the varied wines of South Africa throughout May in the Wine Focus section of our WineLovers Discussion Groups. Next week we'll switch to a new topic for June, but there's still time to join in with a South African tasting report, comment or question.
You'll find Wine Focus among the WineLovers Discussion Groups at this link:
http://www.wineloverspage.com/forum/village/viewforum.php?f=18
The discussions are open for public viewing, but you must register to post. Registration is free and easy; we ask only that you join following our Real Names Real Format system, using your real name in the format "John Doe" or "John D".
Once your registration has been approved, which usually happens quickly, you'll be able to participate in all our online wine, food and travel forums.
You'll find my tasting reports on two interesting, affordable South African wines, a red and a white, just below.
READERS NOTE The 30 Second Wine Advisor has returned to weekly publication after a break, using new Email distribution software that we hope will get the Wine Advisor to your mailbox quickly and securely.
We'll publish once per week for now, usually mailing on Monday, Tuesday or Wednesday. As with any new software installation it won't be surprising if we discover a bug or two. Please be patient, and if you discover formatting problems or find that this publication has been trapped by an overly aggressive "spam" filter, please drop me a note at wine@wineloverspage.com to let me know.
Today's Sponsor
More Recession Buster Savings from The California Wine Club! $1 shipping sale going on now
The California Wine Club is celebrating 20 Years of Wine Adventures with their first-ever $1 Shipping Sale.
Take advantage of these recession buster savings and stock up now for all your summer entertaining needs! Visit www.cawineclub.com and choose from hundreds of award-winning, limited production wines.
Feel free to mix a case (12 different bottles if you prefer!) and remember that every case ships for just $1.
Since 1990 The California Wine Club has featured the best of California's small "mom & pop" wineries. Every wine featured is hand-selected by club owners Bruce & Pam Boring and comes with their 100% satisfaction guarantee.
Not sure which wines to try? Call the club's Personal Wine Consultants at 1-800-777-4443 for their advice and insight to which wines have been the most popular.
Save $36 per case when you order during The California Wine Club's $1 Shipping Sale. Visit www.cawineclub.com to start shopping now!
Today's Tasting Reports
Leatherwood 2006 Western Cape South Africa Shiraz (95%) - Viognier (5%) ($14.99)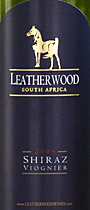 Dark ruby with a clear edge. Bright dark fruit, plums and blackberries with hints of menthol and oak; flavors consistent, warm and tannic, plenty of body and presence at 14.5% alcohol, but for all that it's a relatively balanced Southern Hemisphere Shiraz, elegant in compaison with the big-boy style of South Australia. Fine with a natural pastured-pork chop, pan-braised with onions and garlic. U.S. importer: Vineyard Varieties Inc., Bluefield, Va. (May 26, 2009)
WEB LINK:
Here's a link to the U.S. importer's Website:
www.leatherwoodwines.com
FIND THIS WINE ONLINE:
Wine-Searcher.com yields no hits for Leatherwood or its parent producer, De Wet's Prospect Farm. To track down local distributors, see the "Distribution" page on the Prospect Wines Website:
http://www.prospectwines.com/marketing.php

Ken Forrester 2008 "Petit" Stellenbosch Chenin Blanc ($9.99)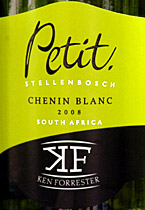 Clear light gold. Honeydew melon and a hint of almond on the nose and palate. Ripe melon fruit and tart, singing acidity, with a touch of peach-pit bitterness in the finish. Young and fresh, not overly complex, but fruit and food-friendly acidity make it very good at the table and a fine value for a buck under $10. A surprisingly good match with the mildly spicy flavors of lengua (shredded beef tongue) tacos, Mexican-style.U.S. importer: Boutique Wine Collection, Philadelphia. (May 12, 2009)
WEB LINK:
Read about Ken Forrester Vineyards and click to fact sheets about "Petit" and other KF wines on the U.S. importer's Website:
http://www.boutiquewines.info/winery.php?id=43&country_id=1
FIND THIS WINE ONLINE:
Find vendors and compare prices for Ken Forrester "Petit" Chenin Blanc on Wine-Searcher.com:
http://www.wine-searcher.com/find/Ken%2bForrester%2bPetit%2bChenin/-/-/-/USD/A?referring_site=WLP
Talk About Wine Online
If you have questions, comments or ideas to share about today's article
or wine in general, you're always welcome to drop by our online WineLovers Discussion Group. This link will take you to the forum home page, where you can read discussions in all the forum sections:
http://www.wineloverspage.com/forum/village
Everyone is free to browse. If you'd like to post a comment, question or reply, you must register, but registration is free and easy. Do take care to register using your real name, or as a minimum, your real first name and last initial. Anonymous registrations are quietly discarded.
To contact me by E-mail, write wine@wineloverspage.com. I'll respond personally to the extent that time and volume permit.
Subscriptions and Administrivia
Unsubscribe:
We're sorry if you must leave us, but simply click the "unsubscribe"
link at the bottom of your Email edition to be instantly removed from the mailing list.
Subscribe to this Email edition (free):
http://www.wineloverspage.com/wineadvisor
WineLoversPage.com RSS Feed (free):
http://www.wineloverspage.com/rss
Wine Advisor Archives:
http://www.wineloverspage.com/wineadvisor2/archives.php