Serious Pinot Grigio
There's an awful lot of light, bland and essentially flavorless Pinot Gris around these days, and the situation for Pinot Grigio - the Italian moniker for this increasingly popular white grape - may be more grim still.
I never want to come across as a wine snob, but I don't think there's anything snobbish about pointing out on occasion that the emperor's new clothes are his birthday suit. As for Pinot Gris and Grigio, wide popularity and low price has quite frankly fostered a wine of choice for uncritical sippers who, in past market cycles, have called for "chablis," a "glass of white wine" or even "Chardonnay."
The good news, however, is that there are always exceptions that disprove the rule. A lot of Pinot Gris from Alsace and a fair share from Oregon rises above least-common-denominator level. And in Italy, especially in Northeastern Fruili Venezia-Giulia, Pinot Grigio can be all that it should: Textured, musky and touched with intriguing minerality; a splendid match with food.
Much of the best of Fruili's Pinot Grigio comes from the hilly regions bordering Slovenia: Collio and Colli Orientali. This week's tasting, however, the 2007 Pinot Grigio from Fernando Pighin & Figli, comes from Grave del Fruili on the gravelly Adriatic plain, demonstrating that hillsides may be desirable, but they're not absolutely required for quality.
READERS NOTE As noted last week, The 30 Second Wine Advisor has returned to weekly publication after a break, using new Email distribution software that we hope will get the Wine Advisor to your mailbox quickly and securely.
For now we'll publish on a once-weekly basis, usually hitting the mail on Monday, Tuesday or Wednesday. As with any new software installation it won't be surprising if we discover a bug or two. Please be patient, and if you discover formatting problems or find that this publication has been trapped by an overly aggressive "spam" filter, please drop me a note at wine@wineloverspage.com to let me know.
Today's Sponsors
Discover the heart and soul of one of the world's greatest wine regions - Rioja
Discover the heart and soul of one of the world's greatest wine regions - Rioja. Join the Vibrant Rioja Community for a chance to win a case of wine or a trip to Rioja, Spain. You'll receive our newsletters, which will keep you informed of our tastings, events, delicious recipes, tasting notes, and much more! Just click here to get started:
http://www.vibrantrioja.com/register.html?id=298
And if you're in the wine trade, you can join the Vibrant Rioja Trade Community! You will also have the chance to win a trip to Rioja as well as receive invitations to seminars and tastings, Rioja images and POS, newsletters that are aimed at helping you build your business, merchandising materials and much more! Just click here to get started.
In the meantime, visit vibrantrioja.com and learn more about Rioja, its grapes, climate, terroir, culture, gastronomy and more to discover why some of the best chefs consider Rioja wines to be the best food pairing wines in the world.
Salud!
http://www.vibrantrioja.com/register.html?id=298
Save money and celebrate Summer with The California Wine Club: Every case ships for just $1!
Every case ships for just $1 during The California Wine Club's $1 Shipping Sale!
Choose from many of our award-winning, limited production wines, plus our Super Summer Sippers are as low as $7.99 per bottle. Celebrate summer and take advantage of our $1 shipping sale now!
Click here to view all wines:
http://www.cawineclub.com/wine-store.php

Visit www.cawineclub.com or call 1-800-777-4443.
Today's Tasting Report
Pighin 2007 Grave del Fruili Pinot Grigio ($15.99)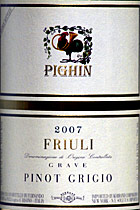 Transparent straw color. Good musky melon and white-flower scents of quality Friuli Pinot Grigio, retaining the intensity that's lost when this grape is all-too-frequently overcropped for quantity. Flavors are consistent with the nose, muskmelon and crisp, mouth-watering acidity that lingers with fresh melon and a touch of lime in a long finish. A fine food match with a restaurant spinach-artichoke dip reconstituted with more spinach, garlic and onions and cream as a pasta sauce. U.S. importer: Kobrand Corp., NYC. (May 15, 2009)
WEB LINK:
The U.S. importer's Website provides this brief fact sheet on Pighin Pinot Grigio, with additional links for winery information and Pighin's other wines:
http://www.kobrandwineandspirits.com/
products/show_product.php?l=pig001
FIND THESE WINES ONLINE:
Locate vendors and check prices for Pighin Pinot Grigio on Wine-Searcher.com:
http://www.wine-searcher.com/find/Pighin%2bGrigio/-/-/USD/A?referring_site=WLP
Talk About Wine Online
If you have questions, comments or ideas to share about today's article
or wine in general, you're always welcome to drop by our online WineLovers Discussion Group. This link will take you to the forum home page, where you can read discussions in all the forum sections:
http://www.wineloverspage.com/forum/village
Everyone is free to browse. If you'd like to post a comment, question or reply, you must register, but registration is free and easy. Do take care to register using your real name, or as a minimum, your real first name and last initial. Anonymous registrations are quietly discarded.
To contact me by E-mail, write wine@wineloverspage.com. I'll respond personally to the extent that time and volume permit.
Subscriptions and Administrivia
Unsubscribe:
We're sorry if you must leave us, but simply click the "unsubscribe"
link at the bottom of your Email edition to be instantly removed from the mailing list.
Subscribe to this Email edition (free):
http://www.wineloverspage.com/wineadvisor
WineLoversPage.com RSS Feed (free):
http://www.wineloverspage.com/rss
Wine Advisor Archives:
http://www.wineloverspage.com/wineadvisor2/archives.php