Old Barolo and wine-spill follow-up
Let's start out this short holiday week with a couple of follow-ups on recent topics: Last Monday's report on blotting out red-wine spills with a bath of white wine drew a lot of comments and suggestions; and we wrapped up December's Wine Focus on the red wines of Piemonte with a fine old Barolo.
I'll serve the Barolo for dessert. First, though, with the New Year and more parties coming up, let's dive back into the world of wine stains and their removal.
My report last Monday on using white wine as an antidote to red-wine spills turned out to be one of those topics that brings in responses by the mailbag full.
Many of you agreed that white wine poured over the red, then gently patted dry and - ideally - followed by a treatment with commercial carpet cleaner is the best way to handle a red-wine spill.
Others, however, declared this an "urban legend," citing such authorities as Consumer Reports with the warning that a red-wine stain removed in this manner may eventually return as a permanent, if paler, smear of caramel brown.
Finally, many of you suggested alternative treatments ranging from pouring salt on the stain and pressing it in, then vaccuming it up later, to a range of solvents: a solution of white vinegar and water; or hydrogen peroxide; or store-bought removers like Oxiclean or a commercial product called "Wine Away." Or even plain tap water, in copious amounts.
For a closer look at the comments posted on our WineLovers Discussion Group, click
http://www.wineloverspage.com/forum/village/viewtopic.php?f=3&t=20970
It might be a good idea to do so before that New Year's Eve party.
Now, here's my report on a 13-year-old Barolo from Giuseppe Rinaldi, a producer I had the privilege of visiting during a trip in 2000. This bottle was a gift from the wine maker during a visit in late April 2000, hand-carried back to the U.S. in my carry-on baggage and since stored on its side under home air-conditioning.
The wine held up very well indeed after more than eight years of this "passive" cellaring. The capsule spins freely and the cork remains solid and clean, bearing only slight wine-staining about one-third of the way up the sides. Most important, it passed the taste test.
Rinaldi 1995 Barolo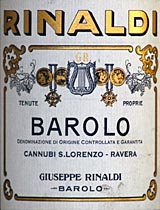 In the glass it's a clear, dark purple with a clear garnet edge, no sign of browning. Dark fruit aromas mingle with floral notes - it's easy to imagine Barolo's classic violets - and nuances of earthy Barolo "tar" and "smoke." Tart berry flavors on the palate with a much more distinct sense of violets rising to the olfactory senses as you hold the wine in your mouth; bright, snappy acidity brings the package together, with fruit and fresh acidity lingering. A classicaly styled Barolo, still holding up very well despite relatively casual cellaring. (Dec. 27, 2008)
FOOD MATCH: A fine, older wine deserves a simple dish as backdrop; this was fine with a medium-rare oven-seared rib eye.
WHEN TO DRINK: Fully mature and drinking well now. Barolo from a good year will cellar well for decades under excellent cellaring conditions, but I wouldn't keep this 1995 longer under casual "passie" cellaring.
WEB LINK:
You'll find winery information in English on the Baroli di Barolo page:
http://www.barolodibarolo.com/
inglese/scheda.asp?id_azienda=62&tipo=caratteristiche
For my brief winery visit and tasting report to several Barolo wineries in 2000, see this page on WineLoversPage.com:
http://www.wineloverspage.com/wines/barolo.shtml
FIND THIS WINE ONLINE:
Find sources and compare prices for many vintages of Rinaldi Barolo on Wine-Searcher.com:
http://www.wine-searcher.com/
find/Rinaldi%2bBarolo/-/-/-/USD/A?referring_site=WLP

Today's Sponsors
Forget Someone? Send New Year's Cheer with a gift from The California Wine Club
A gift of award-winning wine is always appreciated. For last-minute holiday gifts, call The California Wine Club at 1-800-777-4443 or visit www.cawineclub.com to download a beautiful Gift Card or send a fun E-Postcard.
Since 1990 The California Wine Club has been spreading holiday cheer with gifts that can't be found in local stores.
Each month features two bottles of award-winning wine, hand selected from one of California's best "mom & pop" wineries. Wine club deliveries also include Uncorked, an entertaining and informative 12 page, full color newsletter that gives members an up close and personal look at the winemaking families. Uncorked also includes wine country news, wine tips, recipes and much more. Each month is like a trip to wine country, from the comfort of home!
Send as many months as you wish, just $34.95 plus s/h. Save on gifts of 3, 6, 9 and 12 months. Call 1-800-777-4443 or visit www.cawineclub.com
A message from Wine Library
Are you on Wine Library's e-mail service? If not, you are missing out on the hottest new 90+ pointers at rock bottom prices! Log on to winelibrary.com to sign up for our daily offering or weekly recap today!
One highly rated wine you may have missed: Bacio Divino Pazzo 2005, an innovative red blend from Napa that earned a 91 point review Robert Parker of The Wine Advocate. Fans of Orin Swift The Prisoner and other creative red blends will love this! Just $24.98 per bottle on sale at Wine Library, this fragrant, supple wine was one of our favorite Napa reds of 2008! Log on to place your order today... Click here for details!
You may have seen us featured in GQ Magazine, The Wall Street Journal, New Jersey Monthly, and elsewhere. Wine Library features a huge collection of top wines from around the world, great gifts and accessories, a popular daily video blog (Wine Library TV), a wide selection of futures, and much, much more!
Bottom line, we offer the lowest prices, the largest selection, lightning fast shipments and the greatest customer service in the industry! Winelibrary.com is your one-stop shop for everything wine... so what are you waiting for? Log on to winelibrary.com today!

Talk About Wine Online
If you have questions, comments or ideas to share about today's article
or wine in general, you're always welcome to drop by our online WineLovers Discussion Group. This link will take you to the forum home page, where you can read discussions in all the forum sections:
http://www.wineloverspage.com/forum/village
Everyone is free to browse. If you'd like to post a comment, question or reply, you must register, but registration is free and easy. Do take care to register using your real name, or as a minimum, your real first name and last initial. Anonymous registrations are quietly discarded.
To contact me by E-mail, write wine@wineloverspage.com. I'll respond personally to the extent that time and volume permit.
PRINT OUT TODAY'S ARTICLE
Here's a simply formatted copy of today's Wine Advisor, designed to be printed out for your scrapbook or file or downloaded to your PDA or other wireless device.
http://www.wineloverspage.com/wineadvisor2/2008/12/old_barolo_and_wine-spill_foll-print.html

This week on WineLoversPage.com
• WineLovers Discussion Group: Wine of the Year 2008
As the New Year arrives, it's time to look back over our wine experiences of 2008. WineLovers Discussion Group members are talking about their top wines of the year. Join them in this forum topic:
http://www.wineloverspage.com/forum/village/viewtopic.php?f=3&t=21008