Entry-level Nebbiolo
When we opened our Wine Focus for December on the red wines of Northwestern Italy's Piemonte, I alluded to a varietal hierarchy in which popular grapes like Barbera and Dolcetto come at affordable prices and are ready to enjoy while the more august, pricey and long-lived Nebbiolo-based wines are maturing.
I've since written about a couple of good Barberas and Dolcetto, and WineLovers Discussion Group participants have been posting lots of Piemonte reports in the Wine Focus forum,
http://www.wineloverspage.com/forum/village/viewforum.php?f=18
Today, let's move into Nebbiolo, starting at the entry level with a fine but relatively modest entry, a Nebbiolo d'Alba. This is a lighter-style Nebbiolo, neither as robust nor as long-lived as the magisterial Nebbiolo-based Barolo and Barbaresco and their cousins, which grow in the same region around Alba but require longer aging (26 months for the regular Barbaresco and 38 months for non-Riserva Barolo, compared with a mere 12 months for Nebbiolo d'Alba). Typically, the Alba bottlings are made from younger or less noteworthy vineyards.
It's still a relatively good value, and a perfectly appropriate introduction to the characteristics of Nebbiolo, as today's tasting attests. My notes are below.
Before the holidays, I'll go to the cellar and pull out something fine in the way of a higher-end Nebbiolo, a treat for me and a rare opportunity to talk about a special-for-the-holidays bottle well above the quality-for-value wines we usually discuss here. Stay tuned!
Today's Sponsor
Give Confidently and Save 10% With The California Wine Club!
This holiday season send a gift that will be enjoyed and remembered! Give America's most trusted wine club, give The California Wine Club!
We are confident your gift recipients will be delighted because The California Wine Club owners Bruce and Pam Boring do what other wine clubs do not:
• Guarantees that every wine comes from a smaller, real-working winery
• Visits each winery, gets to know the family and shares their stories with you
• Tastes thousands of wines before choosing the best
• Promises that every wine you receive is one you will pour with confidence
Give a holiday gift to cheer about! Each month includes two bottles of award-winning wine and detailed 12-page publication, Uncorked.
Just $34.95 per month and you may choose to send as many months as you wish. Schedule deliveries to arrive monthly, every other month or quarterly. Visit www.cawineclub.com to send a gift or call 1-800-777-4443, mention The 30 Second Wine Advisor and the 10% discount to save.
The California Wine Club takes the guesswork out of picking the right gift and delivers the best wine, every time! 1, 2 and 3 Day Delivery available.
Matteo Correggia 2004 "La Val dei Preti" Nebbiolo d'Alba ($19.99)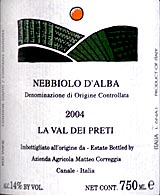 Clear ruby color, not too dark, shading to a pale violet edge. Black fruit and earth on the nose, a benchmark touch of Nebbiolo "tar." On the palate it's mouth-filling black fruit, firm acidity and a good dose of smooth but dusty tannins, with just a touch of Nebbiolo's typical "violets" in the finish. Sturdy 14% alcohol, offers a good sample of Nebbiolo style at a price well below Barolo or Barbaresco. U.S. importer: Vintner Select, Mason, Ohio, and other regional importers; a Marc de Grazia Selection. (Dec. 11, 2008)
FOOD MATCH: The bigger the Nebbiolo, the more it needs roast beef or game. This lighter model, however, works with more subtle fair from pork to duck, turkey or flavorful chicken dishes like my choice, a chicken and mushroom "pilaf" with orzo pasta in place of the traditional rice.
VALUE: I scored a heck of a bargain at The Wine Rack in Louisville, perhaps signaling a closeout on the 2004 vintage now that the 2005 is in the U.S. market. Wine-searcher.com shows a range of $28 to $35 in the U.S. for the 2004.
WHEN TO DRINK: Nebbiolo d'Alba is lighter and not as long-lived as Barolo or Barbaresco, but it can last in a good cellar for a decade or more past the vintage. This one still has plenty of fruit and abundant tannins, suggesting that it could benefit from another few years of cellaring.
WEB LINK:
The winery Website is very pretty, a Flash media presentation with earth-tone pictures and soft music that can't be turned off. It's available in Italian only as far as I can tell, but if you're comfortable with Italian wine words, you should be able to make out the brief blurbs.
http://www.matteocorreggia.com
For a good English-language summary of the Nebbiolo d'Alba DOC, with article, map and detailed rules of the region, see the Italian Trade Commission's first-rate ItalianMade.com pages:
http://www.italianmade.com/wines/DOC10225.cfm
FIND THIS WINE ONLINE:
Find sources and compare prices for Matteo Correggia "La Val dei Preti" Nebbiolo d'Alba on Wine-Searcher.com:
http://www.wine-searcher.com/find/Correggia%2bPreti%2bNebbiolo/-/-/-/USD/A?referring_site=WLP

Talk About Wine Online
If you have questions, comments or ideas to share about today's article
or wine in general, you're always welcome to drop by our online WineLovers Discussion Group. This link will take you to the forum home page, where you can read discussions in all the forum sections:
http://www.wineloverspage.com/forum/village
Everyone is free to browse. If you'd like to post a comment, question or reply, you must register, but registration is free and easy. Do take care to register using your real name, or as a minimum, your real first name and last initial. Anonymous registrations are quietly discarded.
To contact me by E-mail, write wine@wineloverspage.com. I'll respond personally to the extent that time and volume permit.
PRINT OUT TODAY'S ARTICLE
Here's a simply formatted copy of today's Wine Advisor, designed to be printed out for your scrapbook or file or downloaded to your PDA or other wireless device.
http://www.wineloverspage.com/wineadvisor2/2008/12/entrylevel_nebbiolo-print.html

This week on WineLoversPage.com
• Rogov's Ramblings: The Wine Bars of Paris
As a young man, Daniel Rogov learned that some of the best schools for learning about the wines and foods of France were the quaint and cozy bistrots à vin of Paris. He offers us this loving remembrance, with details about a half-dozen favorites.
http://www.wineloverspage.com/rogov/pariswine08.phtml
• WineLovers Discussion Group: Screwcap Bordeaux
Friday's 30 Second Wine Advisor feature on a modest but appealing Bordeaux closed with a screw cap led to an extensive, civil discussion about natural cork on Facebook and in our WineLovers Discussion Group. Click to read and discuss:
http://www.wineloverspage.com/forum/village/viewtopic.php?f=3&t=20731